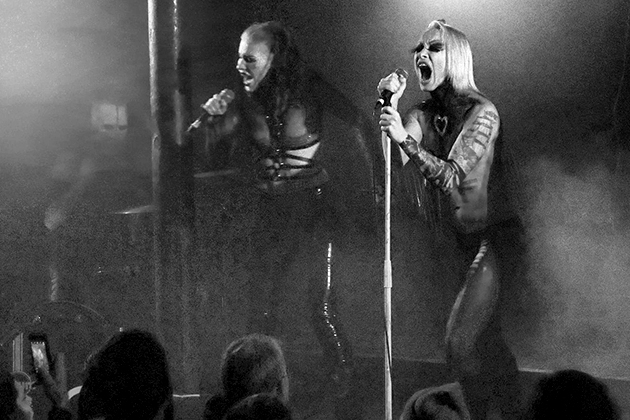 Subkultur, Hanover, Germany
20th December 2019
Grausame Töchter - Special guests: Twins In Fear, Beton Braut


GRAUSAME TÖCHTER are a phenomenon for itself. On their latest album, 'Engel im Rausch', you get drawn into a story about an intoxicated night, in which you get seduced by singer Aranea Peel and where you find yourself waking up the next morning to bright sunrays, not knowing whether this was just a bittersweet dream or a David Lynch-like movie script.
Peel's songs throw you into an abyss of ecstasy, metaphors, hidden desires, sex, drugs and acoustic electronic warfare. While many other electronic acts get boring pretty soon, GRAUSAME TÖCHTER's lyrics in many cases become clear at a second or third glance only. The music is far more complex than you'd expect for an electronic band, especially when they are joined by guest musicians like cellist Bojana Tadic and drummer Joscha Radaj. Not to forget about the energetic show choreographed by Aranea Peel, featuring dancer, performer and background singer Kiara Kazumi and Thenia Af. Be also prepared for cover versions of Neue Deutsche Welle classics 'Goldener Reiter' (Joachim Witt) and 'Rosemarie' (Hubert Kah)!
People sometimes tend to ignore support acts. Sometimes that's ok, sometimes you'll regret it. For this time make sure not to miss the brand-new band TWINS IN FEAR. The duo has just signed a contract with Dark Dimensions Label Group and the debut album is scheduled for early 2020. Watch out for their video clips 'Abseits' and 'Geld' which are announced to be released soon.
BETON BRAUT (German for "Concrete Bride") is a one-woman show by the young German performer Henrike Wolke. Her sound collages are influenced by world-weariness, horror, madness, weird movies and blood sports. She's a perfect company for Aranea's gang and thus it is not surprising that both women have shared stages quite a few times already. Mrs. Peel points out: "If you run away from your own shadow, you'd better avoid BETON BRAUT. For everyone else: a must!"
You can't make it to Hanover? Check out these dates:
2019-12-28 Magdeburg, Factory
2020-01-31 Berlin, Nuke Club
2020-02-01 Dresden, Reithalle Strasse E
Additional Concert Info

Doors: 20:00
Tickets: 21.70 EUR + charges (pre-sale) via
Eventim
Info: https://subkultur-hannover.de
Facebook event: www.facebook.com/events/2356874317890043
Artist: www.facebook.com/GrausameToechter / https://www.facebook.com/TWINS-IN-FEAR-410678636387630 / https://www.facebook.com/betonbraut