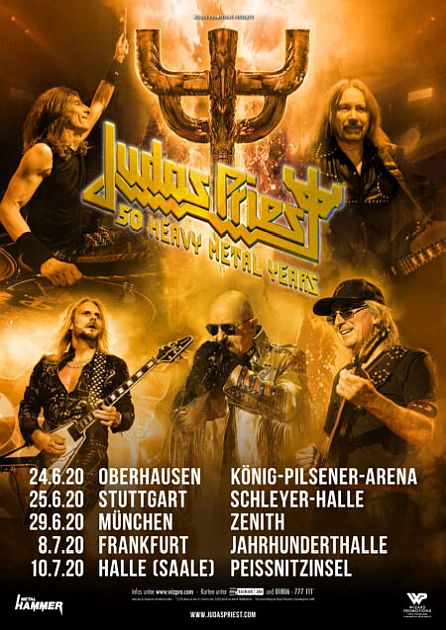 Attention: Due to the Corona Pandemic, the tour is postponed to summer 2021 and further to summer 2022! All tickets remeain valid!
There are just a handful of Metal bands that reached so high like JUDAS PRIEST during their fifty-year long career. Their presence and influence are strong like never before, and proof gives their 2018 album 'Firepower' that climbed to a chart position they never reached before, a Grammy Award for "Best Metal Performance" 2010, the VH1 Rock Honors 2006 award and a nomination for the Rock and Roll Hall of Fame in 2017.
The band, that is now prepared to celebrate their 50th band anniversary, goes on a legendary anniversary tour in 2022. Come to the following cities to see the Heavy Metal legend around "Metal God" Rob Halford live on German stages - see dated below. Online ticket pre-sale starts on Wednesday, October 30, 2019 via MyTicket and CTS Eventim. General ticket pre-sale starts on Friday, November 1, 2019 at 10:00 a.m. Get your ticket at www.myticket.de or by phone at +49 (0) 1806 - 777 111 (20 cents/call - mobile max. 60 cents/call) and at all known ticket shops.
Just a small number of bands are so successful and influenced so many other musicians like JUDAS PRIEST. The number of successful bands alone, that named themselves like famous JUDAS PRIEST songs, speaks volumes. Their debut album, 'Rocka Rolla', was released in 1974, and since the classic 'British Steel' (1980), Rob Halford, K. K. Downing, Glenn Tipton, and Ian Hall together with different drummers created further genre milestones over the years: 'Screaming For Vengeance' (1982) and 'Painkiller' (1990) are part of every metal collection all over the world.
Not only is the band from England responsible for the leather look of many other bands, they also wrote countless classics. Even in 2017, there is no Rock and Metal party without 'Breaking The Law', 'You've Got Another Thing Coming', or 'Living After Midnight'. Until today, JUDAS PRIEST sold more than 45 million copies of their albums worldwide. In 2009, the release of 'British Steel' celebrates its 30th anniversary, and during the belonging tour, the quintet performed the entire album. In 2010, an extended double album version inclusive DVD with a live show from Hollywood/ Florida is released.
After guitarist and founding member K. K. Downing left the band in 2010, the young and very talented Brit Richie Faulkner joined JUDAS PRIEST. The now rejuvenated band went on creating success after success: their performance at the final of 'American Idol', the release of the live DVD 'Epitaph', that was recorded at the Hammersmith Apollo in the UK in 2012, the 17th studio album 'Redeemer of Souls' in 2014 (number three in Germany), and the live release 'Battle Cry' on CD/ DVD/ BluRay, that was filmed during the Wacken Open Air in Germany in 2015.
In 2017, JUDAS PRIEST were nominated for the Rock and Roll Hall of Fame, and got ready to ignite the new studio album 'Firepower' produced by Andy Sneap and Tom Allom. The album gained worldwide success, applause by critics, and the band went on the sold-out 'Firepower World Tour 2018'. In 2019, the band continued the tour, and it will go on in 2020 according to the motto "50 Heavy Metal Years" to celebrate a remarkable career! More information here: www.judaspriest.com
Judas Priest 50 Heavy Metal Years - Tour 2022

June 23, 2022 – Stuttgart, Schleyer-Halle
June 27, 2022 – Munich, Zenith
July 6, 2022 – Frankfurt, Jahrhunderthalle
July 30, 2021 – Halle (Saale), Peißnitzinsel
July 31, 2021 – Oberhausen, König-Pilsener-Arena
More on
Judas Priest