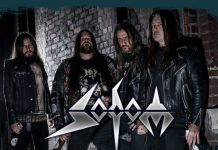 Principal Club Theater, Thessaloniki, Greece
29th March 2020
Sodom - "Special Anniversary Old School Shows"

A band like SODOM hardly needs any introductions. One of the "Big Four" of the German Thrash scene, along with KREATOR, DESTRUCTION & TANKARD they manage to sweep us off our feet every time they hit the stage. Created in 1981 by Tom "Angelripper" Such and Frank "Aggressor" Terstegen in Gelsenkirchen, Germany they were the product of two minds inspired by MOTÖRHEAD, TANK, RAVEN and VENOM whose sounds they managed to combine and make something entirely new and unique.
By staying true to their passion for music while changing band members they managed to be the first Thrash Metal, German band, to hit the charts with 'Agent Orange' proving that people may come and go but if you keep your essence true and solid you will, eventually, go places. Place #36 to be exact. Their latest line-up is probably the most substantial and exciting one yet (Tom Angelripper - bass, vocals, Frank "Blackfire" Gosdzik - guitars, Yorck Segatz - guitars, Stefan "Husky" Hüskens - drums) which makes this "Special Anniversary Old School Show" even more exceptional. They expanded into a quartet having now two guitars.
"Two guitarists allow us much more possibilities live, so we will be able to play tracks in future that we weren't able to perform as a trio", Thomas "Angelripper" such, claimed. "With 'Blackfire' returning, the band is putting together a set list that includes a number of classics as well as rarely heard tracks. I can promise that we will really let it rip in future", he adds.
On March 29th, they are performing at Principal Club Theater in Thessaloniki, Greece after playing in Athens on the 28th at Fuzz Club. Supporting bands to be announced soon.
Additional Concert Info

Doors: tba
Start: tba
Tickets are available for 23€ Limited Early Bird, 25€ Presale, 27€ at the door via following stores in Thessaloniki, Greece: Nephilim metal store, Musicland, 8ball Club, Stones Rock Bar, Rover Bar
Info: https://www.facebook.com/events/1485881684920166/