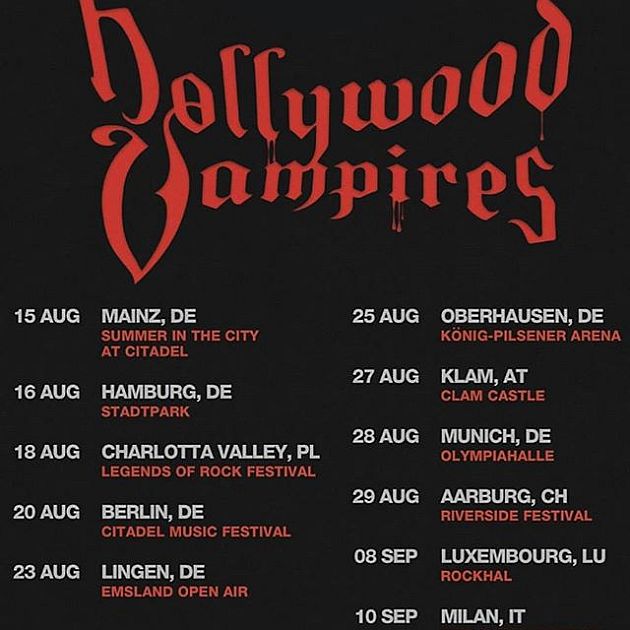 König-Pilsener-Arena, Oberhausen, Germany
26th August 2021
Hollywood Vampires

Attention: Due to the Corona pandemic, this complete tour is cancelled!
The HOLLYWOOD VAMPIRES will tour Germany for the second time, and they bring along a completely new sound. The band around Johnny Depp, Alice Cooper, and Joe Perry (AEROSMITH) leaves behind the image as "most expensive cover band in the world" (ALICE COOPER). Normally, they interpret classics like 'Whole Lotta Love' (LED ZEPPELIN), 'Cold Turkey' (JOHN LENNON), or 'My Generation' (THE WHO), but now they expanded their concert programme for several own compositions.
The second album of the Trio Infernale, 'Rise', continues that special style, and praises the post-modern, hand-made (Hard) Rock. It is a mixture of own songs and famous covers. Even a title with a relation to Germany can be found: the homage to 'Heroes', sung by Johnny Depp, was recorded where David Bowie & Co. recorded the original version in the time between July and August 1977 - at the Hansa Studios in Berlin!
It's an obvious thing, that a ticket for the shows of a Hollywood mega star, the icon of Shock Rock, and the lead guitarist of the most successful Rock band worldwide is THAT must have in summer 2020!
"At the beginning, it was about the honouring of our friends Jimi Hendrix, John Bonham, Jim Morrison and all the others passed away in the 70s", explained Alice Cooper during an interview. "That's why we started a pub band." Hollywood Vampires was the name of a club for prominent alcoholics in Los Angeles, and Cooper was one of the founding members in the 70s. On the occasion of the second CD release (earMUSIC), the band members explained: "We neither wanted it to sound like an Alice Cooper album, nor one of AEROSMITH. The record shows the best side of every one of us without someone looks over our shoulders", sums up guitarist Perry. When the HOLLYWOOD VAMPIRES and their background musicians are in town, only one conclusion can be drawn: their concerts are THAT prominent Rock event in summer 2020 - save the date!
Additional Concert Info

Doors: tba
Start: 20:00
Tickets: are available from 65.00 euros (plus charges pre-sale) via
Eventim
Info: https://www.koenig-pilsener-arena.de/arena_events/hollywood-vampires/?eventdate=277
More on
Hollywood Vampires