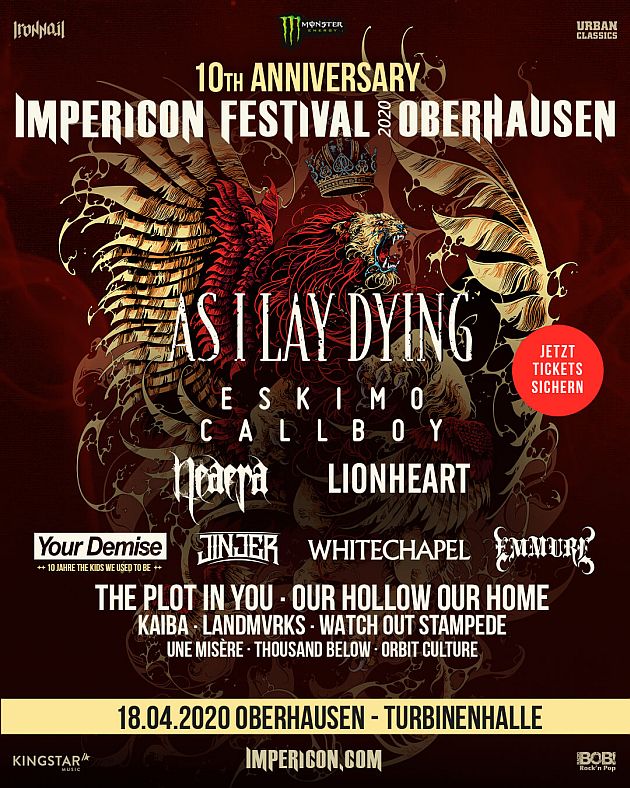 Turbinenhalle, Oberhausen, Germany
5th September 2020
Impericon Festival 2020 - 10th Anniversary with: As I Lay Dying, Eskimo Callboy, Neaera, Lionheart, Your Demise, Jinjer, and many more

Attention: due to the Corona crises, this concert is rescheduled from April 2020 to September 2020! Details about final line-up later!
This year the IMPERICON FESTIVALS celebrate their tenth anniversary. Also in 2020 the indoor festival will take place in five cities: Vienna, Leipzig, Zurich, Oberhausen and Munich. To celebrate the whole thing properly, WHITECHAPEL will play in all cities, while ESKIMO CALLBOY will occupy the co-headliner slot in Leipzig, Oberhausen and Munich. For Leipzig there will also be two more acts on top: ANNISOKAY and IMMINENCE will complete the anniversary billing.
JINJER, who were previously confirmed for Leipzig and Oberhausen, also play in Vienna and Munich. The British BURY TOMORROW are new on board in Leipzig and Munich. NEAERA will also make their comeback at the IMPERICON FESTIVALS this year and will be present at all dates. The latest newcomer is LANDMVRKS, who will play in Leipzig, Oberhausen, Zurich and Vienna. It has also been known for some time that LIONHEART will be playing at the IMPERICON FESTIVALS 2020. OUR HOLLOW, OUR HOME and WATCH OUT STAMPEDE will perform in Leipzig, Oberhausen and Munich.
Previously the organizers announced the headliner with the Metalcore great AS I LAY DYING. However, the band will not play in Vienna on 10 April 2020. The US-Americans had only recently released their new album 'Shaped By Fire' and were on a big European tour with it. YOUR DEMISE will also play an exclusive show in all five cities to celebrate the tenth anniversary of their album 'The Kids We Used To Be'.
Line-up Impericon Festival Oberhausen 2020

As I Lay Dying, Eskimo Callboy, Neaera, Lionheart, Your Demise ("The Kids We Used To Be" Anniversar yshow), Jinjer, Emmure, Whitechapel, The Plot In You, Our Hollow Our Home, Watch Out Stampede, Kaiba, Landmvrks, Une Misere, Thousands Below, Orbit Culture
Additional Concert Info

Doors: 12:00
Start: 12:30
Tickets: 67.90€ + presale-fees via impericon.com
Info: https://turbinenhalle.de/events/impericon-festival-2020/
Facebook Event: https://www.facebook.com/events/432763337562276/