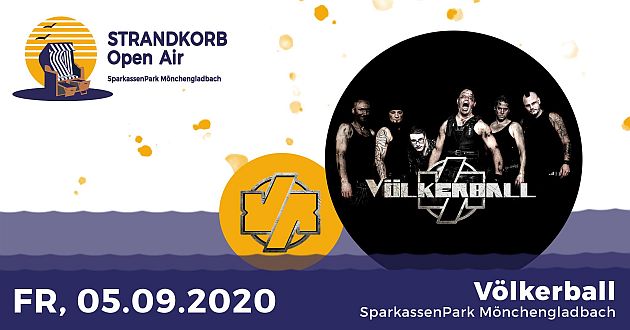 Sparkassenpark, Mönchengladbach, Germany
5th September 2020
Völkerball - Beach Chair Concert

Founded in 2008 in Koblenz and named after an album of their idols, the boys around frontman René Anlauff play exclusively songs by the Berlin band RAMMSTEIN. Today, VÖLKERBALL is one of the best RAMMSTEIN cover bands. The outfit, the stage, the show and the pyro performance - they come very close to the Berlin NDH legend. In cosy beach chairs and corresponding distance to the stage you can enjoy an amazing performance. From time to time, VÖLKERBALL also plays songs of the other project HELDMASCHINE, which also come from the NDH genre.
From each ticket 1€ will be donated to "Corinna e.V." Mönchengladbach. Here you find more information: https://corinna-mg.de/
Additional concert info

Doors: 19:00
Start: 20:00
Tickets are available from 47.50 euros via
Eventim
Facebook Event: https://www.facebook.com/events/255650669193186/
FAQ: https://sparkassenpark.de/faq-strandkorb/
Special Info: When parking, please note the additional information on your ticket and the guidance systems.