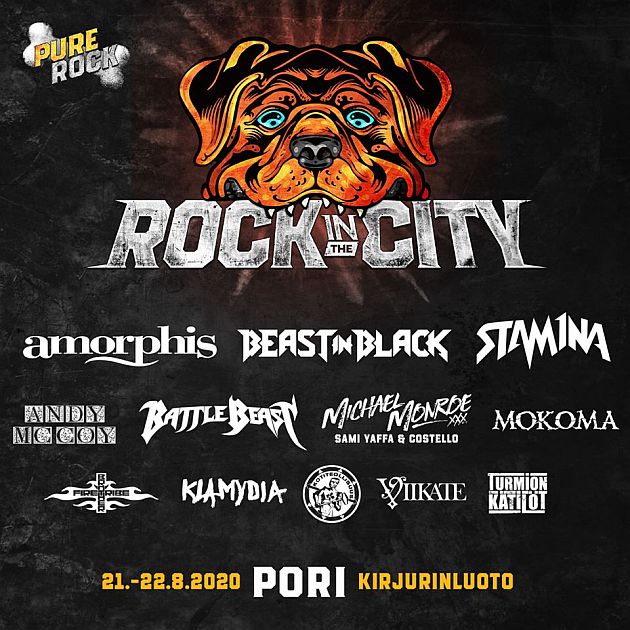 Kirjurinluoto, Pori, Finland
21st & 22nd August 2020
Rock in the City 2020 with Amorphis, Andy McCoy, Battle Beast, Beast in Black, Mokoma, Michael Monroe, Turmion Kätilöt, Stam1na, Viikate and more

Summer in Finland - time to visit one of the festivals across the country. Rock in the City in Pori assembled a fantastic line-up with many bands from Finland that are known not only in Finland but all around the world.
On Friday, KOTITEOLLISUUS will be opening the festival followed by legendary ANDY MC COY. TURMION KÄTILÖT, who recently released their well-received new album 'Global Warning', will add some of the new songs to their setlist for sure. MOKOMA will warm you up for the evening line-up, that will be a sheer blast of Metal. STAM1NA will make sure, you get a sore neck from head banging, while BEAST IN BLACK will shake Pori for sure.
On Saturday legendary band VIIKATE, who recently leaked that Mika Jussila is mastering some new songs for them will open what will be a fantastic weekend experience. KLYAMYDIA will be ready to shake your bones, followed be legendary MICHAEL MONROE and his band. BROTHER FIRETRIBE who released their single 'Rock in the City' in February and release a new album soon, will make sure you catch the perfect festival vibe. BATTLE BEAST will open the evening fun and AMORPHIS who played a fantastic tour in Germany in January will be a blast for sure.
There is no campsite, so you have to find a room in Pori or travel from one of the surrounding towns. There are various ticket packages available, the standard ticket for one day starts from for app 44.90 Euro plus fees. Secure your place in one of the best rock events of the year and purchase your tickets now! Tickets are sold by Lippu: https://www.lippu.fi/event/rock-in-the-city-pori-kirjurinluoto-lokkilava-12531459/ and ticket master: https://www.ticketmaster.fi/event/272865. Further information: http://www.rockinthecity.fi/pori/