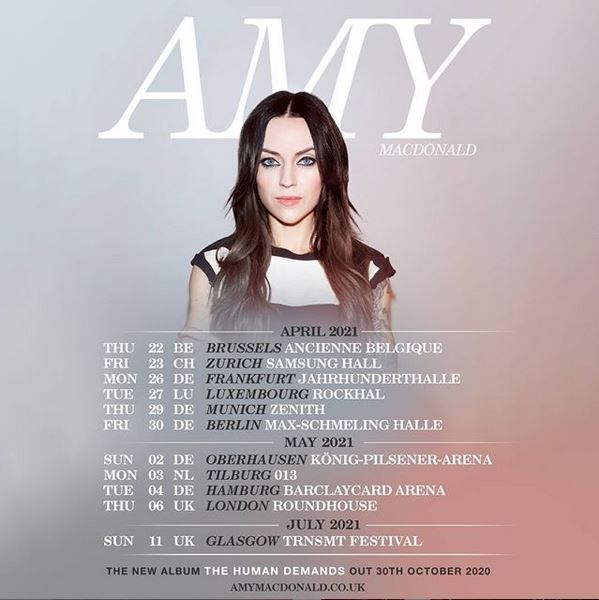 Attention: due to the Covid-19 situation, this tour is postponed from spring 2021 to spring 2022. Tickets remain valid!
AMY MACDONALD goes on tour with her new album in Germany in spring 2021. The career of the Scottish singer / songwriter AMY MACDONALD is one of the most successful careers of a European solo musician in the new millennium, with six million albums sold and a total of well over ten million records sold, with four long players, all of which are in the top 5 worldwide charts started, with more than 200 million Spotify streams and worldwide concerts in front of a total of more than 3.3 million viewers. And "to blame" for this fabulous career is ultimately a certain song by the British band TRAVIS entitled 'Turn': When Amy heard it for the first time at a concert in 2000, the then just 12-year-old decided to teach herself play the guitar; originally only to be able to intone this song by herself.
As soon as she had learned the basics of this instrument and a handful of chords, her own songs flowed out of her fingers. Already at the age of 15 she was regularly on small stages in cafés and pubs in Glasgow and performed her self-written songs. Even then, the enthusiasm was so great that it seemed only logical when she signed her first record deal at 18 - the beginning of a career that found itself in a frenzied fast lane. Her first two singles, the songs 'Mr. Rock'n'Roll' and 'This Is The Life' advanced to international chart toppers, and the latter piece alone sold around a million copies on global counters. The debut album 'This Is the Life', released shortly afterwards, also conquered the charts worldwide and won 17 platinum awards - five of them in Germany alone.
It was such an intense start that would certainly have caused problems for many - but not for the artist, who had just come of age: Of course, she was happy about this unexpected worldwide recognition, but still just kept writing song for song, including countless other hits. With every album that followed - 'A Curious Thing' (2010), 'Life in a Beautiful Light' (2012) and 'Under Stars' (2017) - all gold and in many countries even platinum adorned - AMY MACDONALD diversified her stylistic frames further and added beautiful new colours to their tonal palette - be it orchestral excursions, very intimate acoustic moments or bold and lustful rocking. Her first best-of collection was last published in 2018 under the programmatic title 'Woman of The World'; the accompanying concerts, which were consistently sold out, even in Germany, proved how far-reaching her artistic horizon has become. This compilation was a turning point for the artist that after all the stylistic developments she decided to go back to her roots: The next album should deliberately go back to the "small cutlery" of her early days.
This brings us to the present and the announcement of their fifth long player, 'The Human Demands', which will be released on October 30. In a new consequence, most of the songs on this album do not deal with herself for the first time, but with a look at getting older from the perspective of stories from her environment, her family and circle of acquaintances. With an astonishingly serene, downright wise eye for a 33-year-old, she tells of friends who are struggling with depression, of others who found the love of their lives and therefore great happiness, or - as in the previously released first single 'The Hudson' - from their parents' travels to the then dangerous New York of the 70s. All this poured into songs with an almost floating grandeur and an outstanding Springsteen naturalness. "Of course, it's a bit bold to claim that you've recorded something like a late work when you're just in your early 30s," laughs Macdonald. "But honestly: The days when I signed my first record deal at 18 feel like this as if they were a lifetime ago."
The album benefited from something that has caused problems and worries for most of us: the Corona pandemic. Because in the middle of the work process on the new album, which Macdonald undertook with the renowned producer Jim Abbiss (ARCTIC MONKEYS, KASABIAN, EDITORS, ADELE), all studios in England were closed as a result of a lockdown. The work had to be interrupted for more than three months. An unwelcome break that was turned into something very positive, because now you can hear all the songs subliminally this great joy that the work could go on and - one may hope - you have survived the worst. A joy that will undoubtedly also be carried over to the concerts that have now been announced in April and June 2021, where you will experience AMY MACDONALD as warmly and truly as at her pub shows at the beginning of the millennium.
German Tour Dates
01 Mar 2022 - Frankfurt, Jahrhunderthalle // postponed from 26 Apr 2021
02 Mar 2022 - Hamburg, Barclaycard Arena // postponed from 04 Apr 2021
09 Mar 2022 - Munich, Zenith // postponed from 29 Apr 2021
13 Mar 2022 - Berlin, Max-Schmeling-Halle // postponed from 30 Apr 2021
14 Mar 2022 - Oberhausen, König-Pilsener-Arena // postponed from 02 May 2021
Tickets for the concerts will be available exclusively from eventim.de from Wednesday, September 9th, 10 a.m. From Friday, September 11th, 10 am, tickets are available from 35.00 euros plus fees at all known CTS advance booking offices and on the hotline +49 (0) 1806 - 853653 (0.20 € / call from a landline, max . € 0.60 / call), on fkpscorpio.com and
Eventim
.
More on
Amy MacDonald