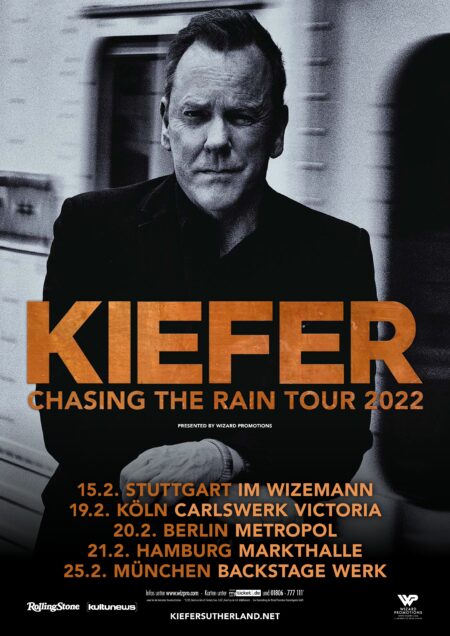 KIEFER SUTHERLAND announces UK and European Tour for 2022 - Six concerts in Germany in February 2022 confirmed - New album 'Bloor Street' will be released on January 21st - Tickets available from September 23, 2021 in the presale
From 'Lost Boys' to 'Stand By Me' and '24', everyone knows the phenomenally successful acting career of KIEFER SUTHERLAND. In recent years, however, SUTHERLAND has focused on applying his masterful storytelling skills to music, with two acclaimed Country and Americana albums. His second album, 'Reckless & Me', was particularly popular in the UK, debuting at number 9 on the official album charts and going straight to number 1 on the Americana, country and independent album charts. 'Reckless & Me' became the second best-selling country album of the year.
On January 21st, KIEFER SUTHERLAND will release his third album 'Bloor Street' via Cooking Vinyl, which will be accompanied by an extensive headline tour in the UK and Germany from January 2022. In Germany, KIEFER SUTHERLAND is touring in February 2022 in Stuttgart (Feb 15), Cologne (Feb 19), Berlin (Feb 20), Hamburg (Feb 21), and Munich (Feb 25).
From Thursday, September 23, 2021 - 11 a.m., the ticket providers MyTicket and CTS
Eventim
will be offering online presales. The general advance booking starts on Friday, September 24th, 2021 - 11.00 a.m. Tickets are available at www.myticket.de and by telephone on +49 (0) 1806 - 777 111 (20 cents / call - mobile phone prices max. 60 cents / call) and at the known advance booking offices.
KIEFER SUTHERLAND comments: "Writing and recording this album has been a unique experience given the pandemic and the restrictions that came with it. Like so many others, I found myself in a period of time that was never available to me before, that allowed me not only to think about my life, but also to write about it. Music, whether live or recording, has always been a personal extension of storytelling for me. I'm incredibly excited to share these new songs and hopefully play them sooner rather than later for audiences around the world."
The album was produced and mixed by multiple Grammy winner Chris Lord-Alge (Keith Urban, Carrie Underwood) and recorded at MIX LA Studios in Los Angeles. The 22-date "Chasing The Rain" Tour 2022 is his biggest headline tour to date through Great Britain and Ireland with further European dates in France, the Netherlands, Germany, Switzerland and Austria. KIEFER SUTHERLAND comes with a full band line-up. The British daily The Guardian writes about his shows: "The action star's whiskey-soaked country music set is really poignant." He will be playing at the AmericanaFest in Nashville on Thursday, September 23rd.
In addition to his music career, KIEFER SUTHERLAND will soon be back on our screens. He plays alongside Chris Pine and Ben Foster in the film 'Violence of Action' and will play the former US President Franklin D. Roosevelt in the new Showtime series 'The First Lady'.
Kiefer Sutherland - "Chasing The Rain" Tour 2022

Tue Feb 15, 2022 – Stuttgart, Im Wizemann
Sat Feb 19, 2022 – Cologne, Carlswerk Victoria
Sun Feb 20, 2022 – Berlin, Metropol
Mon Feb 21, 2022 – Hamburg, Markthalle
Fri Feb 25, 2022 – Munich, Backstage Werk