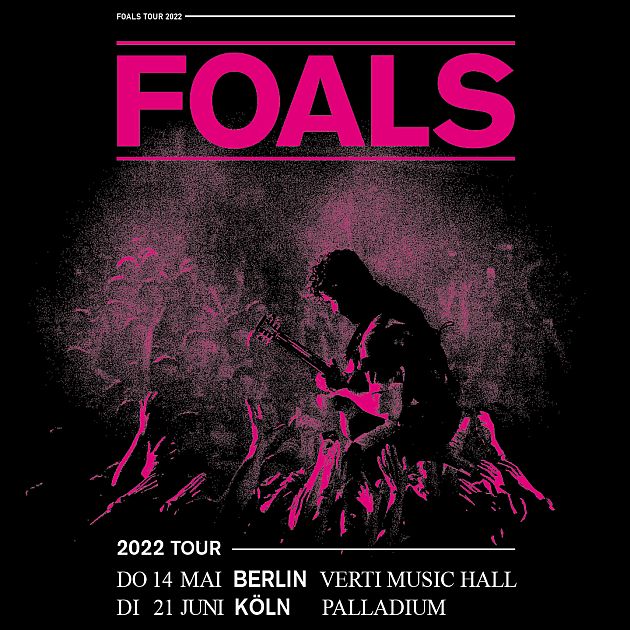 Palladium, Cologne, Germany
21st June 2022
Foals - "Everything not saved will be lost" Tour

With their double album 'Everything Not Saved Will Be Lost', FOALS from Oxford not only reinvented themselves in 2019, but also climbed new heights commercially. In 2022 the band will return to the stage with new music. In addition to their appearance on May 14 in Berlin, they have now announced another concert in Germany on June 21 at the Palladium in Cologne. In addition to the current single 'Wake Me Up', FOALS will surely perform even more songs from their upcoming album as well as hits from over 15 years of band history.
The band FOALS from Oxford, England, appeared in the late 2000s with their very idiosyncratic version of Indie Rock. Influenced by New Wave, Math Rock and atmospheric Post Rock, they quickly gain recognition in the international Indie scene. Her musical formula of rhythm-based staccato guitars, driving beats and unusual arrangements proved to be extremely successful: the debut album 'Antidotes' from 2008 reached number three in the album charts in her home country Great Britain. Over the course of the next decade, they developed an unmistakable balance between jiggling Indie and atmospheric greatness on their records.
On countless festival stages as well as in the clubs and arenas of the western world, the musicians around front man and guitarist Yannis Philippakis, drummer Jack Bevan and guitarist and keyboardist Jimmy Smith proved why they are adored by fans and critics alike. In 2019 FOALS returned with their two-part - fifth and sixth - studio album: 'Everything Not Saved Will Be Lost' Part I & II brought the band into the top 10 of the German album charts for the first time.
With their current single 'Wake Me Up', FOALS, meanwhile traveling as a trio, herald a new chapter in their illustrious career. The title of the upcoming album is not yet known. In order to increase the anticipation, the band has now announced new tour dates after postponements due to the pandemic - including another German show: on June 21 in Cologne.
Additional Concert Info
Doors 18:30
Start: 20:00
Tickets: are available for 50.65 euros via
Eventim
Info: https://prime-entertainment.de/index.php?id=34&eventid=7197