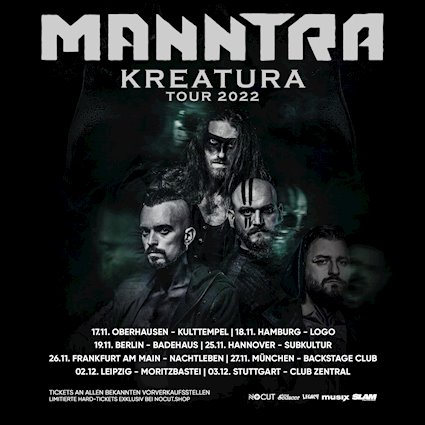 After the Folk Metal giants MANNTRA delivered two fat discs last year with the album 'Monster Mind Consuming' and the 'Nightcall EP', they will release their brand-new album 'Kreatura' on 5th August 2022. In the summer of 2022 MANNTRA will still be on tour as support for MONO INC. Since the band was only able to play a few concerts in the past two years, mastermind Marko M. Sekul and his men are now even more excited to play their first headlining tour with a total of 8 shows all over Germany from mid-November to early December 2022.
The tour promises to be epic. MANNTRA will not only perform songs from their new album live on stage for the first time but promise to fire off veritable fireworks display of all their popular songs. Catchy songs like 'Ori Ori' and 'Heathens', but also the current single 'Nightmare' will captivate the audience from the very first second. No one is left on the edge of their seats. The combination of brute Metal riffs, hard Industrial sounds and traditional Folk instruments is mastered by the band like no other in their genre - because there is no other. MANNTRA are unique! They prove this again and again at their live shows.
The tour is presented by NoCut, Sonic Seducer, Legacy, Musix and SLAM.
Tickets are now available here: https://nocut.shop/de/tickets/manntra-kreatura-tour-2022
Tour Dates

17 Nov 2022 – Oberhausen, Kulttempel
18 Nov 2022 – Hamburg, Logo
19 Nov 2022 – Berlin, Badehaus
25 Nov 2022 – Hanover, Subkultur
26 Nov 2022 - Frankfurt am Main, Nachtleben
27 Nov 2022 – Munich, Backstage Club
02 Dec 2022 – Leipzig, Moritzbastei
03 Dec 2022 – Stuttgart, Club Zentral