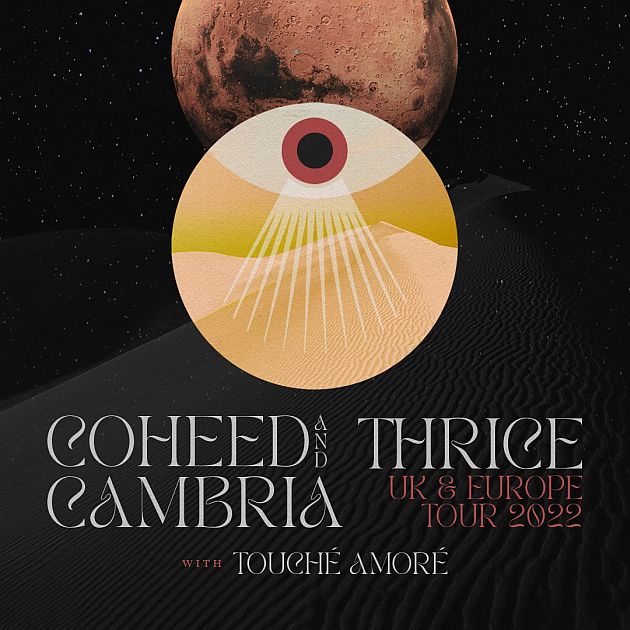 As is well known, THRICE will come to Stuttgart for an exclusive show on their summer tour in July. Now the Post Hardcore institution has confirmed that a few more dates will be added in October. On top of that, the combo around singer Dustin Kensrue, guitarist Teppei Teranishi and the two brothers, bassist Eddie and drummer Riley Breckenridge bring illustrious co-headliners with them: the Progressive Rockers from New York, COHEED AND CAMBRIA, continue spinning their science fiction saga live. And TOUCHÉ AMORÉ have also been announced as special guests.
Since their formation in 1998, THRICE have been one of the most influential bands of post hardcore. Of the many moults the Californians have gone through in their career, recent record 'Horizons/East' is perhaps the most impressive. It's a long way from the Screamo beginnings, it remains rooted in heavy Rock. But the experimental influences from all directions make it worth listening to, as does Kensrue's profound lyrics. If you're looking for fast three-chord Punk Rock, you've always been wrong with THRICE. Their songs are too complex for that. But those who bring a little more patience will be rewarded with an overwhelming listening pleasure on the new work, which is sure to be even greater live. Because THRICE have always managed to add the icing on the cake to their exciting sound on stage.
COHEED AND CAMBRIA have been on the road for as long as THRICE. The concept band has been telling the story of married couple COHEED AND CAMBRIA Kilgannon since 2001. With almost ten studio albums to come - the latest being 'Vaxis - Act II: A Window of the Waking Mind' out in June, the story of a sinister virus capable of destroying the universe is revealed little by little. That may almost seem a bit disturbing, but it is unparalleled musical fun. The band's progressive metal mixes excellently with influences from LED ZEPPELIN to PINK FLOYD or THIN LIZZY to QUEEN.
TOUCHÉ AMORÉ belong to the second generation of Californian Post Hardcore. They are part of The Wave movement along with fellow bands La DISPUTE, MAKE DO AND MEND, DEFEATER and PIANOS BECOME THE TEETH.
All three bands together result in a wonderful and varied line-up for a big and, above all, loud tour.
THRICE + COHEED AND CAMBRIA - Special Guests: TOUCHÉ AMORÉ
Oct 25, 2022 Berlin – Columbiahalle
Oct 26, 2022 Wiesbaden – Schlachthof
Oct 29, 2022 Munich -Tonhalle
Oct 30, 2022 Cologne – Carlswerk Victoria
Tickets for the concerts are available from Thursday, May 26, 10 a.m. exclusively via
eventim.de
. From Friday, May 27, 10 a.m., tickets are available from 36 Euros plus fees at all known CTS advance booking offices and via the hotline +49 (0) 1806 - 570070 (0.20 €/call from a landline, cell phone max. 0 €.60/call), at fkpscorpio.com and
eventim.de
.