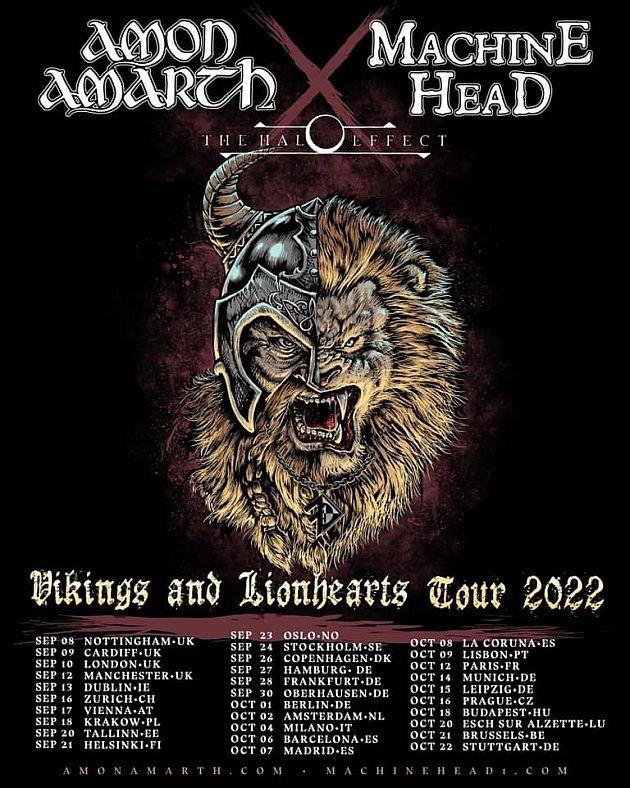 Rockhal, Esch sur Alzette, Luxembourg
20th October 2022
Amon Amarth & Machine Head - "Vikings & Lionhearts" Tour 2022 - Support: The Halo Effect

Prepare for the most monumental Metal tour of 2022! Two of the world's most revered heavy bands, Sweden's Viking Metal overlords AMON AMARTH and Bay Area Metal icons MACHINE HEAD, are teaming up for the colossal "Vikings And Lionhearts" co-headline arena tour set to rampage across Europe in September and October 2022.
Stemming from the demise of the Grindcore band SCUM, AMON AMARTH formed in 1992, adopting their name from a reference to J.R.R. Tolkien's fictional setting, Middle-earth. AMON AMARTH abandoned the Hardcore Punk sound of SCUM, dropping their previous spastic tendencies and experimenting with dark dream like soundscapes driven by the traditional brooding structure of contemporaries like IN FLAMES, SIX FEET UNDER, and AT THE GATES.
MACHINE HEAD established themselves as one of the heaviest bands on earth within the last decade. With their aggressive, streetwise mix of various forms of Heavy Metal & Hardcore, they distinguished themselves from similar bands with catchier riffs and a better grasp of dynamics. Something has always been unsettling about MACHINE HEAD's music… the best possible explanation is its brutal honesty and hard-hitting emotionally-charged nature. MACHINE HEAD's live show definitely is the stuff of legends.
Joining the metallic pairing to open the show are THE HALO EFFECT, a new band featuring five luminaries of Swedish Melodic Death Metal and pioneers of the genre; Peter Iwers, Daniel Svensson, Jesper Stromblad, Niclas Englin and Mikael Stanne.
Additional Concert Info

Doors: 18:00
Start: 19:00
Tickets & Info: https://rockhal.lu/shows/amon-amarth-machine-head/
Facebook Event: https://www.facebook.com/events/245197240826314