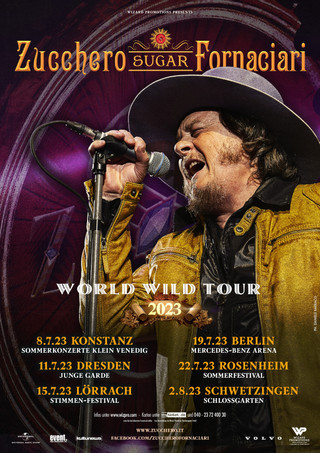 The Italian world star will return to Germany in the summer of 2023 with five open-air shows and a new date for Berlin. Tickets are now available via pre-sale
ZUCCHERO FORNACIARI is expanding its outstanding "World Wild Tour" with a series of summer dates in Germany in July/August 2023. The Italian music icon is coming to Konstanz (July 8), Dresden (July 11), Lörrach (July 15), Rosenheim (July 22) and Schwetzingen (August 2). The concert in Berlin, originally planned for November 15, 2022, was postponed due to planning and will now take place in summer 2023 on July 19 in the Mercedes-Benz Arena. Tickets for the concerts in Germany are now available via pre-sale. Tickets for Berlin that have already been purchased remain valid.
In Tucson, Arizona, ZUCCHERO recently played the last of a total of 79 concerts in 2022 on October 2. The concerts as part of his ongoing World Wild Tour, which have been celebrated by the media and fans, have been attended by 700,000 visitors so far. In Germany alone, over 50,000 visitors experienced a world star at his musical peak. His concert year in Germany was crowned by joint performances with ERIC CLAPTON in Berlin and the ROLLING STONES in Gelsenkirchen.
With more than two hours of music and an ever-changing set, ZUCCHERO makes every show a unique and unforgettable experience. He recreates some of his biggest hits but also plays songs from his more recent albums such as 'Discover' and 'D.O.C.'. On stage he is joined by an extraordinarily talented supergroup. With an ever-evolving set packed with highlights, ZUCCHERO takes audiences on a journey through his entire career, spanning both his more recent songs and the energy and panache of the hits that helped write Italian music history. A wonderful stage design provides the perfect setting for this fantastic show: a gigantic sun that heralds rebirth and inside which a selection of images representing the entire musical path of ZUCCHERO can be seen.
Italian singer, multi-instrumentalist and songwriter ZUCCHERO has topped the album charts in his home country thirteen times. He is considered the father of Italian blues and is one of the most influential musicians in Italy with over 60 million albums sold and numerous gold and platinum awards. Collaborations with superstars like Bono, Sting, Miles Davis or Macy Gray impressively underline the status of the exceptional artist.
German Tour Dates

July 8, 2023 - Konstanz, Sommerkonzerte Klein-Venedig
July 11, 2023 - Dresden, Junge Garde
July 15, 2023 - Lörrach, Stimmen Festival
July 19, 2023 - Berlin, Mercedes-Benz-Arena
July 22, 2023 - Rosenheim, Sommerfestival
Aug 2, 2023 - Schwetzingen, Schlossgarten
Tickets:
https://tidd.ly/3GsQHV2