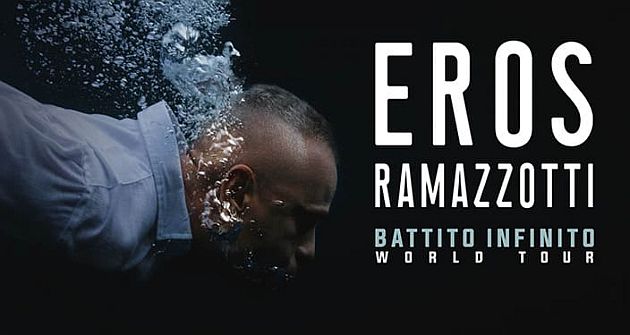 Four years after his last studio album, EROS RAMAZZOTTI announced in early summer 2022 that he would be releasing new music and of course going on a big world tour with it. Fans around the world celebrated his comeback and could look forward to the announcement of five arena shows as part of his "Battito Infinito World Tour", which will take place in February/March and May. That's not all: the singer has now confirmed that he will be playing more shows in Germany in July. The Italian's worldwide tour will be supplemented by six dates as part of various open-air events next summer.
With a handful of preview shows at special venues such as the Amphitheatre in Verona, EROS RAMAZZOTTI and his audience got in the mood for the upcoming world tour this autumn. The premiere took place in mid-September, one day before the album release, in Seville, Spain. Further preview shows in Italy, Greece and Israel followed before the "Battito Infinito World Tour" started in Los Angeles on October 30.
His new album 'Battito Infinito' was released on September 16, 2022 by Capitol Records Italy, and already the first single release 'Ama' has shown why the record-breaking singer/songwriter has been one of the most popular Italian artists for over 35 years. The follow-up song 'Sono', a duet with the Spanish superstar Alejandro Sanz, fits perfectly into the hits of the native Roman and only increases the anticipation of the live adventure. Anyone who has experienced EROS RAMAZZOTTI on stage knows that he is not only able to convince on his albums, but especially live. The all-rounder, who, in addition to an unmistakable voice, has outstanding entertainer qualities and masters various instruments, manages to captivate and carry away the audience in a playful way thanks to his incredible presence and a lot of charm.
"With these concerts I want to celebrate the new songs. I have taken it upon myself to follow every single step of this work, paying attention to every detail and every nuance - and on each of these evenings a part of me and my story is revealed be seen and heard. I can't wait to see my fans around the world again because I'm convinced that this is the best way to deal with this current, very complex situation and to start making music again. Together!", explains the artist.
"Battito Infinito World Tour" German Dates

Feb 18, 2023 - Stuttgart, Hanns-Martin-Schleyer-Halle
Feb 25, 2023 - Oberhausen, Rudolf Weber-ARENA
March 1, 2023 - Munich, Olympiahalle
March 4, 2023 - Mannheim, SAP Arena
May 13, 2023 - Berlin, Mercedes-Benz Arena
July 7, 2023 - Mainz, SUMMER IN THE CITY
July 14, 2023 - Fulda, Domplatz Open-Air
July 16, 2023 - Füssen, Königswinkel Open-Air
July 21, 2023 - Emmendingen, I EM MUSIC
July 23, 2023 - Regensburg, Thurn & Taxis Schlossfestspiele
July 26, 2023 - Salem, Schloss Salem Open-Air
Tickets for the open-air shows are available from Monday, November 28, 10 a.m. in the exclusive presale via
Eventim
. From Wednesday, November 30, 10:00 a.m., tickets will be available at all known CTS advance booking offices and via the hotline +49 (0)1806 – 570070 (€0.20/call from a landline, mobile max. €0.60/call), via fkpscorpio.com, eventim.de, ramazzotti.com and vertigo.co.it.