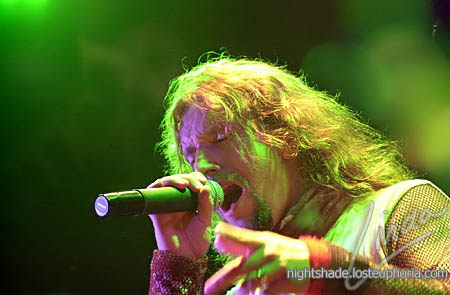 de Boerderij, Zoetermeer, the Netherlands
May 11th 2006
Doro and Sonata Artica

Sonata Arctica is a powermetalband from Finland. In 1996 the band started at the name of Tricky Beans, which was changed to Tricky Means in 1997.
Two year later, 1999, the demo 'Full Moon' was recorded en in the same year the band changed it's name for the second en last time into Sonata Arctica. In 1999 the single 'UnOpenend' en the album 'Ecliptica' were reseleased, which were very well received in the powermetal scene. At that moment the band band was formed by Tony Kakko (vocals/keys), Jani Liimatainen (guitar), Tommy Portimo (drums) en Janne Kivilahti (bass).
After the first album Sonata Arctica has released 4 more studio albums (the last one was released in 2004 and is called 'Reckoning Night' ), a couple of mini-albums, a live-CD and singles. Bandmembers came and went: Janne was replaced by Marko Paasikoski, Tony was replaced and Mikko Härkin, who was recently replaced by Henrik Klingenberg.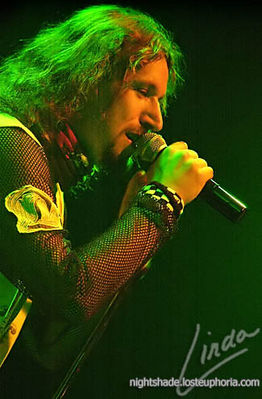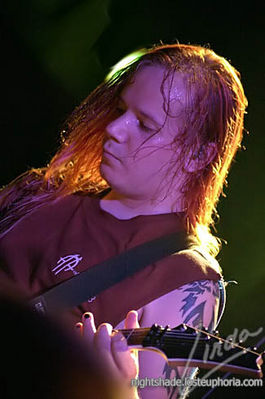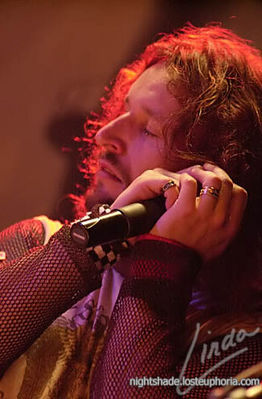 Tour info


| | | | |
| --- | --- | --- | --- |
| 14.01.2006 | Penny Arcade, Rochester (NY) | USA | |
| 15.01.2006 | Chance Theatre, Poughkeepsie | USA | |
| 17.01.2006 | Jaxx, Springfield (VA) | USA | |
| 18.01.2006 | BB Kings´s, New York (NY) | USA | |
| 20.01.2006 | Palladium, Worcester (MA) | USA | |
| 21.01.2006 | The Medley, Montréal (QU) | Canada | |
| 22.01.2006 | Capitol, Québec City (QU) | Canada | |
| 24.01.2006 | Petit Theatre Du Vieux Noranda, Rouyn-Noranda (QU) | Canada | |
| 25.01.2006 | Opera House, Toronto (ON) | Canada | |
| 26.01.2006 | House Of Blues, Chicago (IL) | USA | |
| 28.01.2006 | Harpos, Detroit (MI) | USA | |
| 29.01.2006 | Peabodys, Cleveland (OH) | USA | |
| 31.01.2006 | Star Central, Minneapolis (MN) | USA | |
| 01.02.2006 | West End Cultural Center, Winnipeg | Canada | |
| 03.02.2006 | Warehouse, Calgary | Canada | |
| 04.02.2006 | Starlite Room, Edmonton | Canada | |
| 06.02.2006 | Richard's on Richards, Vancouver (BC) | Canada | |
| 07.02.2006 | Studio Seven, Seattle (WA) | USA | |
| 09.02.2006 | The Pound, San Francisco (CA) | USA | |
| 10.02.2006 | Key Club, Los Angeles (CA) | USA | |
| 11.02.2006 | Galaxy, Santa Ana (CA) | USA | |
| 13.02.2006 | Clubhouse, Phoenix (AZ) | USA | |
| 15.02.2006 | Ridglea Theatre, Ft Worth (TX) | USA | |
| 16.02.2006 | Sanctuary, San Antonio (TX) | USA | |
| 18.02.2006 | Masquerade, Atlanta (GA) | USA | |
| 19.02.2006 | Culture Room, Ft Lauderdale (FL) | USA | |
| 20.02.2006 | Orpheum, St. Petersburg (FL) | USA | |
| 22.02.2006 | Webster Theatre, Hartford (CT) | USA | |
| 23.02.2006 | Mark's Place, Bedford (NH) | USA | |
| 24.02.2006 | Cabaret du Capitole, Québec City (QU) | Canada | |
| 11.04.2006 | Arenan, Stockholm | Sweden | |
| 12.04.2006 | Kåren, Göteborg | Sweden | |
| 13.04.2006 | Mejeriet, Lund | Sweden | |
| 15.04.2006 | Gysenberghalle, Herne | Germany | |
| 16.04.2006 | Löwensaal, Nuremberg | Germany | |
| 17.04.2006 | Petöfi Hall, Budapest | Hungary | |
| 18.04.2006 | Planet Music, Vienna | Austria | |
| 19.04.2006 | Georg Elser Halle, Munich | Germany | |
| 21.04.2006 | Springtime Festival, Stödtlen | Germany | |
| 22.04.2006 | Kammgarn, Kaiserslautern | Germany | |
| 23.04.2006 | Longhorn, Stuttgart | Germany | |
| 24.04.2006 | Z7, Pratteln | Switzerland | |
| 26.04.2006 | Hyde Park, Osnabrück | Germany | |
| 27.04.2006 | Fabrik, Hamburg | Germany | |
| 28.04.2006 | Plato, Helmond [SOLD OUT] | The Netherlands | |
| 29.04.2006 | Pestpop, Oktoberhallen, Aalst | Belgium | |
| 30.04.2006 | Le Trabendo, Paris [SOLD OUT] | France | |
| 02.05.2006 | Rockstore, Montpellier | France | |
| 04.05.2006 | Hard Club, Porto | Portugal | |
| 05.05.2006 | Aqualung, Madrid | Spain | |
| 06.05.2006 | Razzmatazz 2, Barcelona | Spain | |
| 07.05.2006 | Jam, Bergara | Spain | |
| 09.05.2006 | La Loco, Paris | France | |
| 11.05.2006 | De Boerderij, Zoetermeer | The Netherlands | |
| 12.05.2006 | Vachwerk, Vacha | Germany | |
| 13.05.2006 | Stadthalle, Langen | Germany | |
| 03.06.2006 | Gods of Metal | Italy | |
| 30.06.2006 | Tuska Open Air, Helsinki | Finland | |
| 08.07.2006 | Ruisrock, Turku | Finland | |
| 29.07.2006 | Qstock Festival, Kuusisaari, Oulu | Finland | |