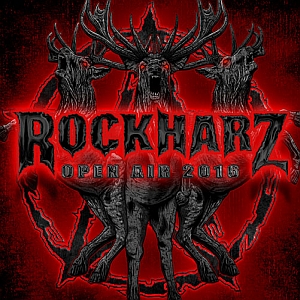 Airport, Ballenstedt/Harz, Germany
7th - 9th July 2016
RockHarz Festival 2016 with Avantasia, Saxon, ASP, Powerwolf, Subway To Sally, Saltatio Mortis, Sonata Arctica, Annihilator and many more

RockHarz has meanwhile announced more than 41 bands with some extraordinary highlights. First to mention is Tobias Sammet's Metal Opera AVANTASIA. They will return with their new album 'Ghostlights' and will be definitely one of the festival highlights 2016.
In the past 13 years J.B.O. was one of the most booked RockHarz bands. So RockHarz is very pleased that the band will come for the fifth time to have a great party. Not only they will present their new album '11', release it and offer it to sale for the first time - no, the Franconians will also bring a never before seen, pink glowing show with lots of surprises and a lot of extra fun with them. But also other bands announced special gigs for RockHarz: TANZWUT will present their new album release with a live show and ILLDISPOSED will celebrate a jubilee show.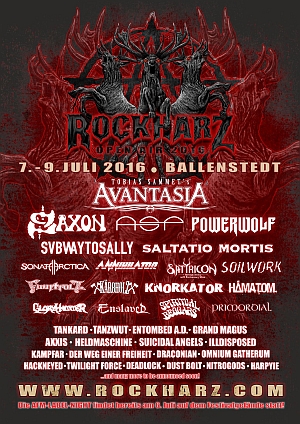 RockHarz expects more than 12,500 visitors and is known for the concept of two open air stages which guarantees endless celebration of metal music. Rockharz is also well known for the wide and peaceful camping place directly next to the stage area. The festival takes place at a former airport in Ballenstedt on July 7th until 9th 2016 and presents once again the best of Metal music so that everybody will feel perfectly entertained.
Festival Tickets for all festival days are available for 91.90 € incl. fees via
http://shop.rockharz-festival.com/rockharz-2016-festivalticket.html
.
Current Line-up

Annihilator, ASP, Avantasia, Axxis, Deadlock, Der Weg Einer Freiheit, Draconian, Dust Bolt, Ensiferum, Enslaved, ENTOMBED A.D., Finntroll, Fleshgod Apocalypse, Gloryhammer, Grand Magus, Hackneyed, Harpyie, Heldmaschine, Hämatom, Illdisposed, J.B.O., Kampfar, Knorkator, Kärbholz, Nitrogods, Omnium Gatherum, Powerwolf, Primordial, Saltatio Mortis, Satyricon, Saxon, Soilwork, Sonata Arctica, Spiritual Beggars, Subway To Sally, Suicidal Angels, Tankard, Tanzwut, The New Roses, Twilight Force, Versengold