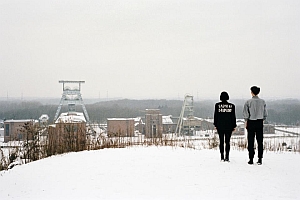 Druckluft, Oberhausen, Germany
9th April 2016
Lebanon Hanover, Crystal Soda Cream, Monowelt

LEBANON HANOVER is an "ice cold reply to the alienated world" by the creative duo Larissa Iceglass (vocals, guitars, synths) and William Maybelline (vocals, bass, synths). Since 2010 the modern age romantics have been producing minimal guitar/ bass cold wave tunes peppered with some new wave and post punk around vocals alternating between male and female and lyrics between German and English. Come out on April 9 to indulge in LEBANON HANOVER's gothy synth pop! Their 'Gallowdance' is taking place in Oberhausen's Druckluft.
LEBANON HANOVER will be supported by the post punks CRYSTAL SODA CREAM from Vienna. CRYSTAL SODA CREAM are Theresa Adamski (drums, keyboard), Sebastian Ploier (bass guitar), and Philipp Forthuber (vocals, guitar). On their first long player 'Escape from Vienna' and follow-up album 'Rationale Arbeitsschritte', the band presents political lyrics to their own 80s sound that's minimalistic, cold, and danceable.
MONOWELT, a minimalist dark wave duo formed in 2012, will also be there. Daria Leere and Marta Raya use analogue synthesizers and drum machines, atmospheric bass guitar and haunting vocals when creating their melancholic musical world of "grey times we have never been to". The duo from Berlin will perform some new songs from their freshly released debut record called 'Rückschau' (transl. "Retrospect").
Additional Concert Info

Doors: 8pm
Starts: 9pm
Tickets: are available for 13.00€ (plus fees)
HERE
!
Info LEBANON HANOVER:
https://www.facebook.com/lebanonhanover
Info CRYSTAL SODA CREAM:
https://de-de.facebook.com/crystalsodacream
Info MONOWELT:
https://www.facebook.com/monoweltdarkwave
Event:
https://www.facebook.com/events/193432764334700/
Tour Dates

Apr 9 – Druckluft, Oberhausen
Jul 23 – Amphi Festival, Cologne
Sep 2 – Kulturpark Deutzen, Deutzen