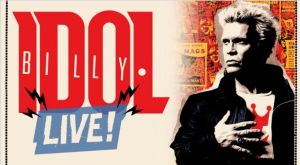 Tanzbrunnen, Cologne, Germany
17th July 2018
Billy Idol

The shocking-blonde Rock rebel returns to Germany in the summer for concerts in Regensburg, Munich, Halle (Saale), Cologne, Berlin & Hamburg. BILLY IDOL has built musical bridges between Punk and Hard Rock and fascinated the music world with 'Rebel Yell', 'Dancing With Myself', 'Flesh For Fantasy' or 'Cradle Of Love'. He made an amazing comeback in 2006 with the CD 'Devil's Playground'. After more than a decade, the Punk provocateur returned to the stages, which he captured with shrill songs, aggressive attitudes and the charm of the middle finger. In the summer 2018, BILLY IDOL finally comes back to Germany.
Born in England, BILLY IDOL met with like-minded SEX PISTOLS, THE CLASH and GENERATION X, whose vocalist he eventually became. In the early 80s he moved to New York and then to Los Angeles, where he still lives today. The international breakthrough came with 'Rebel Yell' (1984), which reached #2 in the charts in Germany. The single 'Sweet Sixteen' from the third album 'Whiplash Smile' developed in this country to his most successful hit single. A serious motorcycle accident, in which he barely escaped death, overshadowed the release of the CD 'Charmed Life' (1990), which nevertheless caused a sensation. Unbridled drug use led him to the brink of existence. The reflection came only with the total retreat into private.
Billy Idol has left the excesses behind, but in his music and live on stage he has remained uncompromising. With 'Devil's Playground' "he zoomed the listener back to the time when, after hard nights, there was no headache and a lot of things were really fucking shitty" (Stern). In October 2014, BILLY IDOL returned with a double strike: Almost at the same time as the release of his album 'Kings & Queens Of The Underground', he released his autobiography titled 'Dancing With Myself', making for plenty of conversation. Despite his over 30 years of music career, BILLY IDOL is still a Rock rebel par excellence. He will prove this again on German stages in June / July 2018.
Live Nation Presents Billy Idol - Live 2018

26.06.18 - Regensburg / Donau Arena
03.07.18 - Munich / Tollwood Festival
14.07.18 - Halle (Saale) / Peißnitz Insel
17.07.18 - Cologne / Tanzbrunnen
19.07.18 - Berlin / Zitadelle
22.07.18 - Hamburg / Stadtpark
Additional Concert Info

Doors: 17:00
Start: 19:00
Tickets: are available for 59.85 euros plus charges (pre-sale) via
Eventim
and
Ticketmaster
More information: https://www.dbe.ag/k/billy-idol-25520
More on
Billy Idol