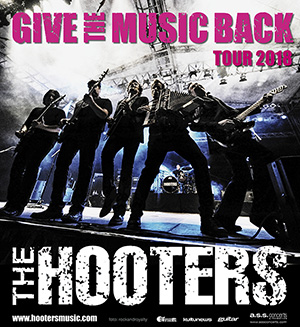 Zeche, Bochum, Germany
17th July 2018
The Hooters - "Give The Music Back Tour 2018"

When THE HOOTERS first appeared in the music scene of Philadelphia in 1980, they conquered the East Coast at breakneck speed. Led by keyboarder Rob Hyman and guitar-playing vocalist Eric Bazilian, they released their first indie album in 1983, which sold 100,000 copies from a standstill and which was also the carrier of the original versions with future world hits like 'All You Zombies' and 'Fightin On The Same Side'.
Just one year later, THE HOOTERS signed their first major record contract with Columbia Records and released shortly thereafter, in 1985, their official debut 'Nervous Night' with such classics as 'Day by Day', 'And We Danced', 'Where Do The Children Go' and of course 'All You Zombies'. Luck or destiny was the selection for THE HOOTERS' participation in the LIVE AID concert in Philadelphia in July 1985, giving the band fast and worldwide gold and platinum status for 'Nervous Night'. This was followed by the canonization of the then most important music magazine, the Rolling Stone, as "Best New Band Of The Year" in 1985.
Spurred on by their terrific success, THE HOOTERS gave in and brought more hits to both the fans and their record label. 'Johnny B', 'Karla With A K' and 'Satellite' were all on the long-player 'One Way Home' (Columbia 1987), followed by the gold and platinum album 'Zig Zag' (Columbia 1989), which caught the attention of none other than PINK FLOYD's Roger Waters with the song '500 Miles'. It was Roger Waters who invited THE HOOTERS to attend the legendary event of the twentieth century and the end of the millennium. We are talking about the extravaganza multimedia event "The Wall" (Live from Berlin), which took place in 1990 together with stars and greats such as JONI MITCHELL, VAN MORRISON, THE BAND, BRYAN ADAMS and many others.
Not enough to celebrate success with their band, as well as songwriters, bandleaders Eric Bazilian and Rob Hyman were driven to write hits for other artists as well. And how could it be otherwise, they were successful and created with producer Rick Cherloff an all-time classic. We are talking about Rob and CYNDI LAUPER's song 'Time After Time', which was next to 'She's So Unusual' on CYNDI LAUPER's debut album and was nominated for several Grammys, among others in the category "Song Of The Year" and ever since and ever heard of the biggest 80-year hits ever.
In 2000, none other than RICKY MARTIN covered 'Private Emotion', which became a huge hit. In 2001, THE HOOTERS announced their reunion and since then have toured intensively and permanently.
Additional Concert Info

Doors: 19:00
Start: 20:00
Tickets: are available for 41.95 euros plus charges (pre-sale) via
Eventim
and
Ticketmaster
More information: http://zeche.net/konzert.php?nummer=16
More on
The Hooters