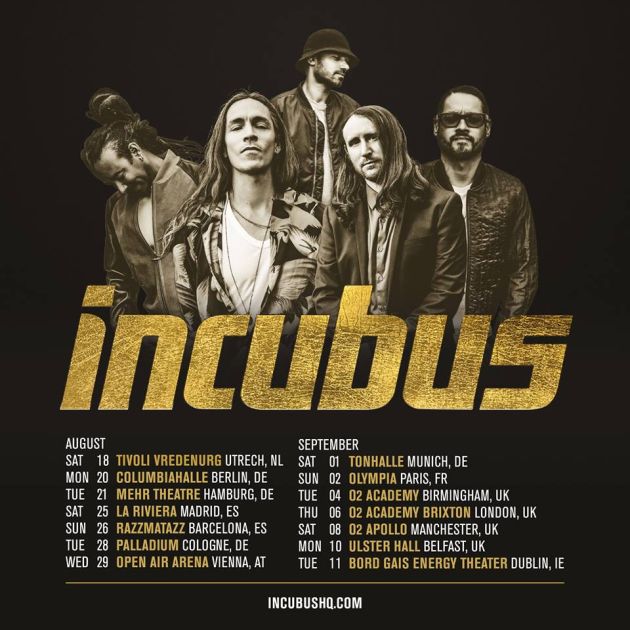 20 years after the debut album 'S.C.I.E.N.C.E.', the American Rock band INCUBUS released its eighth studio album '8' on April 21, 2017. In August and September of this year, INCUBUS finally return to Germany for four concerts after six years of absence! Since the band formation in 1991, INCUBUS has had many experiences and achievements: over 23 million record sales worldwide, a #1 album, four Top-5 debuts in the Billboard Top 200, and numerous tours with bands such as LINKIN PARK, OUTKAST, QUEENS OF THE STONE AGE, or JANE'S ADDICTION. The band has always been keen to challenge themselves as artists and people during all this time. "As a band, we are collectively interested in challenging ourselves and hopefully finding new, innovative ways to write music," asserts Brandon Boyd. "This ethos has kept things interesting for us."
The friendship between Mike Einziger and SKRILLEX led to their collaboration on '8'. Einziger explains: "INCUBUS is all about friendship, we have the synergy of working together in what the band did, and when we put the finishing touches to everything, SKRILLEX added another layer to the album." The result? Unpredictable guitar riffs that blur the boundaries between the time signatures and there are hidden messages in the lyrics. The eleven tracks on '8' together form a mosaic which reflects the current thinking of the band. "When we finished '8', we were flooded with that wave of gratitude," Boyd points out. "The fact that so many people are ready to come with us on this strange journey is really impressive." At the end of August, INCUBUS will travel to Berlin, Hamburg, Cologne and Munich:
20.08.2018 – Berlin / Columbiahalle
21.08.2018 – Hamburg / Mehr! Theater
28.08.2018 – Cologne / Palladium
01.09.2018 – Munich / TonHalle
Tickets for the concerts of INCUBUS will be available from 9:00 on 27 April exclusively via x-why-z.eu and on 26 April 9:00 via
Ticketmaster
.
More on
Incubus