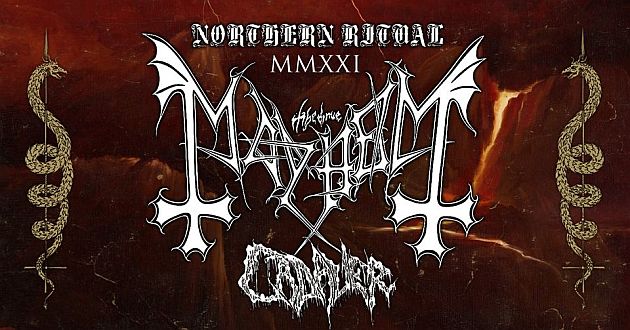 Rockefeller, Oslo, Norway
5th December 2021
Mayhem & Support: Cadaver

MAYHEM - one of Norway's most legendary Black Metal bands - is playing at Rockefeller in December 2021! From the very beginnings in the mid-80s and first demos and EPs like 'Deathcrush', a more than dark band history and huge influence on the Black Metal scene internationally throughout the 90ies to the latest and newest album 'Atavistic Black Disorder / Kommando' (released in 2021) - MAYHEM's influence is unquestionably huge. MAYHEM have gained international cult status in their over 35 years of band history through their music as well as the long history of controversies and continue doing so with their ongoing discography.
Norwegian Death Metal band CADAVER will be opening the evening and for sure present their new album 'Edder & Bile" which will be released on 27th November 2021 via Nuclear Blast. From the beginnings in 1988 throughout the split in 2004 - CADAVER are back, among others with founding member and mastermind Anders Odden, who will be also known by many from SATYRICON and ORDER.
An evening full of BLACK & DEATH METAL for the books - on Dec 5th at Rockefeller!
Additional Concert Info

Doors: 20:00
Start: to be announced
Tickets: 435 NOK via https://www.ticketmaster.no/event/637999
Artists: https://www.thetruemayhem.com / https://www.facebook.com/cadavertheband