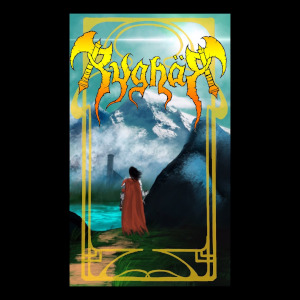 Artist: Ryghär
Title: Untitled Demo January 2020
Genre: Heavy Metal
Release Date: 1st January 2020
Label: Self-released
Review Flash

News from the deepest fucking underground! Now playing: RYGHÄR from San Antonio, Texas. Not many is known about this Heavy Metal outfit. I searched the Metal Archives, Instagram, Facebook and other sites that usually help me to make myself acquainted with a band but nope... luckily in the mid of this review I got an answer to my metallic prayers so that I can now cite the origin of RYGHÄR!
"RYGHÄR was formed in the prehistoric age of steel by Ryghär Highwind, Commander of the barbarian horde 'The Silver Company' who hail from the boreal kingdom of Thurmecia. After witnessing the murder of his brother by the vile Lich King of the land where the sun never sleeps, he swears righteous vengeance on him and all those who betrayed his brother and their beloved home." He might have transcribed that from a papyrus and magically send it to my Instagram account but we may never know the whole truth...
The main influences on the band are: DIO, RAINBOW, MANOWAR, ETERNAL CHAMPION, CIRITH UNGOL and I shall say I get reminded a bit of MANILLA ROAD quite a bit. Currently, the band offers a demo and announced a release within two months: then (March approximately) RYGHÄR will have a release over Wrought Records, if it's a full length or an EP I unknown to me.
Conclusion: For my taste Ryghär's voice is a bit odd at times (CIRITH UNGOL anyone?) but RYGHÄR's a barbarian commander and a warrior is not a bard you know?
Rating: 7 / 10