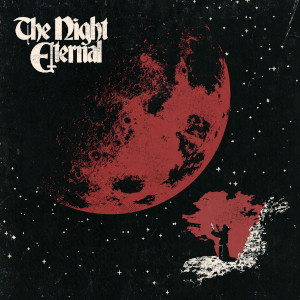 Artist: The Night Eternal
Title: Eternal Night EP
Genre: Heavy Metal
Release Date: 8th July 2019
Label: Dying Victims Productions
Review Flash

Normally, Essen in Germany is well known for spawning Death and Thrash bands (most of them not so well known besides KREATOR), this is about to change if I get what I want. I present; THE NIGHT ETERNAL! These guys play really tight for their first public recording, I quickly get reminded of IDLE HANDS but Ricardo's voice ain't sounding like Gabriel Franco's. Raw and unpolished but not in a Gothic Rock way, he sounds a bit Punk-ish but with a whiff of THIN LIZZY's Phil Lynott.
I really have to say that I dig the fact that I can actually hear Jones bass because he does not just play along to beef up the guitar sound, he doubles them but at times you can hear a different melodic aspect coming from the four strings department (a big thumbs up dude). Rob and Henry play great together, so good to be honest that sometimes you think it's only one guitar playing the pretty melodic compositions. Aleister's drumming rounds up the very good first impression the band is capable to make. These guys got it all: skills, melodies and a vocalist that stands out and distinguishes them from the rest.
Conclusion: The only reason I did not give this a 9 point rating is the fact that 4 songs and the average playing time of under 30 minutes is too little material and time to really evaluate what the band can do; I am sure if they can hold this quality over a full-length record I would rate it 9 or even 10 points.
Rating: 8 / 10