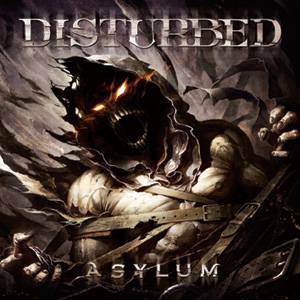 Artist: Disturbed
Title: Asylum
Genre: Hard Rock
Release Date: 27th August 2010
Label: Reprise Records / Warner
Album Review

Fan pressure must be getting to Chicago based rock band DISTURBED. For several years they've taken their time at putting out albums, and the distance in between has paid off. Right after their last tour they rushed to the studio and quickly cranked out the songs for their newest album, 'Asylum'. Singer David Draiman said he originally wanted 'Asylum' to sound more like DISTURBED's 'Believe' days, but instead it sounds more like 'Indestructible'. With an emphasis on catchy hooks and a cleaner sound rather than the raw, aggressive power that 'Believe' had concerning the guitars, 'Asylum' is in no way a disappointment as far as DISTURBED's sound is concerned. The solos are still there, as the guitarists still relish in the fact that they haven't been able to perform too many before their last album, 'Indestructible'. Thankfully, they didn't try to completely recreate their last album, 'Indestructible', but some songs have been recycled as far as sound goes.
'Crucified' holds a beat similar to 'Torn' with similar lyrical themes about loss and relationships. 'Warrior' has a military focus just like 'Indestructible' held with similar musical structure. 'Serpentine' brings forth a new lyrical aspect, but a similar beat to 'Enough' from 'Indestructible'. 'The Infection' sounds like 'Decadence' from 'Ten Thousand Fists' (this is a good thing though because it features clear bass work from John Moyer, something that isn't seen much in hard rock) and 'Asylum', the title track, sounds like 'Perfect Insanity', again from 'Indestructible'. 'Innocence' is too alike to be new since it is the last track of the album and holds a tempo just like 'Façade' from 'Indestructible'. Apparently they're running out ideas as far as riffs go… It is good to see DISTURBED continue in this evolved vein, but it is also a disappointment that they created so much material that sounds way too much like their other songs. Up till 'Asylum', DISTURBED created a new and distinct style on each album that infected a sickness of moods. Listening to 'The Sickness' (known for its nu / rap metal sound) doesn't produce the same effect as listening to 'Ten Thousand Fists' (best known for the use of samples, tribal beats, and more complex melodies). When listening to 'Asylum', it sounds like a combination of the last two albums with nothing revolutionary to offer.
As repetitive in sound as 'Asylum' may sound, DISTURBED still have a few tricks of their sleeve. This album is the only album so far to feature a sole instrumental, called 'Remnants'. The guitar work by Dan Donegan and drums by Mike Wengren is flawless and offers a hopeful glimpse of further evolution for the band as far as their musical interests are concerned. It is moody, fresh, and possibly one of the few original tracks on the album. 'Another Way To Die' is, musically, another DISTURBED song that has probably been done a few times over, but is one of the first politically charged topics for the band to ever tackle: global warming. 'Never Again' draws on Draiman's Jewish heritage and an outcry against the Nazi atrocities in World War 2. 'Innocence' is also politically charged about government corruption, but is more of a universal strike against anyone who has put individuals away in jail for the wrong reasons. There are also fantasy themes rather than the down to earth, serious topics that DISTURBED usually picks, especially when it comes to relationships. 'Serpentine' is about succubi demons while 'The Animal' - possibly the most enigmatic and enjoyable track on the album for the introduction and David Draiman's harmonic vocal style - refers to creatures of the night such as werewolves
Of course, there are plenty of "relationship songs" here too; done in that special love-hate / aggressive-melodic style that DISTURBED does so well. 'Crucified' is easily seen as a song about breaking relationships, and then there's 'My Child', possibly the most personal song that Draiman has ever written. It opens with a screaming child and then a pulsing heartbeat before leading into that hard rock song. From the lyrical content one can tell it is about a loss of child at a very young age. If there was ever a song that is to be respected, this is it. It takes a lot of gall and a lot of heart to put something like this into paper, and Draiman has done it beautifully. Strangely enough, it suits the album theme of 'Asylum' perfectly well because such a thing can drive a person mad. Like most of DISTURBED's album titles, everything has a dual meaning. In case of 'Asylum', it is both a place of solitude and loneliness as well as comfort and safety. Each track is indeed a hard rock song, but also therapy for those who really get the meaning of the lyrics. And all of the lyrics have excellent meaning.
It is difficult to get a clear opinion of the album. On one hand it lacks that change in musical style that is expected of DISTURBED, but on the other hand it continues to be catchy and the lyrics just get better and better. For those who hoped to see DISTURBED go back to the early days, shame to say that isn't happening. Indestructible has seemed to be the defining point of the band's career as they've continued in that vein. Whether or not 'Asylum' seems rushed due to such a similar sound to the former, it is clear that DISTURBED took a chance with taking only two years to get an album out as opposed to three. And by sleight of hand, they somehow managed to pull it off. If one loved 'Indestructible' or 'Ten Thousand Fists', then 'Asylum' will be a new home for any ear hole. Prepare to STILL be DISTURBED!
Tracklist

01. Remnants (2:44)
02. Asylum (4:36)
03. The Infection (4:09)
04. Warrior (3:25)
05. Another Way To Die (4:13)
06. Never Again (3:34)
07. The Animal (4:14)
08. Crucified (4:37)
09. Serpentine (4:10)
10. My Child (3:18)
11. Sacrifice (4:00)
12. Innocence (4:31)
Line-up

David Draiman - vocals
Dan Donegan - guitar
John Moyer - bass
Mike Wengren - drums
Website

http://www.disturbed1.com/
Cover Picture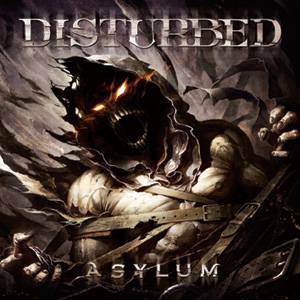 Rating

Music: 10
Sound: 7
Total: 8 / 10
{jos_sb_discuss:19}