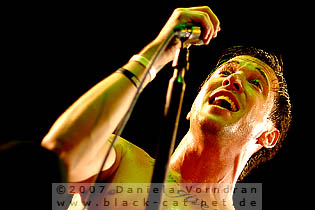 Philipshalle, Düsseldorf, Germany
20th February 2007
Billy Talent, Alexisonfire, Enter Shikari

With only two albums Canadian Punk Rockers BILLY TALENT pitchforked their way to the top. While their self-titled debut album, released 2003, was success-wise a slow grower which finally built a cult following for the band, the second album - simply titled 'II' and released last June - was like an explosion. BILLY TALENT's popularity has been multiplied since then, the singles 'Red Flag' and 'Fallen Leaves' are on high rotation on MTV Europe, so it's no surprise that BILLY TALENT are playing now venues which are three times bigger as the ones they did back in autumn 2005. About time to catch up with BILLY TALENT!
Enter Shikari


BILLY TALENT have the habit to bring friends and bands they simply like with them on tour. On the European leg of their tour this winter the London-based ENTER SHIKARI is one of these bands. The band is known for combining elements of trance, post-hardcore and screamo in many of their songs. All four members are from St Albans, England. Their first single 'Sorry you're not a Winner' was just released last October and their debut album called 'Take to the Skies' has yet to see a release, which is scheduled for late March 2007. But ENTER SHIKARI managed to sell out the Astoria in London while they were still unsigned. The only other band who achieved was THE DARKNESS, by the way.
http://www.entershikari.com/
/
http://www.myspace.com/entershikari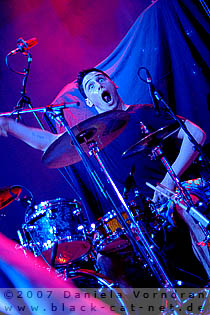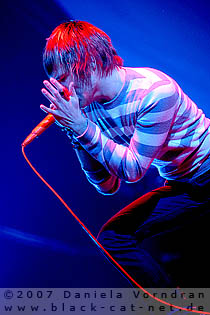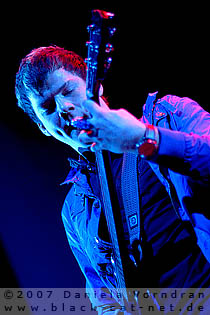 Music
In Düsseldorf many people were obviously not familiar with ENTER SHIKARI as they didn't get the same enthusiastic press coverage (yet) in Germany as in the UK, but obviously the band hat their own little fan crowd in front of the stage. They started with an instrumental from THE PRODIGY as intro and this well set the tone for their gig – Rock combined with Dance Electronics. At times a lot of electronics! This alienated a few of the guitar-loving BILLY TALENT fans apparently, but they also won over a good part of the audience because of their unusual approach of combining Rock and Synth sounds.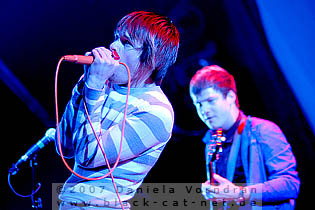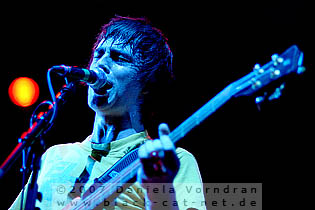 Performance
The band was well into it and jumped around the stage, and the guitarist and the bass player had a lot of time for jumping and dancing when the singer was fiddling around with the synthesizer gear in front of the drum kit. All in all it was a good show with a good response although there were also a lot of critical opinions after the gig. You can't please everyone but if you do your own thing you will succeed in the end. I for one pretty much enjoyed ENTER SHIKARI's show.
Rating

Music: 6
Performance: 7
Sound: 8
Light: 6
Total: 6.6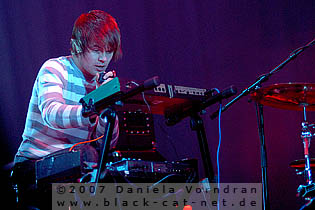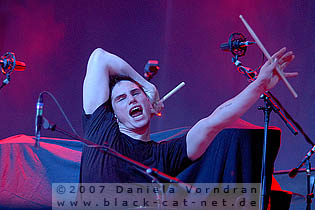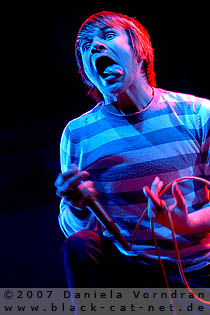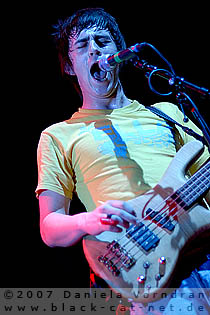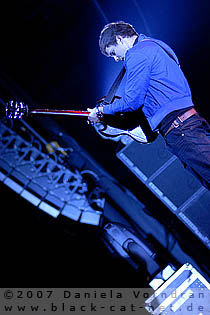 Alexisonfire


ALEXISONFIRE is a five-piece post-hardcore band from St. Catharines, Ontario, Canada established in 2001. The band describes their music as aggressive and energetic, with a unique sound, that plays on the extremes of multiple vocalists, with Dallas Green providing melody with his soft singing, George Pettit's polar-opposite explosive screaming, and with Wade MacNeil lending his punk rock vocals to the mixture. Over the years their style has progressed, their lyrics have evolved, with subject matters from go-karting and relationship troubles, and musically they have developed a more mature and available sound. Their most recent music video reflects their stance shift and stylistic progression.
http://www.theonlybandever.com/
/
http://www.myspace.com/alexisonfire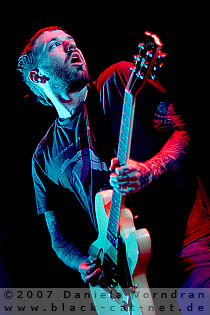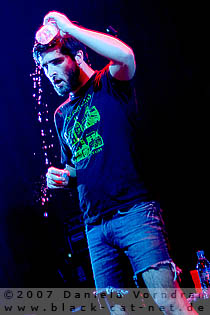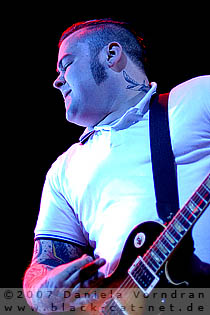 Music
The band released its first EP 'Math Sheet Demos' in 2002, the first, self-titled studio album 'Alexisonfire' was released that same year. Initially they faced hard times and received virtually no radio airtime, which continues to stand true today regardless of their popularity. This didn't hold the band back though; they broke out, gaining notoriety in the underground, and eventually mainstream with the support of MuchMusic. In 2006 ALEXISONFIRE signed to Vagrant Records in the United States. As the sound of ALEXISONFIRE is much more complementing to the one of their fellow Canadians of BILLY TALENT, their gig was much more welcomed than the one by ENTER SHIKARI.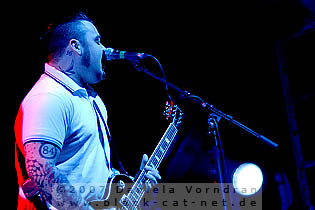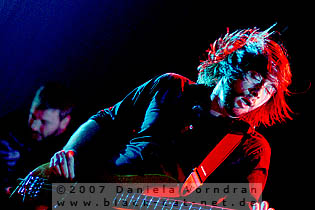 Performance
Meanwhile the Philipshalle was packed to the roof so ALEXISONFIRE had a better start than the preceding band. Unfortunately the band's performance was at times as sleazy and dodgy as their visual appearance – especially Pettit's outfit with old sneakers, jeans shorts and naked to the waits was rather questionable. To me he looked a little like a slacker on his way buying some beers in the morning. ;-) But for a supporting band ALEXISONFIRE got a pretty good response from the crowd, and the first moshpits appeared in front of the stage.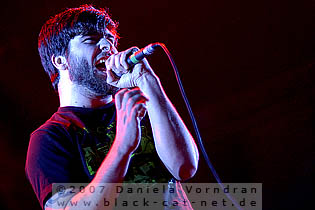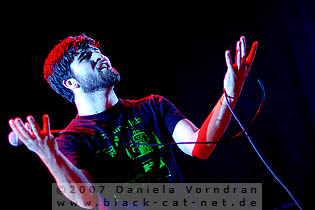 For one song BILLY TALENT-guitarist Ian emerged in the back of the stage to deliver some extra vocals but apart from the first few rows not everyone in the audience seemed to have noticed that.
Rating

Music: 9
Performance: 9
Sound: 8
Light: 6
Total: 8.4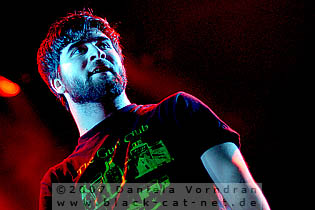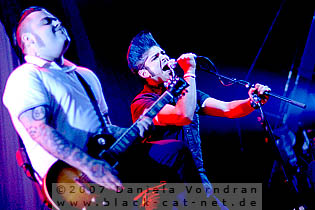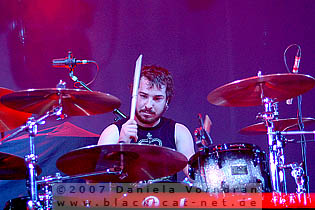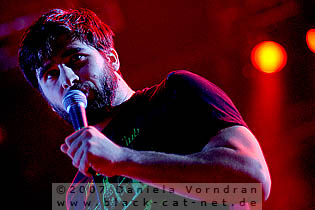 Billy Talent


Two albums and three years – it seems that BILLY TALENT's career went through the roof in a relatively short time. But BILLY TALENT is not a brand new, young band as it may seem. Actually t
he band started more than 13 years ago in downtown Toronto, Canada. For more than a decade BILLY TALENT played small clubs and bars as a local act, and a huge international career was never on their personal schedule. But that's exactly what happened after the release of their debut, and life has become a Rock 'n' Roll dream for the quartet since then. http://www.billytalent.com/ / http://www.billy-talent.de/ / http://www.myspace.com/billytalent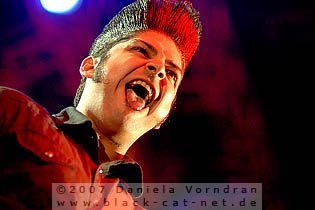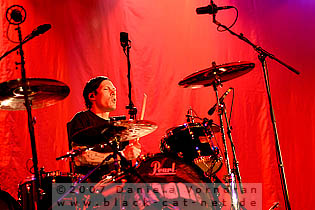 Music
Ben Kowalewicz (vocals), Ian D'Sa (guit), Jon Gallant (bass) and Aaron Solowoniuk (drums) started making music together in 1993 in Streetsville, Ontario, under the name PEZZ. For many years they performed in their local area under this flag and even released an album called 'Watoosh!' in 1999. Due to legal problems with another band that was also named PEZZ, the four-piece changed their name to BILLY TALENT, taken from a movie character, shortly after the first album. But not only the name changed, they also changed their musical direction. While PEZZ was much more Ska-oriented, they now combined elements from Screamo, Punk, and Alternative, with a soft spot for great hooks and melodies. In 2001 BILLY TALENT released their first EP 'Try Honesty' (which saw a re-release in 2003). The band toured the whole North-American continent supporting other bands, and finally released in 2003 their first (and self-titled) album. It became a huge success in their homeland Canada, where it even reached double-platinum status, and it set the root for their world-wide success. Songs like 'The Ex', 'River Below' and of course 'Try Honesty' became club favorites and huge hits among the young Indie/Emo crowd. Worldwide tours and festival appearances followed and founded BILLY TALENT's reputation as an excellent live band.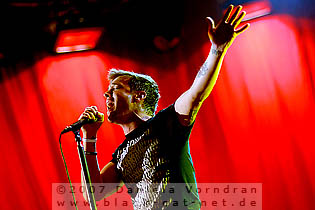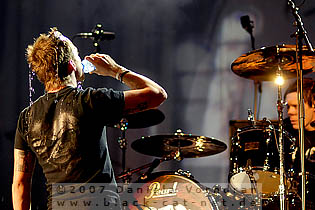 With the big success in their native Canada behind them, they step by step conquered the European and US music markets, making their way from an insiders' tip to major success, especially in Germany. So only for a few it was a surprise that their second full-length release, simply entitled 'II', hit the number one spot of the German Media Control chart in its first week. The album also spawned the hit singles 'Devil in a Midnight Mass', 'Red Flag' and 'Fallen Leaves' which all got massive airplay on music televisions and at Rock clubs alike.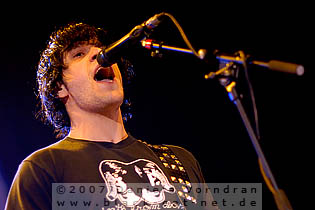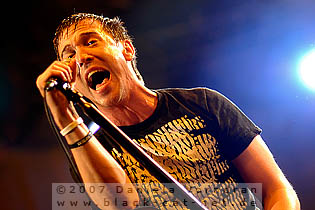 Performance
After the crowd at the Philipshalle was well warmed up by the two support bands, the tension before BILLY TALENT started their show got on a new high, and when the glaring lights in the arena were turned off, a big roar of excitement showed that the audience was ready. A huge white curtain stashed the stage, only with a few white lights from above. The first guitar licks came in, and slowly the white light switched to the back so that by and by the silhouettes of the band members appeared on the curtain. First was guitarist Ian D'Sa, easily cognizable by his trade-mark haircut. The shades of Jon Gallant and drummer Aaron Solowoniuk followed, of course to much applause, and all of a sudden singer Ben appeared in front of the curtain and 'This Is How It Goes' started with an eruption, and when the song took off the curtain went down.. It was a little surprising that BILLY TALENT started their show with a song from their debut instead of a new one but it was a nice nod to everyone who has followed the band longer than just since the last two or three hits. 'Devil in A Midnight Mass' followed, a big hit played rather early but it did the job. One may argue that small clubs are better for an energetic live band like BILLY TALENT than an 8,000 capacity arena like the Philipshalle, as the feeling is much more intimate and also more intense in small clubs. But it took the Canadian quartet only two or three songs until also the people in the upper ranks jumped up and down on their seats and most people sang along all lines of the lyrics.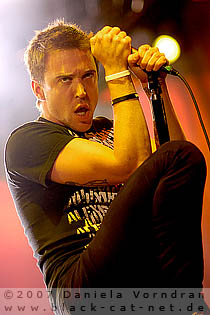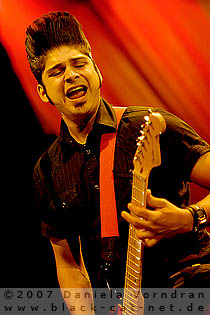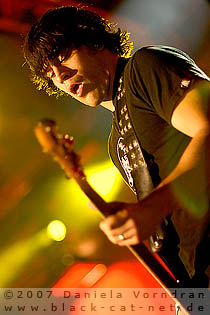 Front man Ben Kowalewicz gave the crowd what they have paid for and ran around the stage like a lunatic on speed, while the kids in the moshpit belt out the lyrics of each song. Kowalewicz soon got rid of his shirt and presented his sweaty and muscular body, much to the pleasure of the girls. Yes, BILLY TALENT are stars, but in no moment you felt that they were asking for admiration, they celebrated with their fans instead of letting themselves being celebrated by the crowd. Kowalewicz drained the first rows with a lot of water from his bottles and often addressed the audience between songs. Before 'The Ex' he said that he loves woman, especially German women (which was of course a much applauded statement) but the next song would be dedicated to the one bitch who tried to ruin it all for the rest of the girls. There was much of this kind of banter between the songs, and before 'Fallen leaves' Kowalewicz just had to give the first line of the chorus to make the whole arena sing the whole of it before the music even started!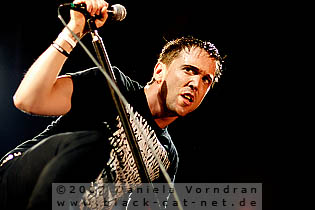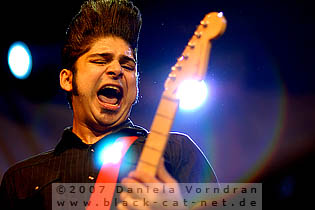 T
here's definitely a close connection between BILLY TALENT and their audience, and this is definitely one of their greatest strengths; and the tight and dynamic musical performance of all four BILLY TALENT members is of course another strength. With only two albums they already have enough smash hits and crowd pleasers in their agenda to avoid any filler. This may explain the rather short length of their gig with approx. 70 minutes. Better a short and energetic set than losing the momentum for a song or two. And BILLY TALENT are spot-on with this attitude! A three-song encore finished the show, including the early fan favorite 'River Below' from their debut and the drum-driven high-energy of 'Red Flag' as the very last song of the night. This impressive performance made it clear why BILLY TALENT have such an excellent reputation as a live act!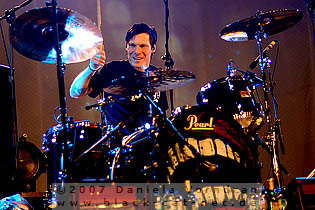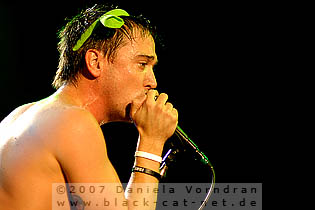 Days later I happened to watch some show on MTV Germany which featured BILLY TALENT as studio guests. Teenage girls asked awkward questions like if they had girlfriends and wanted to hug them, and at the end of the show BILLY TALENT were presented an award for being voted number one for the 15th time by the viewers of this MTV show. I guess they made it! J
Setlist
01. This is how it goes
02. Devil in a midnight mass
03. This suffering
04. Line & Sinker
05. Standing in the rain
06. Prisoners of today
07. The Ex
08. Fallen leaves
09. Surrender
10. The navy song (In the fall)
11. Worker bees
12. Perfect world
13. Sympathy
14. Try honesty
---
15. Nothing to lose
16. River below
17. Red flag
Rating
Music: 9
Performance: 9
Sound: 9
Light: 9
Total: 9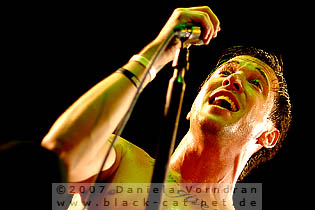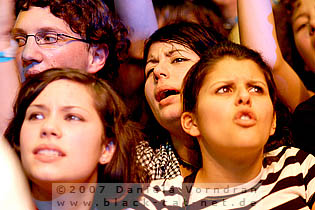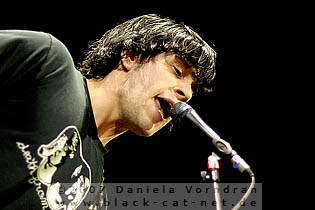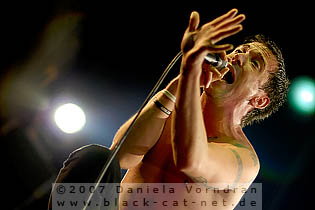 All pictures by Daniela Vorndran (
http://www.black-cat-net.de/
)
{jos_sb_discuss:17}