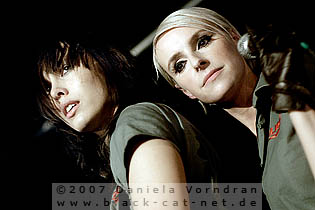 Kulturfabrik, Krefeld, Germany
04th May 2007
Client - "Lights go out"-Tour, Nemo

The probably most seductive girl trio of Electro Pop was inviting you to a journey to the dark site of the city – to the place of unfulfilled dreams and anonymity, for forbidden lusts and sex. Visually very clever between fashion and fetish the three ladies of CLIENT play a very alluring game between distance and coolness – presented with breezy winking – also musically. Irresistible hook lines on a minimalist electro basement are combined with New Wave and Brit Pop. Additionally, you get a pinch of Glam Pop and some strokes of Northern Soul. CLIENT present a futuristic Pop epos with their new album 'Heartland' – comparably cool as emotional, glamorous and sexy. Feelings and longings of the audience can come to tailspin. On that Friday night in May, I had the pleasure to see those ladies again at the small club at the Kulturfabrik Krefeld where the evening was opened by the British band NEMO.
Nemo
First I thought, this would be quite an empty venue during the support act. But luckily right in time for the staring time at 21:00 people entered the concert hall to see an electro rock quartet from London / UK called NEMO. NEMO are Kev Kennedy (guitars, synths, backing vocals), Milan Adamik (bass, synths) Section Q (drums, synths) and James Cook (vocals, synths). The band had the first live performances in summer 2004 and since than, their popularity increases from UK over France to Germany. Recently, the band finished the recording of the debut album 'Post Human Love' - which is out since March - at its own studios. After succeeding in Berlin's clubs, NEMO now regularly tour trough Germany as well as toured through UK i.e. with legendary SNEAKER PIPMS (singer Chris Corner is now on the road with his solo project IAMX). After the album release, now the second single 'Car Crash Eyes' hit the stores in April and follows the footsteps of the debut single 'Lifespan'.
http://www.nemointernational.com/
/
http://www.myspace.com/nemointernational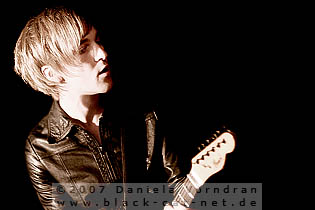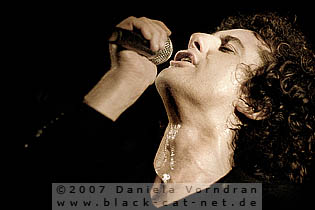 Music
Those four guys made up the perfect opener for a night with sexy CLIENT. With their fusion of poppy melodies, punky rhythms and bleepy electronics they hit the audience immediately and right the first song 'Yellow sun' - which cannot be found on the debut album - got more than just polite applause. NEMO are not just another Indie band. They are set apart from that scene with their unique and energetic electro-pop-punk-rock sounds. It is said that they are experimental as THE FAINT and accessible as THE KILLERS and after listening to their show last Friday I can say there's some truth in it. Besides the very first song, all the other songs of the set were taken from the debut album 'Post Human Love'. Within their influences, the guys name i.e. TALKING HEADS, DEPECHE MODE, KRAFTWERK, ULTRAVOX!, SNEAKER PIMPS, DAF or THE FAINT and indeed you can hear reminiscences to all those bands within NEMO's music.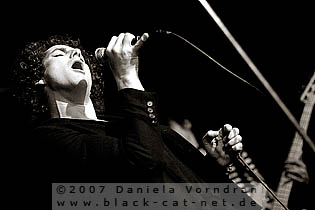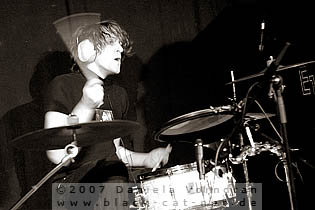 NEMO are retro without being really retro. They sound fresh and new. Synth sounds, distorted guitars, solid bass sounds, tight drum basement and the voice of front man James result in a very own musical cocktail which differs in a pleasant way from many other British Indie acts. The debut album 'Post Human Love' received lots of positive critics from the music press and after listening to the songs for the first time in my life during the gig in Krefeld I only can say: hey, they are right! That stuff rocks, is fresh and makes you wanting more. At the moment I really regret that I forgot to buy the album after the show. ;)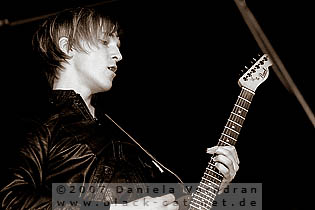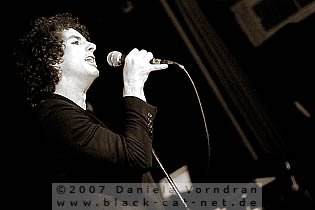 After the second song 'Rescue the revolution' the set continued with 'Piccadilly in Sepia' what the band dedicated to their home country. Next song 'Rpt2fade' presented sounds that also could emanate DEPCHE MODE's pen. With 'Lifespan' the Punk offensive entered the hall while afterwards the current single and epic dark electro rock song 'Car Crash Eyes' with its pure pop chorus was presented. As singer James told us, this song was an ode to all those internet groupies. With 'Living Room' and 'Clones' a much too short set of about thirty minutes ended and the band was released with excited applause what they really deserved because all four guys are competent musicians playing their instruments with flair.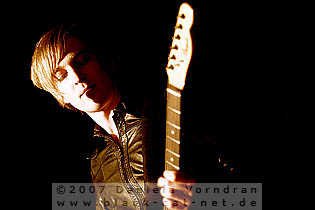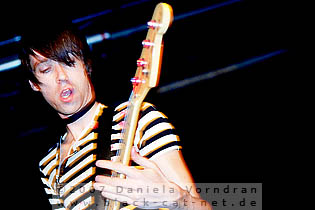 Performance
While the band sounds a bit like they were coming from the good old eighties, they guys also looked like they were sprung out off the good old era - curly haired singer James wore a black stylish Jacket, bass player Milan a black and white stripes shirt and a black collar, guitar player Key wore a black leather jacket during the whole set even though it was quite warm and drummer Section Q was clothed just in black jeans an shirt. I read somewhere that someone said singer James looks like "young JOHN FOXX in a wig" - haha, well back in the 80s again I'd say! ;) I must admit that I never had heard of this band before that evening and I was positively surprised by the energy the band – and especially singer James - brought on stage from the first second.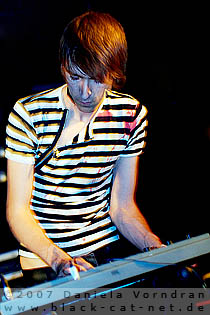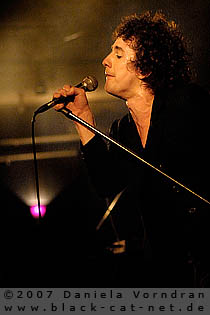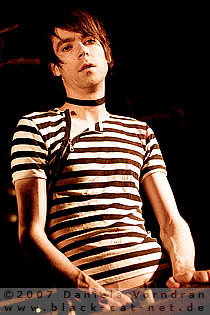 All guys – except the drummer who was bound behind his instrument – were moving around at stage a lot, changing instruments as it is the most natural in the world – Key was playing guitar, small keyboard and providing backing vocals, Milan was changing between bass and keyboard and singer James was presenting vocals as well as playing keys from time to time. But James was not only changing between singing and playing keys, he also jumped around at stage during the more energetic moments which was quite exciting. Yeah, so much energy took its toll and so, the sweat was running down James' face. But hey, who cares when a show has to be done? ;) It was really astonishing how his voice still sounded with so much effort – still it was strong and carried you away over the mesh of electronics and guitar sounds. After this exciting show I only can say, go and watch them yourself. They're worth it and they're brilliant!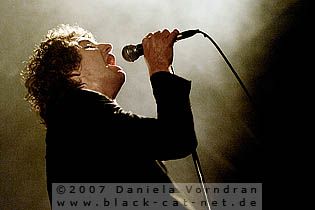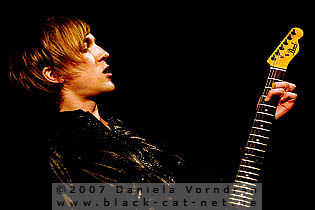 Setlist
01. Yellow Sun
02. Rescue the Revolution
03. Piccadilly in Sepia
04. Rpt2fade
05. Lifespan
06. Car Crash Eyes
07. Living Room
08. Clones
Rating
Music 9
Performance 9
Sound 8
Light 6
Total 8.4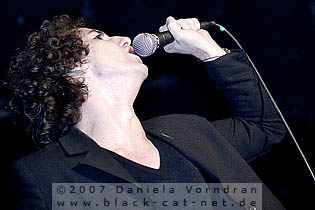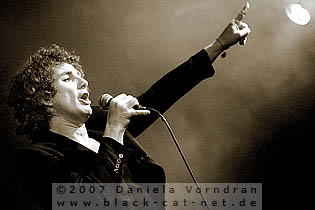 Client
A quite short rebuilding break of about thirty minutes followed in which the room filled up very well now. The time until CLIENT started went very fast with chatting with friends. At around ten it was finally time for the British ladies to enter the stage.
The roots of CLIENT date back to 2001, when TECHNIQUE - how the band was called than - were asked to open for DEPECHE MODE. That start was quite troublesome because then, singer Xanthe Tyler had left the band and Sarah (ex-singer of the DUBSTAR) took over the spot on the microphone. CLIENT was born and got first signed by DEPECHE MODE's Andy Fletcher on his label Toast Hawaii licensed by Mute records. The debut album 'Client' was released, CLIENT were touring first with LADYTRON and later on headliner tour with Andy Fletcher as DJ support. On the second album 'City', another DEPECHE MODE member – Martin L. Gore – worked with the girls on one song where he provided some vocals. After the release, more touring followed, i.e. with IAMX.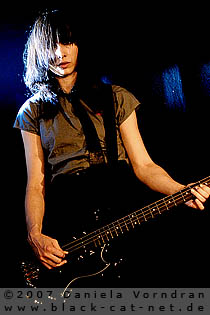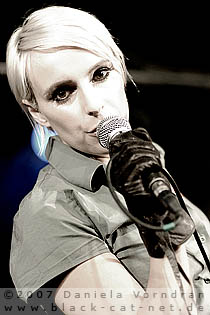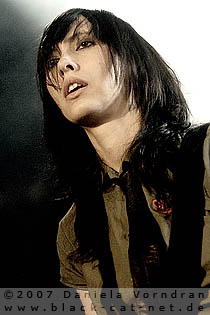 Two more years later, the band grew by Emily Strange, known from the British TV show "Make me a Supermodel". Together with COVENANT, CLIENT toured in spring 2006. End of March 2007, the current album 'Heartland' was released on the band's new label Out of Line. CLIENT are Client A (Kate Holmes), Client B (Sarah Blackwood) and Client E (Emily Strange – real name Emily Mann). For the current tour, Günter Bernhart (TEMPLE X / FAD GADGET) was providing additional guitars. On some gigs, Robert Görl (DAF) joined the band on stage too to play additional drums. Sadly this was not the case in Krefeld – could have been an interesting performance.
http://www.client-online.net/
/
http://www.client-online.de/
/
http://www.myspace.com/client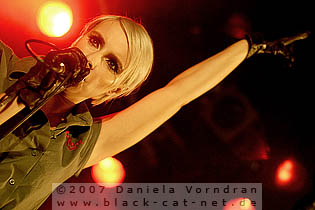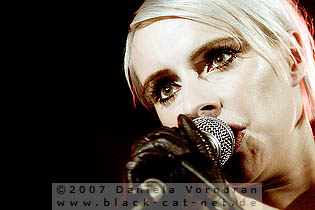 Music
"Satisfaction guaranteed" is not only a line out off the song 'Client', it was also the head line of the evening – in musical and performance matters. After the room was quite packed now – I guess around 200-250 people – anyone was eager to see the girls appearing on stage. Promoting the recent album 'Heartland' it was quite sure that lot of songs from the album would be played. This album comes very catchy with the right pinch of glam. Also the typical piano sounds and electronic beats are not missed out.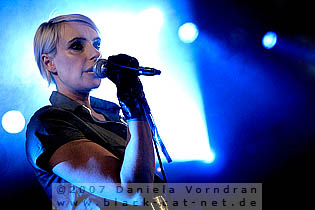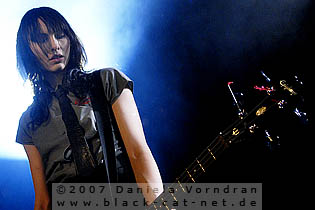 So, the evening's show started with glam-rock sounding 'Lights go out' – what for that matter should have been called 'Lights go on' – from the recent album. 'Down to the Underground' from 'City' followed. On the CD, Pete Doherty (THE LIBERTINES) was providing vocals too, but on the live set there was only Sarah who did a great job. With 'Monkey on my Back' the set went back to the current album again before two older songs followed – one of the fan favourites from the first album, the vivid pop song 'Price of Love' with its spacy layers and jumping sequences together with a catchy hook line, and 'Pornography' from 'City' where on the CD also guest vocals were provided – this time from Carl Barât (THE LIBERTINES). 'Zerox machine' – a cover version of the 79s Wave classic of ADAM AND THE ANTS – from the current album was next and made people dance.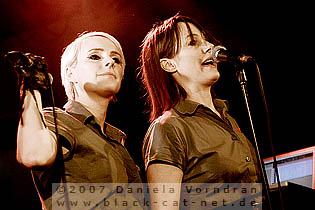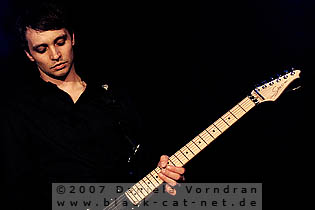 Following track was 'Client' which caught the audience with its irresistibly feeling of pure sex and provocation. Did I mention the line "Satisfaction guaranteed" before? Yes, this was it! After 'Radio' CLIENT returned to 'Heartland' with 'It's not over'. And it was not over; with 'Drive' the current single out off 'Heartland' the main set was finished. But to guarantee satisfaction encores were a must. CLIENT had to come back to the stage three times. First encore consisted of two current songs - the striking 'Where's the rock and roll gone' and the title track of the 'Heartland' album. With the remaining two songs, CLIENT went back to their first album and created a great finish with 'Pills' and 'Here and now'.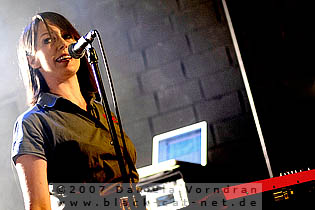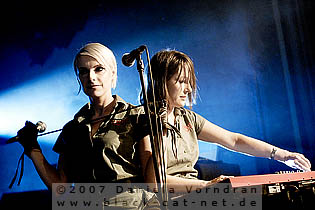 Performance

Who has seen CLIENT before knows, that they bring an aura of seductive coolness onto stage - and there was no difference during the show in Krefeld. The three girls were dressed up in black skirts and khaki coloured blouses with the CLIENT logo on it - which you also could buy at the merchandising stand together with the belt they were wearing. High heels and Sarah's black PVC gloves completed the picture. Günter - whom you probably know from his last tour with FAD GADGET (R.I.P. Frank Tovey, we miss you!) - was performing more in the background and left the entertaining part to the girls. While Sarah was the most open and vivid person on stage smiling a lot and flirting with the audience, Kate seemed still a bit shy behind her keys - even though she interacted in a lovely way with Sarah - while Emily with her special charm (she has Japanese/Scandinavian/German roots) played "Lady cool".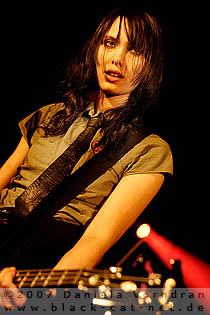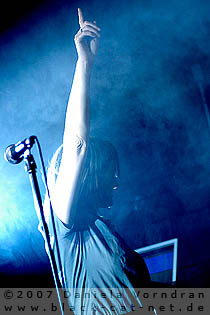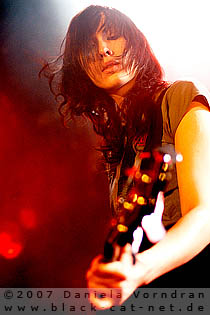 The fire sprung over to the audience just during the first song performed and stayed until the very end. People were dancing and singing, screaming the girls' names and smiling back when they received a smile from Sarah who was constantly searching for close contact to the audience. Anyone was in good mood and even Kate's little accident (when she hit her eye – hope you are well again now) did not bring people on and off stage down. After a longer break after the main set – when Kate had to care for her eye – the band returned for more songs. After they left the stage again when 'Heartland' was finished, people started singing loudly "Give me more, more, more!" – especially I have to mention the members of the CLIENT forum here who were loudest. Sarah returned with a big smile singing in German "Gib mir mehr, mehr, mehr" and 'Pills' started. But still that was not enough. People again were screaming "Gib mir mehr, mehr, mehr" and so, the band returned to a final last song – 'Here and now'. A great finish of the show.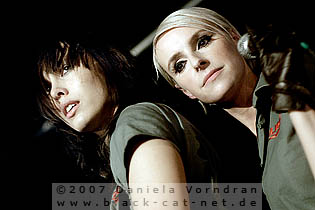 But this was not the end of the evening. The whole band moved over to the merchandising stand to sell their own stuff, talk to all their fans, gave autographs or be available for photos. This band still is so very close to its fans. The night in Krefeld still was not over. After the concert, there was an after show party with DJ BOMB BOUTIQUE (
http://www.bombboutique.org/
/
http://www.myspace.com/bombboutique
) who played Nu Wave, Apocalypse Disco and Electronic Body Techno so, people could enjoy themselves dancing until the early morning if they wanted.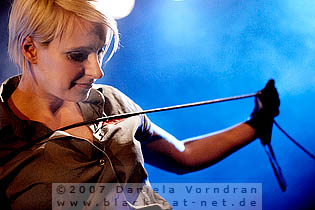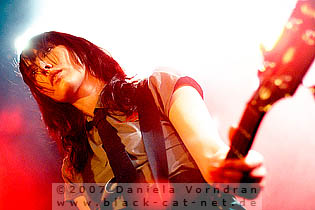 Setlist
01. Lights go out
02. Down to the Underground
03. Monkey on my back
04. Price of Love
05. Pornography
06. Zerox machine
07. Client
08. Get your man back
09. Radio
10. Rock and roll machine
11. It's not over
12. Drive
---
13. Where's the rock and roll gone
14. Heartland
---
15. Pills
---
16. Here and Now

Rating
Music 9
Performance 9
Sound 7
Light 8
Total 8.6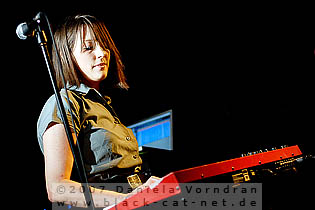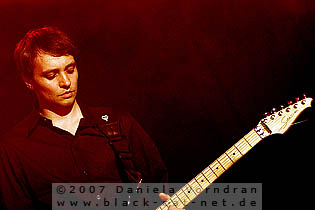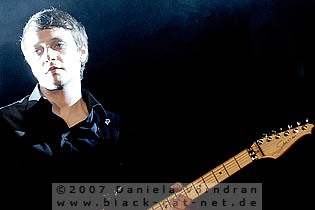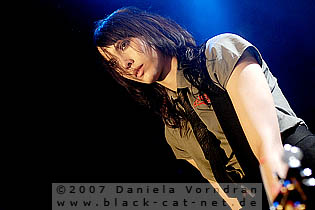 All pictures by Daniela Vorndran (
http://www.vorndranphotography.com/
/
http://www.black-cat.net.de/
)
{jos_sb_discuss:17}