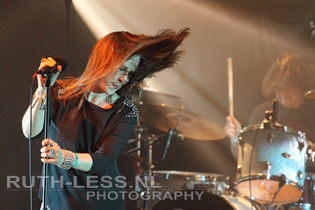 P60, Amstelveen, The Netherlands
18th January 2013
The Gathering, Bodypolitics

In their 23 years of constant evolution, THE GATHERING managed to touch on everything from metal and trip-rock to styles featuring more ambient or progressive edge. No matter what direction they choose, they universally succeed. The swapping of vocalist Anneke Van Giersbergen (1994-2007) for Silje Wergeland led to the album 'The West Pole', and recently THE GATHERING revealed their latest album 'Disclosure' (September 2012). Time to check out some of their new work in a live setting!



Bodypolitics

BODYPOLITICS is a trio from Utrecht, the Netherlands. They describe their style as melodic, noise, electronic beats, hypnotic, psychedelic experimental music. BODYPOLITICS are Giuseppe Valenza (voice, guitar and keys), Thanos Fotiadis (bass, guitar and fx) and Art Pinto (drums and electronic beats). The band released its debut album 'The Space Of A Jump' in April 2012. www.thespaceofajump.com / www.facebook.com/bodypolitics

Music & Performance
Band members Giuseppe Valenza, Thanos Fotiadis and Art Pinto come from different European countries (Italy, Greece and the Netherlands) and met each other in the Netherlands in 2010. I had never heard of BODYPOLITICS before, but after checking some of their music online, I started to look forward to their live performance.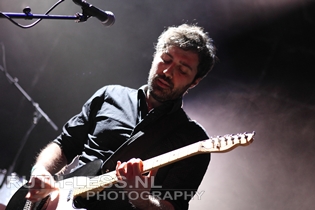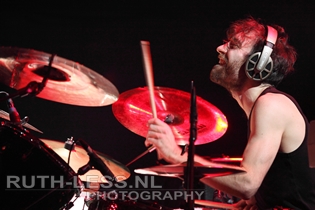 And I was not disappointed (except for the lighting, which was simply abominable, so let's not discuss that any further). In live performances, I usually get bored easily with bands that describe their music as psychedelic and experimental because they tend to linger in that state for ever and ever… and ever. The short half an hour that their support act lasted however, BODYPOLITICS managed to keep the audience interested quite easily. Their sound reminded me somewhat of Snow Patrol (vocals), but far less commercial, and somewhat of Norwegian band MADRUGADA (musically), but a tad less melancholic and dark. BODYPOLITICS played a series of songs from their debut album 'The Space of a Jump' and two so far unreleased songs ('Boring' and 'Sultry Nights'). If you get the chance, definitely go see them!

Setlist
01. Mental Pollution
02. Running Beasts
03. Wild Sleep
04. Boring
05. Sultry Nights
06. The Machine
07. The Space Of A Jump

Rating
Music: 8
Performance: 7
Sound: 8
Light: 3
Total: 7 / 10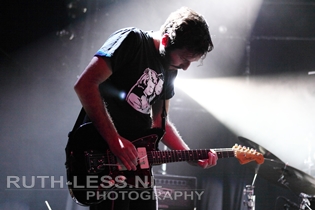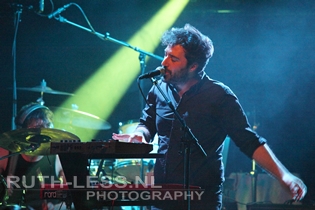 The Gathering

Recently, THE GATHERING revealed their latest album 'Disclosure' (September 2012). On this 10th release, vocalist Silje's presence seems to inspire the band in ways that no previous vocalist ever has. From start to finish, the 8 tracks are an extraordinary endeavour into the farthest reaches THE GATHERING's progressive/ experimental side. Dark and light collide in a beautiful way as guitars, drums and bass-lines melt together with Silje's pitch-perfect vocals, keyboards, violins en even a trumpet. THE GATHERING is Silje Wergeland (vocals), René Rutten (guitars, flute), Marjolein Kooijman (bass), Hans Rutten (drums) and Frank Boeijen (Keyboards). www.gathering.nl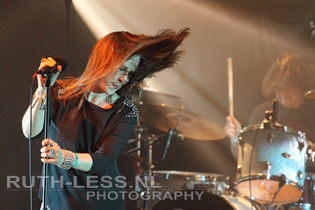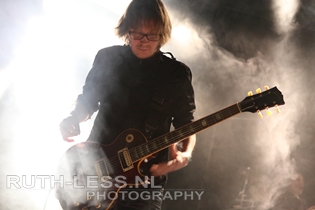 Music & Performance
I'm familiar with the music of THE GATHERING since I was a teenager and it is easy to say that the old work is so different from what the band does nowadays. It is more of a challenge though, not to compare it and listen to their music as if it were a completely new band. And that's what I've tried tonight. Quite an audience has gathered in P60 tonight to check out their new work and the atmosphere is pleasant. As singer Silje opens with the first song ('Paper Waves') of their latest album, it becomes clear that this band doesn't need a warm up. She has a great voice and it's clear that they have a strong chemistry going on at the stage. The show continues with their single 'Meltdown' and for tonight's show, trumpet player Noel Hofman who also collaborated on their latest album, joined the band.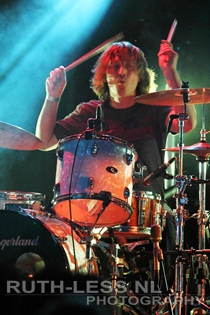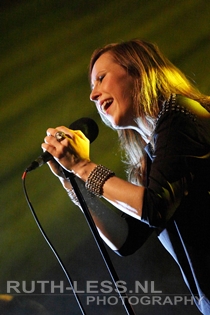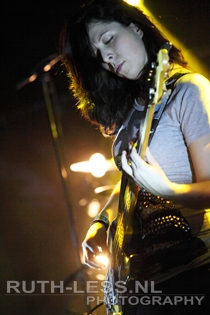 And then THE GATHERING takes a step back in time with 'Great Ocean Road' from the album 'How To Measure a Planet'. Follow up song 'Heroes for Ghosts' reminded me somewhat of 'Herbal Movement' ('If Then Else'). The main impression of their show tonight is obviously self-confident, but modest and subdued at the same time. In turn, the audience listens intensively and is so quiet that bass player Marjolein actually encourages them to make some noise. This didn't happen until the end of their show though. I did notice some movement in the audience with some older songs such as 'Shot to Pieces' (From the album 'If Then Else'). The set list is well balanced with their latest work and a selection of older The GATHERING songs.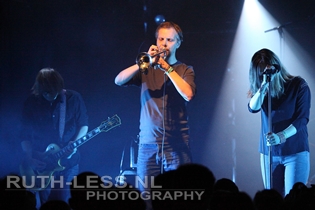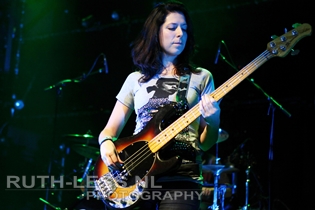 After a short break, the show ends with the psychedelic encore 'I can see four miles' where both Silje and Frank play the keyboard. Although not exuberant, the audience seemed definitely satisfied by tonight's performance and so am I!

Setlist
01. Paper Waves
02. Meltdown
03. Great Ocean Road (how to measure a planet)
04. Heroes For Ghosts
05. Shot to pieces (If then Else)
06. All you Are (the west pole)
07. Broken Glass (Black light district)
08. Souvenirs (souvenirs)
09. Gemini I
10. In Motion I (Mandylion)
11. No Bird Call (the West pole)
---
12. I Can See Four Miles

Rating
Music: 8
Performance: 8
Sound: 8
Light: 6
Total: 8 / 10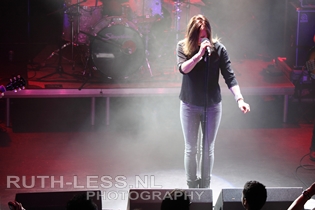 All pics by Ruth Mampuys (www.ruth-less.nl)