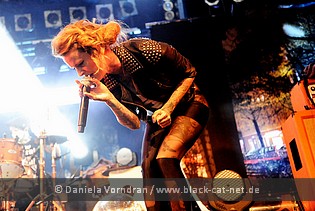 Live-Music-Hall, Cologne, Germany
14th January 2013
Jennifer Rostock, Heisskalt, Aufbau West, DJ Amokkoma

Highest chart entry ever for JENNIFER ROSTOCK with a live DVD! Result of this success: the band must go on tour again before going back to the studio to work on new material. Besides the entertaining show of the headliner you got a lot more: two promising newcomer bands and DJ Amokkoma turning the rebuilding breaks into an electric thunderstorm with his Dubstep DJ sets.



Aufbau West

AUFBAU WEST is a very new band, starting in 2010 and coming from German Geseke near Paderborn and Münster, presenting a mix of Indie and Hip-Hop. Quite unusual and maybe exactly that's why interesting. So far, the band released one EP, 'Schüsse in Öfen'. Even the band itself is new, its singer, Florian Berres – know by his project FLO WALZER he was running together with Pascal Möller – might be known already. But AUFBAU WEST is different to FLO WALZER, darker, less romantic and definitely no singer/songwriter. AUFBAU WEST consists of Florian Berres (vocals, guitar), Martin Kuntze (keyboards), Jendrik Leismann (bass) and Sebastian Gödde (drums). http://www.aufbauwest.net / https://www.facebook.com/pages/Aufbau-West/181537428553425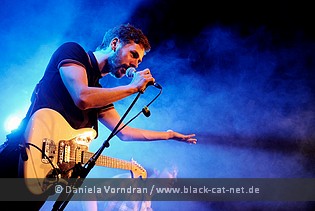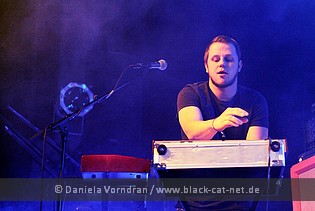 Music & Performance
As the show was sold-out, already during the first support act, the venue was packed. At eight, the intro announced the first band of the evening and I was quite surprised to hear KRAFTWERK's 'Boing-Bum-Chack', something I never expected and definitely a plus for the band entering the stage now under big applause. Seems there were already lots of fans here, screaming from the beginning and supporting the band. Even though I must say the voice of Florian is not my taste, the band could warm up the audience very well. The band itself seemed very impressed by the packed venue as they usually have a much smaller audience. And so, they extensively thanked the fans and JENNIFER ROSTOCK for the possibility opening the evening. Besides two sings from the debut EP, 'Zeit zu verstehen' and 'Bockweizen', the band played several new songs. One of them was 'Die sicher schlimmste Wahl', originally recorded together with Jennifer Weist, and available as free download on the band's Facebook page.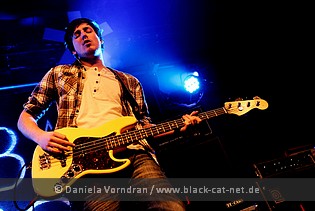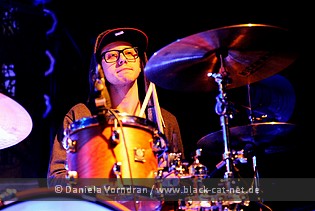 Setlist
01. Intro (Boing-Bum-Chack / Kraftwerk)
02. Faust
03. Zeit zu verstehen
04. Vietnam
05. Lichter Aus
06. Die Sicher Schlimmste Wahl
07. Bockweizen

Rating
Music: 6
Performance: 8
Sound: 8
Light: 8
Total: 7 / 10


Heisskalt

Stuttgart based HEISSKALT is the band of Mathias Bloech (vocals, guitar), Philipp Koch (guitar), Lucas Mayer (bass) and Marius Bornmann (drums) and new on the Chimperator label. Their debut EP, 'Hallo – Mit Liebe gebraut', was released last Friday, 11th January. Along with the bands's first single 'Dezemberluft', there is also a video. After the support tour for JENNIFER ROSTOCK, the band will work on their debut album, planned for autumn 2013. http://www.heisskaltmusik.de / https://www.facebook.com/heisskaltmusik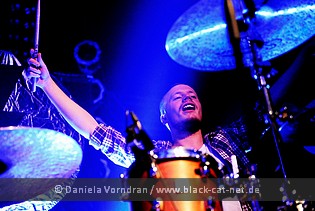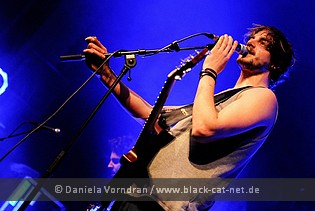 Music & Performance
Before the quartet entered the stage, DJ Amokkoma presented the first part of his Dubstep DJ set. Surely a different kind to bridge the rebuilding break, but people did not seem very entertained. Quarter to nine, HEISSKALT entered the stage for their short set of alternative rock spiced up with some electronic and German lyrics. There is not much material so far. For the first song 'Hallo' from their debut EP, Lucas changed the bass for a tom to add more beat. Following was a song inspired by Jan Delay, 'Der Mond', and people were requested to sing along a certain line. Worked no too well I must say, seemed people did not really know the Jan Delay song. But the hard German Rock with its certain pop appeal worked pretty well, in my opinion better than the set of AUFBAU WEST. And the band is close to the fans, so they were available at the Merch after the show.

Setlist
01. Intro
02. Hallo
03. Der Mond
04. Wer keine Liebe gibt ist tot
05. Schatz (Du willst ein Lied, ich will ans Meer)
06. Bewegungsdrang

Rating
Music: 7
Performance: 8
Sound: 8
Light: 8
Total: 7.5 / 10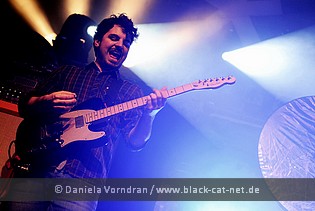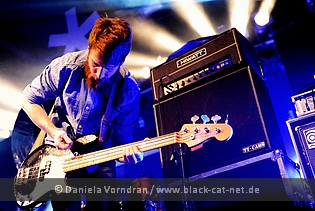 Jennifer Rostock

Following the release of their debut album 'Ins Offene Messer' in 2008 and more than 170 concerts, JENNIFER ROSTOCK are talked about everywhere and some might even say there's no way around them anymore. If you think they now took some time off first to gather strengths for the next strike again you're wrong. They've used the so called "Christmas Break" for creating the second album 'Der Film', released in June 2009 which has been composed as an aural thriller of the finest kind for the audiences' listening pleasure. The third album 'Mit Haut und Haar' was released in 2011 and even reached number 4 of German charts. The latest release is a live DVD / album called 'Live in Berlin', out in 2012 and climbing even higher in German charts, to position three. JENNIFER ROSTOCK is Jennifer Weist (vocals), Johannes "Joe" Walter (keys), Alex Voigt (guitar), Christoph Deckert (bass) and Christopher "Baku" Kohl (drums). http://www.jenniferrostock.de / https://www.facebook.com/jenniferrostock / http://www.myspace.com/jenniferrostock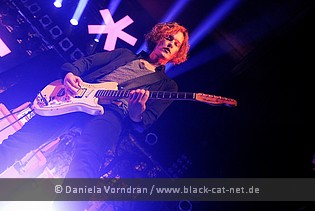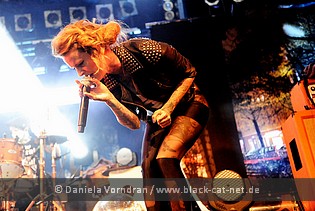 Music & Performance
As during the rebuilding break before, also now DJ Amokkoma was entertaining the crowd… more or less since anyone was waiting for the main act of the evening to enter the stage. It was quite a luck that the concert took place since both shows before were cancelled due to health reasons. Luckily, Jennifer had her voice back and so, nothing spoke against a great concert evening. The stage design was quite sparse with some glowing stars in the back. But the lights during the whole show were making up for this. A concert of JENNIFER ROSTOCK is always a difficult thing. Singer Jennifer Weist polarizes – some count her to the great German rock ladies, other might think her attitude and sayings are sometimes over the top. Anyway, the concert are always for of power and people celebrate a big party, and so did the audience during the Cologne show. When after the third song all photographer left the crowded photo pit (seems there was huge interest in the band), Jennifer commented it with her usual "charm" and thanked the press people more or less friendly… just as we know her attitude. The band delivered a solid gig with lots of sassy and insinuating comments mixed up with a lot of power. Sometimes I wondered if all the girls in the first rows weren't too young for this kind of - partly sexual - comments, but no one really cared, Jennifer was babbling without finding an end.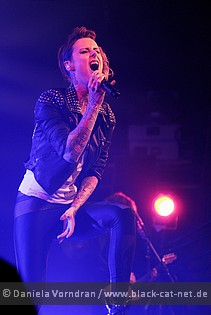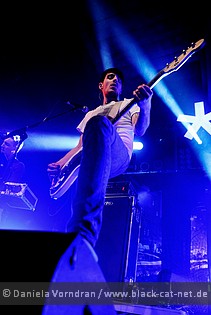 Performance-wise, the band showed a lot of fun being on stage and also communicating with the audience. And also the audience showed a lot of power and fun. It was impressive how good anyone knew the lyrics and was singing along. But there was not only power and Rock'n'Roll. In the middle of the show, it was time for a little unplugged part containing the songs '3 Millionen Schatten', 'Ich kann nicht mehr' and 'Himalaya'. After the calm part, the band rocked again, this time supported by members of their supporting bands. Quite nice to invite them onto stage! Bit not only the other bands were involved into the show, also the audience was with a little contest and finally the battle between Carmen and Kim. All in all it is really impressive how much Jennifer includes her audience into the show with sing-a-longs, various games or just screaming and clapping along. Another funny highlight was the interwoven medley of Marianne Rosenberg's 'Er gehört zu mir' and Lady Gaga's 'Born this Way'. The show ended with 'Es war nicht alles schlecht' and all bands coming on stage to say goodbye. I am sure the audience was very much entertained and satisfied after this packed, sold-out concert.

Setlist
01. Intro
02. Fuchsteufelswild
03. Der Kapitän
04. Es tut wieder weh
05. Du willst mir an die Wäsche
06. Zwischen Laken und Lügen
07. Joe Song
08. Mein Mikrofon
09. Der Gärtner
10. Unplugged Set (with 3 Millionen Schatten, Ich kann nicht mehr, Himalaya)
11. Meine bessere Hälfte
12. Insekten im Eis
13. Kopf oder Zahl
14. Mach mich nicht verliebt
15. Blut geleckt
---
16. Wo willst Du hin
17. Feuer
18. Es war nicht alles schlecht

Rating
Music: 8
Performance: 9
Sound: 8
Light: 9
Total: 8.5 / 10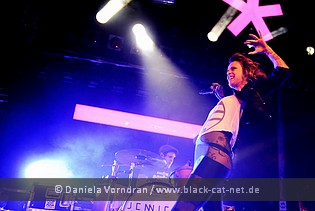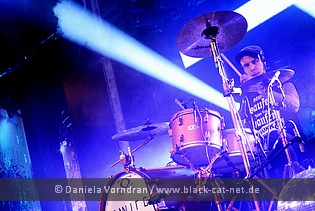 All pictures by Daniela Vorndran (http://www.vorndranphotography.com / http://www.black-cat-net.de/ / http://www.myspace.com/vorndranphotography / http://www.facebook.com/blackcatnet)



See also (all categories):