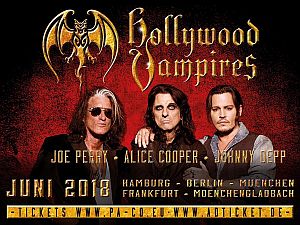 SparkassenPark, Mönchengladbach, Germany
14th June 2018
Hollywood Vampires & Special Guest: The Darkness

This June the wait was finally over. "One of the hottest acts of the summer," the
HOLLYWOOD VAMPIRES
, meaning Alice Cooper, Joe Perry and Johnny Depp, came to Germany to play five exclusive Rock shows. While Munich and Hamburg were already sold out, there were still tickets left for their only concert in North Rhine-Westphalia. Alice Cooper called out in a video: "What's wrong with you people? Are you afraid of vampires?" Absolutely not! So, on 14th June, I hopped on the train to Mönchengladbach hoping to reach the SparkassenPark in time. My delay and having missed that night's special guest, glam rockers THE DARKNESS from the U.K., bugged me a lot and so I kept on hurrying towards the stage. At quarter past eight, the HOLLYWOOD VAMPIRES "rock-star-vaganza" was about to get started. Making my way to the open-air venue, which really didn't seem that packed yet, I met fans having a good time with two Depp doubles dressed up perfectly as Captain Jack Sparrow. A lot of pictures were snapped.
I have to admit that I was born in the mid-nineties, but it were bands like KISS, AC/DC and ALICE COOPER that made me rock out in the kitchen when helping with the dishes. And it were their timeless Rock records, from 'Love Gun' over 'Back in Black' to 'Along Came a Spider' that one had to put on whenever one felt like raising the roof of our living room. The number one power ballad 'I Don't Want to Miss a Thing', written by Diane Warren and performed by AEROSMITH for the film 'Armageddon', has also always been a favourite. Mentioning the movies, here's another confession: Edward Scissorhands might have been my first crush. Back then, I was completely clueless it was Johnny Depp who was acting. Needless to say, that by the time I watched him pluck the acoustic guitar in the movie 'Chocolat' or heard him sing in 'Sweeney Todd: The Demon Barber of Fleet Street', the last thing I needed one of the world's most favourite actors to carry was a name plate.
The band evolved from the "comfort zone of a communal drinking club" in Los Angeles. Back in 1972, the Rainbow Bar & Grill at the Sunset Strip became a Rock star lair where "only joy and laughter reigned." As founding member Alice Cooper told us, "to join the club, one simply had to out drink all of the members." Not everybody survived the 70s, we've lost a lot of music heroes, but they will never be forgotten. Cooper and Depp decided to relive the spirit of the Vampires and pretty soon their friend Perry joined in. Together they would revive the sound of Rock; this time, by pouring in notes rather than wine. So, their self-titled debut album came out September 2015. Perry Farrell, Dave Grohl, Sir Paul McCartney, Joe Walsh, Slash, Robbie Krieger, Zak Starkey, Brian Johnson and Kip Winger all contributed in recording the titles of their old friends and heroes. One of the band's highlights was headlining the Rock in Rio festival in Brazil to more than 100,000 fans. Currently, the Vamps are touring all around Europe. // https://www.hollywoodvampires.com / https://www.facebook.com/hollywoodvampires
Music & Performance

"Listen to them, the children of the night. What sweet music they make." It was still bright outside when Bram Stoker's well-known lines from 'Dracula', immortalized by Christopher Lee, resounded ringing the bell for the band's opener 'I Want My Now' followed by their original song "Raise the Dead". THE HOLLYWOOD VAMPIRES' obviously fitting logo, a white bat on a black backdrop, was placed in the middle of the stage. Unfortunately, I wasn't impressed with the sound which initially made it hard to make out Mr. Cooper's vocals which at some point became just one with the crushing guitars. He appeared in black leather pants, a frilled white shirt and a fancy and black tailcoat and his trademark eye make-up - a familiar sight. Johnny was also wearing a lot of his usual bling and those in the front rows were lucky when he let in rain not only with a ton of guitar picks but also his jewellery by the end of the show.
A fast-paced and good-humoured show followed paying tribute to their 'Dead Drunk Friends.' I was looking forward to hearing this tune live since it is tune is one my favourites on the record. The crowd gave the band a big hand especially after hearing the classics, like MOTÖRHEAD's smasher 'Ace of Spades' and AC/DC's mid-tempo gem 'The Jack', during which Alice licked some cards and threw them into the audience. With 'Combination' and the wonderful tune 'Sweet Emotion' the band also brought on some good old AEROSMITH. 'Five to One' was also a bloody great treat which the Vamps fantastically merged with 'Break On Through (to the Other Side)' by THE DOORS. If I had to pick just one highlight, though, it would be the one and only DAVID BOWIE tune 'Heroes', such a nostalgic and intense tune, which brought tears to my eyes. There were a lot of goose bumps and raised hands once the audience recognised the tune and Johnny fully convinced us with not only his masterful guitar playing, but also his soulful and calm singing. There was e-contrabass on stage for this one, Joe's guitar was howling, and Alice picked up some maracas. Meanwhile, they showed a slideshow of black and white and also colourful photographs of Bowie. Of course, many have covered this song and some more successfully than others. As Johnny and his fellow Vampires proved it also in Mönchengladbach, they are nailing it.
The HOLLYWOOD VAMPIRES closed their set with another childhood classic of mine, 'School's Out' - a song I once actually brought to English class at school earning a lot of raised eyebrows from my peers, why-ever... Like on the album, Cooper & Co presented it as a medley taking all hats off to PINK FLOYD and the immortal piece 'Another Brick in the Wall'. Mr. Cooper introduced the rest of the band members supporting the trio on stage in between and red and white balloons were unleashed on the audience which tried to kick them around. The band, which displayed their joy of playing and showed their comradeship on stage, earned one last big round of applause. Finally, they took their bows and Alice said: "We love German blood!" Johnny Depp's rings found new owners, the guitars were packed up, and it was all over. The curfew was kind of un-vampiric as I left the venue already shortly before ten taking one of the crammed shuttle buses bringing us back to the main railway station.
Overall, music fans enjoyed a great "night" out with the HOLLYWOOD VAMPIRES at the SparkassenPark. It was a ninety-minute-long Hard Rock show full of undying rhythm, riffs, and Rock history. However, a super-group like this clearly deserves a more splendid sound from song one on. And in addition, it is more than a bummer that we cannot share any photographs with you of the evening (unfortunately, not for the first time this month). Our photographer is also an artist and simply giving away all the photo rights just isn't fair, is it? Since contracts like these are not acceptable for us, there are no pics. Ending on a positive note: Apart from that, the musician's artistry was a real pleasure to witness and I was glad to be part of it. Those who didn't come out that night clearly missed out on an event. It was a truly fun and amazing tribute gig. The Hollywood legends made the audience go down memory lane - also those who are just in their early twenties. Rock and Roll will never die.
Setlist

01. I Want My Now
02. Raise the Dead
03. I Got a Line on You (SPIRIT cover)
04. 7 and 7 Is (LOVE cover)
05. My Dead Drunk Friends
06. Five to One / Break On Through (to the Other Side) (THE DOORS cover)
07. The Jack (AC/DC cover)
08. Ace of Spades (MOTÖRHEAD cover)
09. Baba O'Riley (THE WHO cover)
10. As Bad As I Am
11. The Boogieman Surprise
12. I'm Eighteen (ALICE COOPER cover)
13. Combination (AEROSMITH over)
14. People Who Died (THE JIM CARROL BAND cover)
15. Sweet Emotion (AEROSMITH cover)
16. Bushwackers
17. Heroes (DAVID BOWIE cover)
18. Train Kept A-Rollin' (TINY BRADSHAW cover)
19. School's Out (ALICE COOPER cover) / Another Brick in the Wall Part 2 (PINK FLOYD)
Rating

Music: 9
Performance: 10
Sound: 5
Lights: 8
Total: 8 / 10