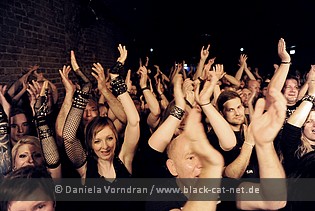 Matrix, Bochum, Germany
11th October 2014
Kissin' Dynamite, UMC - Ultimate Music Covers, Markk 13

KISSIN DYNAMITE call themselves the inventors of Sleeze Metal. Their music is strongly 80s influenced and with their new album 'Megalomania' the five Swabians are currently touring through German clubs. One station was the Matrix in Bochum. As announced, the doors were supposed to open early before 19:00 with an early start of the concerts at 19:15. There were some delays and finally at 19:45, the first support act entered the stage.
Markk 13

MARKK 13 describe themselves as 100/ Vol. Rock'n'Roll. Starting out in 2010, the band was formed by singer Markk (ex BANGKOKK), first as simple live project only. They opened up for bands like KISSIN`DYNAMITE, PAUL DI ANNO (ex IRON MAIDEN) or RICHIE KOTZEN (ex POISON, ex MR.BIG) while they had a lot of fun. But now, the band presents a first single, 'Bad Side Of The City', which is available as free download at
Reverbnation
. The Dortmund based band consists of Markk (vocals), Mendy Mendozza (bass), Rocco Wiersch (guitar) and Teffe (drums).
https://www.facebook.com/MARKK13ROCKS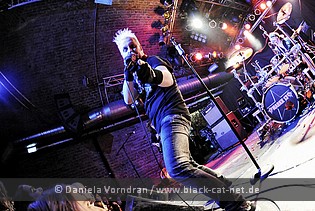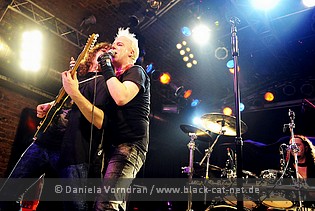 Music & Performance

As already mentioned, it was 30 minutes later as announced when MARKK 13 finally entered the stage. The band seemed to have quite some fans in the front rows, especially young girls… who were probably just waiting for the headliner. But anyway, they also made a lot of noise during the show of the Dortmund based quartet. The band's playing 80s Hard Rock with a good pinch of Glam and Sleeze. The four guys were heating up the Matrix really well. The songs were rewarded with cheers and big applause, the mood was great from the beginning and the band was in pretty good mood, pushing the audience even further. The songs itself were really catchy, meaning a good start of the evening. Now, the band only has to release a full-length album!
Setlist

01. Wild To The Bone
02. Dead Widow
03. I Know U Know
04. Fire Desire
05. Bad Side Of The City (P)
06. Girls Gone Wild
07. Living After...
Rating

Music: 8
Performance: 8
Sound: 8
Light: 7
Total: 7.8 / 10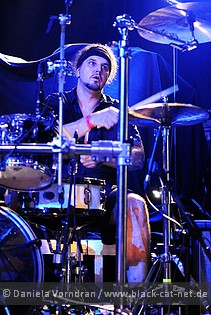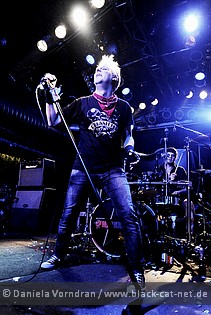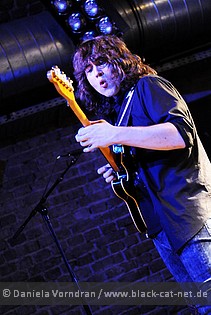 UMC - Ultimate Music Covers

ULTIMATE MUSIC COVERS (UMC) is kind of fun project, consisting of Tobias Derer (drums / video) and Nils Lesser (guitar / sound). The duo does not play own songs but cover versions of well-known chart songs in their very own Metal version, whereas the original vocals are played from playback. The project started in April 2013 and seems to be more or less a live project, playing not only in Germany but also in other European countries.
https://www.facebook.com/UltimateMusicCovers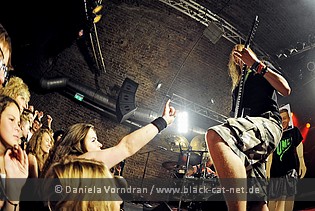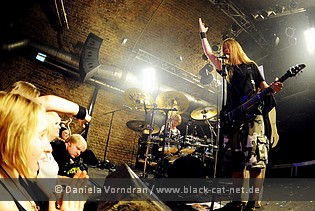 Music & Performance

There was not much time and so, UMC started their show only 15 minutes after the first band. The drum set was placed at front of stage. Besides, the stage was pretty empty. Instead of a "Singer", the duo brought a cardboard stand-up with the face of the particular singer. The short set of thirty minutes was opened with Pharrell Williams' 'Happy' and from the first moment it was clear that this show is totally a matter of taste. As the duo said, they are presenting the songs "as they should sound". But even though both musicians were technically performing very well, the songs still stay the same… and I am not really sure if I want to hear Helene Fischer's Schlager song 'Atemlos' at such a concert, even if it's presented as Metal version. Anyway there seemed to be some fans in the audience and the band received a lot of applause. I look back to the short gig with mixed feelings…
Setlist

Happy (Pharrell Williams)
Timber (Pitbull)
Can´t hold us (Macklemore and Ryan Lewis)
Wake me up (Avicii)
Scream & Shout (Will.I.Am feat. Britney Spears)
Atemlos (Helene Fischer)
Rating

Music: 6
Performance: 8
Sound: 8
Light: 6
Total: 7 / 10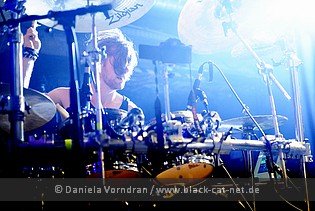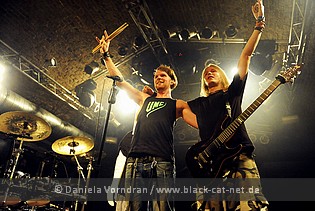 Kissin' Dynamite

After the little break it was time for some glam rock/ power metal hailing from the South of Germany with KISSIN' DYNAMITE. The five-piece officially works under that moniker since 2006 and has four albums under their belts. 'Money, Sex & Power' was released in 2012, the emphasis during the gig was placed on material off that records. The latest release is called 'Megalomania', being released earlier this year. When the first album was released, the band members were only 15-16 years old and since then, they have developed a lot and gained a lot of live experience when playing more than 500 shows already. Now, they embarked to a European headlining tour, presenting their newest album. KISSIN' Dynamite is Hannes (vocals), Andi (drums), Steffen (bass), Ande (guitar) and Jim (guitar).
http://www.kissindynamite.de
/
http://www.facebook.com/Kissindynamiterocks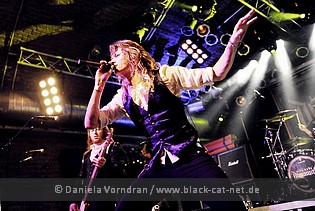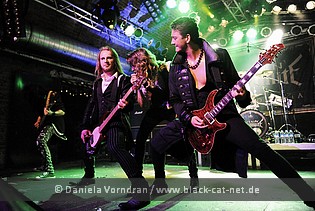 Music & Performance

Rebuilding break took a little longer than before but finally the headliner of the evening entered the stage and was welcomed by loud screams. It was already hot in there but as the gig moved on you had the impression of dancing in a sauna. Even if you don't like their angle on the genre you gotta hand it to them: They know how to throw a party. First and probably most important ingredient of the recipe is that they're just not slowing down for a single minute. With an energy-packed show like that it is not long before the attendees join in and try to keep up with their pace. Suffice to say this was an impossible task but they did good after all. Visually, the band was an eye-catcher. Blow-dry hairstyle and respective clothes made them look like a casting band and various times I just wanted to laugh at how this contradicts the image of a "serious" rock/ metal band.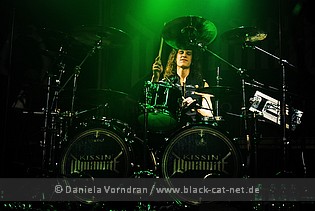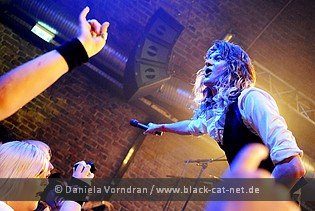 The set was started with the song 'D.N.A.' from the current album 'Megalomania'. And the audience did not need time to raise mood, it was on top from the first second. Following songs 'Running Free', 'VIP in Hell' and 'She's a Killer' were accompanied with loud screams, clapping, sing-a-longs and dancing. The hall was packed, band and audience were sweating, but still having lots of fun. Singer Hannes was really excited about the big admiration the band was receiving. It was so hot in front finally, that some girls left the front rows since they could not stand it anymore. But the rest celebrated further with 'Money, Sex & Power' or 'Maniac Ball'. Of course, also an obligatory drum solo was not missed. 'Six Feet Under' was sung loudly by fans and band whereas 'Fireflies' calmed anything a bit down. With 'Steel Of Swabia', the band presented also one song from their debut album, much to the joy of their fans.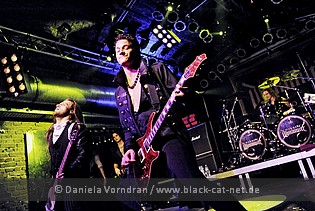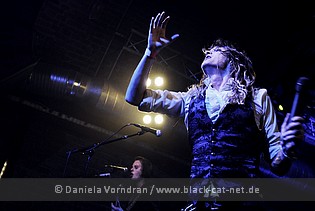 About ninety minutes of concert released the fans happy into the night. Later on, the band was also present at the merch where you could talk to them, get autographs or photos with them.
Setlist

01. Intro
02. D.N.A.
03. Running Free
04. VIP in Hell
05. She's a Killer
06. Money, Sex & Power
07. Maniac Ball
08. Drum Solo
09. God in You
10. Love Me, Hate Me
11. Six Feet Under
12. Fireflies
13. Sex Is War
14. Hysteria
15. Steel Of Swabia
16. Ticket to Paradise
---
17. I Will Be King
18. Operation Supernova
Rating

Music: 8
Performance: 9
Sound: 8
Light: 9
Total: 8.5 / 10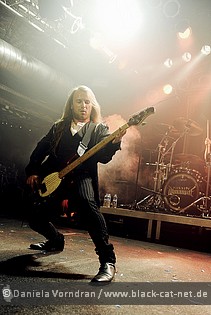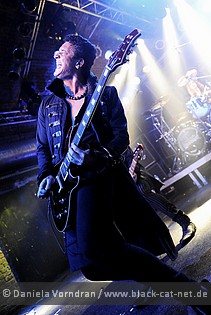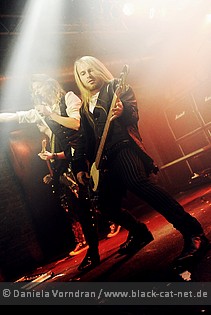 All pictures by Daniela Vorndran (
http://www.vorndranphotography.com
/
http://www.facebook.com/blackcatnet
)