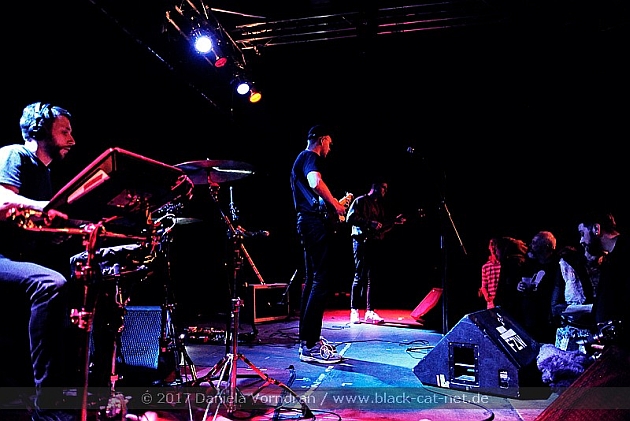 FZW, Dortmund, Germany
13th February 2017
Motorama & Whispering Sons

'Dialogues' is the fourth album of the Cold-Wave minimalists MOTORAMA from Russian city Rostov at Don. For the new MOTORAMA album, the band captured their known magic simply with a portable studio by Tascam. Without smoke and mirrors directly to tape. The result of this self-restriction is an homogeneous pop album full of catchy melodies, danceable bass lines and keyboard hook-lines. Now, the band presents the new album live on German stages and on 13th February 2017, you could experience them together with Belgium Post-Punk band WHISPERING SONS in Dortmund.
Whispering Sons

One of the most promising bands in Europe in the Post Punk genre is clearly WHISPERING SONS. This band hails from a small town in Belgium called Houthalen/ Helchteren. The band was formed in 2013 and their first EP 'Endless Party', released in December 2015 on Wool-E Tapes, is a masterpiece. In April 2016, the band won Humo's Rock Rally, Belgium's most prestigious music competition. They describe their own music as "Belgian post-punk breathing dark and atmospheric sounds", with a touch of Shoegaze. The singularity of the band comes mainly from the low, dark voice of their (female) singer, Fenne Kuppens, which evokes NICO, LEBANON HANOVER and MRS ARAFNA (NOVEMBER NÖVELET). WHISPERING SONS is Fenne Kuppens (vocals), Kobe Lijnen (guitar), Sander Hermans (synths), Lander Paesen (bass) and Sander Pelsmaekers (drums).
http://www.whisperingsons.com
/
https://www.facebook.com/WhisperingSons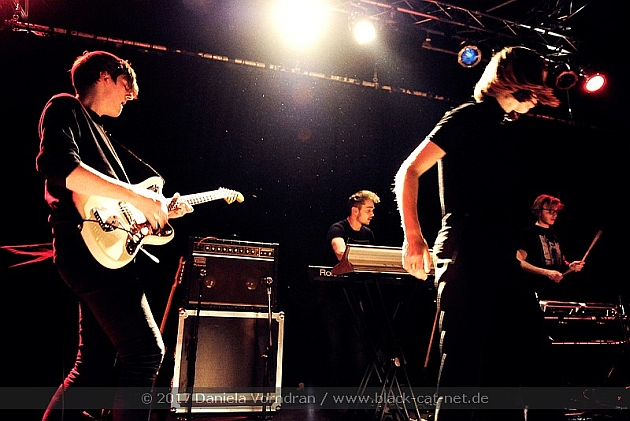 Music & Performance

MOTORAMA were playing one day later in my hometown Münster, but without WHISPERING SONS who I saw first time last year at Belgium W Festival where they really impressed me. Since I desperately wanted to see them again, I decided to attend the show in Bochum, where they had the support slot for MOTORAMA. And I did not regret it at all. Front woman Fenne thanked the audience for early coming and I am sure anyone in the audience was happy to be present already for the short set of WHISPERING SONS. The presented Post Punk reminds sound-wise of THE CURE and JOY DIVISION and Fenne's dancing is a little bit comparable with Ian Curtis. She is very active on stage, transporting a lot of energy towards the audience. People immediately started dancing in front of stage. The only sad thing was, that the show was so short, only 30 minutes. It is time now for the band to release more music please.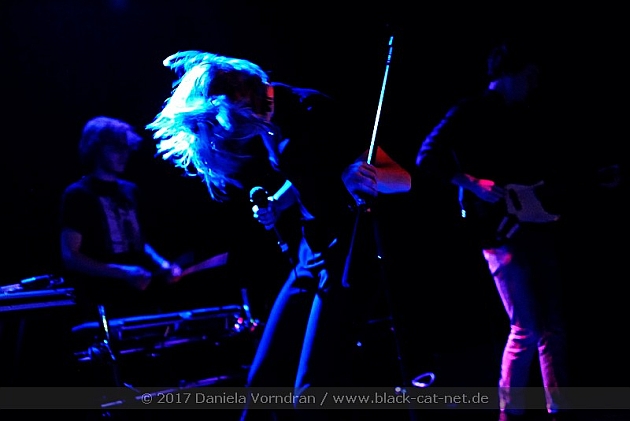 Setlist

01. Shadow
02. Alone
03. Performance
04. Skin
05. Hollow
06. White Noise
07. Strange Identities
08. Wall
09. Insights
Rating

Music: 9
Performance: 9
Sound: 8
Light: 4
Total: 8 / 10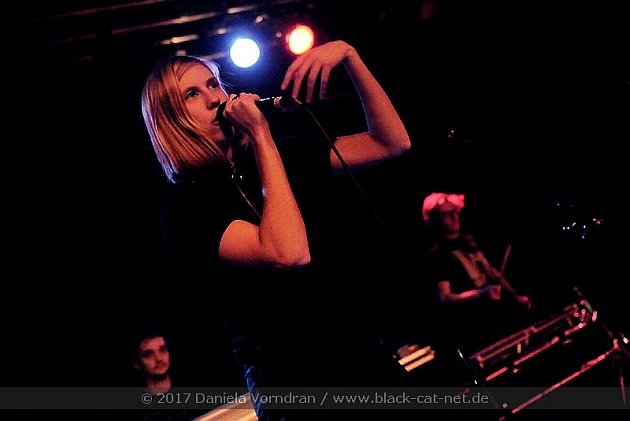 Motorama

Russian Post-Punk and New Wave band MOTORAMA comes from Rostov-on-Don. The band took its name from the 1991 released movie 'Motorama' and was founded in 2005 by Vladislav Parshin and a befriended musician who later on left the band. Besides Parshin, bass player Airin Marchenko is responsible for the compositions. Four self-released EPs and the self-released album 'Alps' stand beside the EPs 'Eyes' and 'She is there' as well as the albums 'Calendar' and the 2015 release 'Poverty' via Talitres Records. After the success of their previous album, 'Poverty', and the following German tour in 2015, singer Vladislav Parshin surprised at the beginning of the year with a new, edgy electronic project UTRO and the EP 'Solnze' in Russian language. Musically the band is influenced by Post-Punk of the 80s and reminds of bands like INTERPOL, WHITE LIES or EDITORS. 'Dialogues' is the fourth album of the Cold-Wave minimalists MOTORAMA from Russian city Rostov at Don, released also via Talitres Records in 2016. Live, Vladislav and Maxim are currently changing bass and guitar and doing the keyboard work since Airin and Alexander are not on tour with them. MOTORAMA is Vladislav Parshin (vocals, guitar), Airin Marchenko (bass), Maxim Polivanov (guitar), Alexander Norets (keyboard) and Oleg Chernov (drums).
http://wearemotorama.com
/
https://www.facebook.com/wearemotorama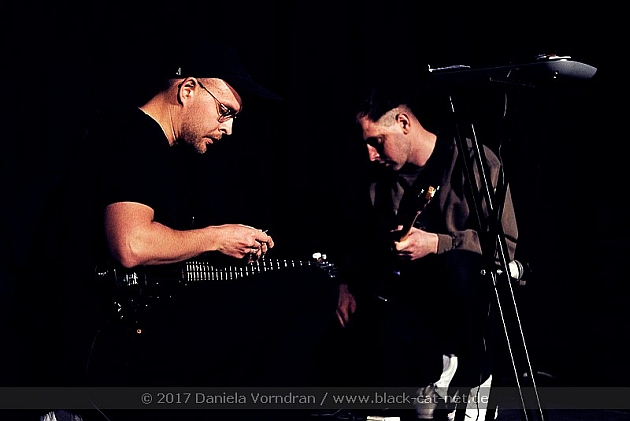 Music & Performance

Two years ago, I saw the Russian band in my hometown where they were playing, as mentioned, the day after the Dortmund show. I must admit that I did not listen to the new album so far (shame on me) and so I was curious about the new songs. After WHISPERING SONS had left the stage and the stage was cleared, MOTORAMA started to build up their equipment and just like last time, when I thought they would still do some line check, it turned out to be already the first song 'By your side' which they started with any announcement. And announcement were not be made later either, except two little thank you to the audience. As I already knew by now, this was something usual for MOTORAMA gigs. It also seems that MOTORAMA still did not change their stage appearance. No special clothes, just Jeans and Sweater or alike. Looked as they were rehearsing in their spare time and not playing a concert. But like a friend in the audience said: "Don't judge a book by its cover" or in that case a band by its visual appearance. The music they presented was great and there was even a little development in their stage presence. At least front man Vladislav was a little more vivid on stage even though all musicians did keep a straight face during the whole concert.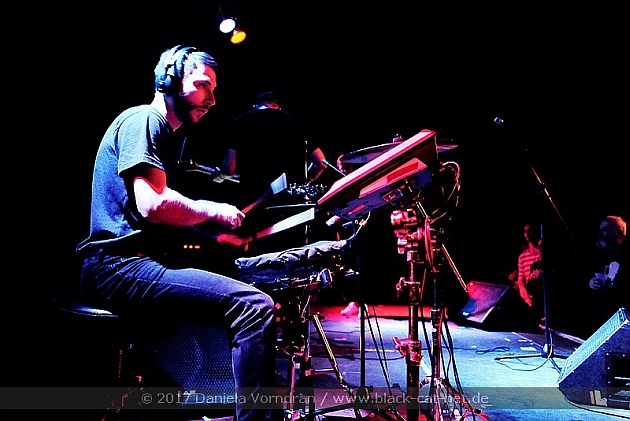 During the show, nearly all songs of the current album 'Dialogues' have been played. The rest of the set was reserved for some older pieces including of course a few songs from their last album 'Poverty'. The fans seemed to be really happy with the setlist, even though surely one or another fan favourite surely was missing. People were dancing during the whole show and enjoyed the concert a lot. After only one hour, the band was leaving the stage. Heavy applause brought the back for one more song, 'Deep' from their current album. All in all, MOTORAMA played a good show and there was some improvement compared to the last show I had seen two years ago. Overall, I still was more impressed by the intensity their support act was showing on stage.
Setlist

01. By Your Side
02. Tell Me
03. Sign
04. Wind in Her Hair
05. I See You
06. Above the Clouds
07. Rose in the Vase
08. Ghost
09. Someone Is Missed
10. Heavy Wave
11. Loneliness
12. Corona
13. One Moment
14. Alps
15. Reflection
16. To the South
17. Lottery
---
18. Deep
Rating

Music: 8
Performance: 8
Sound: 8
Light: 3
Total: 7 / 10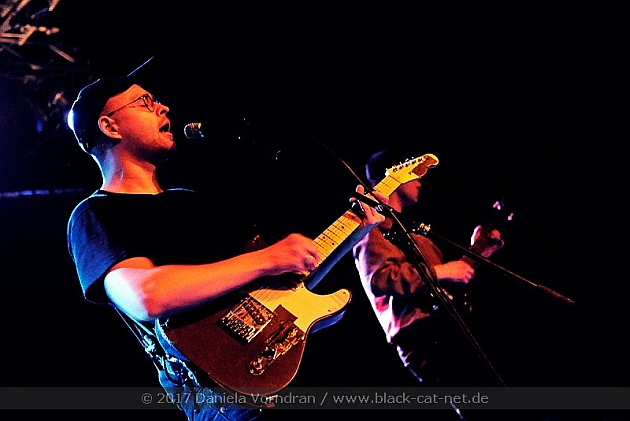 All Pictures by Daniela Vorndran (
http://www.vorndranphotography.com
/
http://www.facebook.com/blackcatnet
)