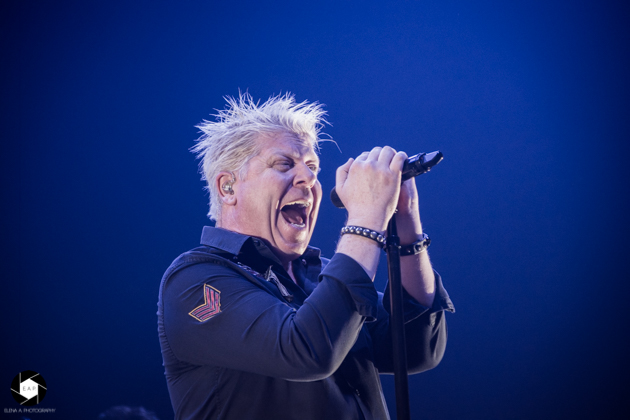 Rockhal, Esch sur Alzette, Luxembourg
18th June 2018
The Offspring, Anti-Flag, Versus You

Dexter Holland, Greg K, Kevin "Noodles" Wasserman and Pete Parada brought an incredible night to die-hard Punk fans at the sold-out Rockhal. With a new album in the making, scheduled to be released in fall 2018, Punk Rock icons THE OFFSPRING played their very first visit to the Grand Duchy of Luxembourg, with very special guests ANTI-FLAG and local heroes VERSUS YOU.
Versus You

VERSUS YOU
is a four-piece punk rock, pop-punk band from Luxembourg, founded in 2005 by Eric Rosenfeld and Giordano Bruno. In 2014, 'Le Quotidien' described the band, with its nearly 10-year history, as an "institution in the Luxembourg rock scene". The band has released five full albums plus a split album 'Levitate the Listener' with 'White Flag' and toured internationally. http://www.versus-you.com / https://www.facebook.com/vsyou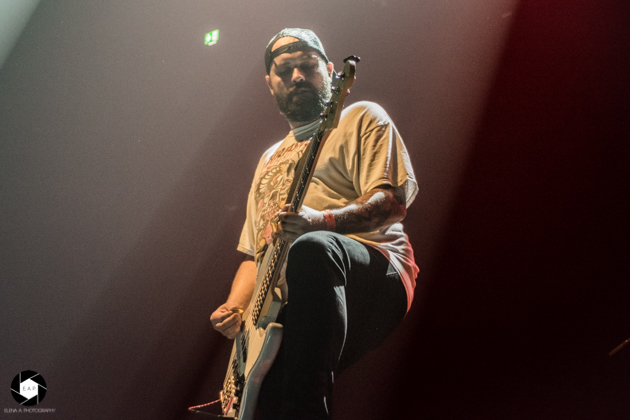 Music & Performance

There were already some people in the Rockhal when, ten minutes earlier than scheduled, VERSUS YOU came on stage and delivered a quite solid show. Their songs were typical Punk Rock songs which perfectly matched to this evening. After the first few songs, the people slowly woke up and moved a bit around. But the evening is still young and the crowd probably wanted to save their energy for the next band: ANTI-FLAG.
Setlist

01. If the Camels die, we die
02. When it all goes down
03. Quid pro quo
04. Kill your friends
05. Birthday Boy
06. When McCarthy came knocking at my door
07. Be better than me
08. You better
09. The mad ones
10. Patient Patient
11. Stay down stay strong
12. It's fun to be a vampire
13. This was is like a Drug to you
14. Gestures
Rating

Music: 8
Performance: 7
Sound: 8
Light: 7
Total: 7.5 / 10
Anti-Flag

Anti-racism. Anti-homophobic. Anti-sexist. Anti-capitalist. Anti-transphobic. Anti-fascist. Anti-nationalist. Anti-war.
ANTI-FLAG
! ANTI-FLAG is an American Punk Rock band from Pittsburgh, Pennsylvania, United States. The line-up includes singer/ guitarist Justin Sane and drummer Pat Thetic, who founded the band; later members are guitarist Chris Head, and singer/ bassist Chris Barker (#2) who replaced Jamie "Cock" Towns, who had replaced original bassist Andy Flag in 1997 following his departure one year prior. Most recently, the band has declared solidarity with the global Occupy Together movement. http://www.anti-flag.com / https://www.facebook.com/anti.flag.official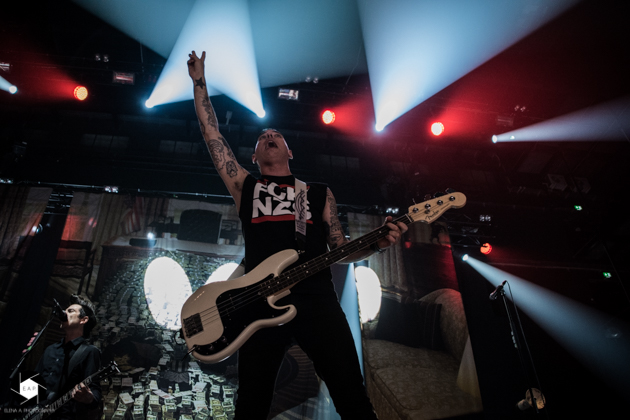 Music & Performance

ANTI-FLAG is back in Luxembourg but this time, they are supporting THE OFFSPRING. After a short change-over, ANTI-FLAG got up on stage and went straight into 'Cities Burn'. A quick start with fast songs, the band welcomes the Rockhal. The boys were so full of energy that this one immediately passed to the crowd. These sang along to many songs and had a lot of fun. The atmosphere was great and the band enjoyed the cheers of the people. A concert full of crowd surfer, mosh pits and pogoes. The Bourg really enjoyed the gig of ANTI-FLAG. Older songs like 'Die for the Government' were well-known by the fans. As a fan you really couldn't complain about the song selection, as well as the stage performance and sound. All in all, the appearance of ANTI-FLAG was flawless. Everything was just right and accordingly enthusiastically the four on stage were also celebrated by the audience.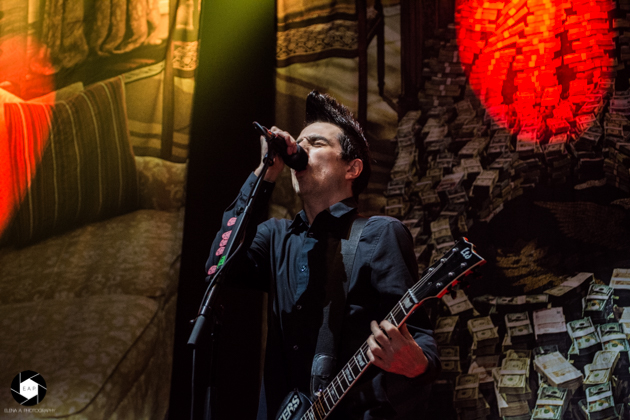 The crowd was definitely ready to give everything for THE OFFSPRING! And even if the world may not work that easily: ANTI-FLAG probably move the minds of their Luxembourgish audience more than most of our political teachers.
Setlist

01. Cities Burn
02. The Press Corpse
03. Fuck Police Brutality
04. Trouble Follows Me
05. Turncoat
06. All of the Poison, all of the Pain
07. This Machine…
08. American Attraction
09. This is the End
10. Die for the Government
11. Should I Stay or Should I Go?
12. Brandenburg Gate
Rating

Music: 8
Performance: 10
Sound: 9
Light: 8
Total: 8.8 / 10
The Offspring

THE OFFSPRING
is an American Rock band from Garden Grove, California, formed in 1984. Originally formed under the name MANIC SUBSIDAL, the band has consisted of lead vocalist and guitarist Bryan "Dexter" Holland, bassist Greg K., guitarist Noodles and drummer Pete Parada since 2007. Over the course of their 34-year career, they have released nine studio albums and experienced several line-up changes, including switching drummers. They have sold over 40 million records worldwide, being considered one of the best-selling punk rock bands of all time. The Offspring achieved its first commercial success with their third studio album 'Smash' (1994), which has sold over eleven million copies worldwide, setting a record for most albums sold on an independent record label. http://www.offspring.com / https://www.facebook.com/Offspring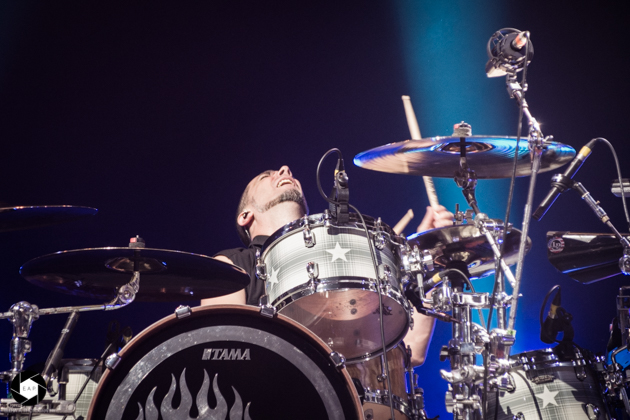 Music & Performance

With a crowd completely energized even after a short break to switch the stage, it was time to dance off to the highlight of the night. THE OFFSPRING appeared to a cheering Rockhal. Right from the opening number, 'Americana', fans were singing along and even crowd surfing during certain songs. Front man Dexter Holland was not distracted by any technical problem with the microphone. 'All I Want', '"Come Out and Play', 'Staring at the Sun', 'Want You Bad', '(Can't Get My) Head Around You', 'Pretty Fly (for a White Guy)', and 'The Kids Aren't Alright' were all performed with passion. The band even performed 'Bad Habit' much to the delight of fans, who screamed the vulgar - but fun - lyrics at the top of their lungs when Holland asked the audience to sing along. The 1997 piece 'Gone Away' sounded pretty good in the piano version.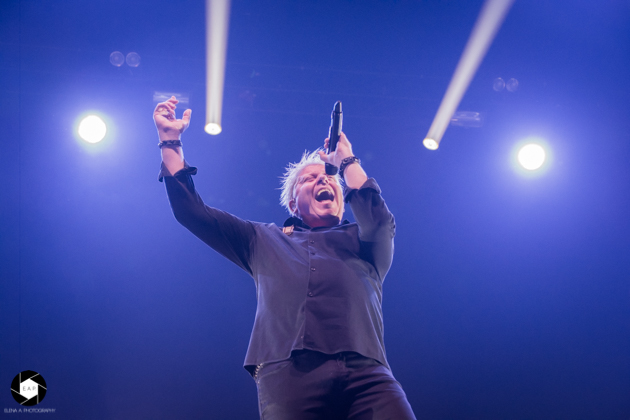 The show ended with a song that once made the band world-famous: 'Self Esteem'. Then, after only 70 minutes, the time travel to the 1990s was over.
Setlist

01. Americana
02. All I Want
03. Come out and Play
04. It won't get better
05. Original Prankster
06. The Noose
07. Staring at the Sun
08. Want You Bad
09. Session
10. Bad Habit
11. Hit That
12. Gone Away
13. Why Don't You Get a Job
14. (Can't Get My) Head Around You
15. Pretty Fly (For a White Guy)
16. The Kids Aren't Alright
---
17. You're Gonna Go Far, Kid
18. Self Esteem
Rating

Music: 8
Performance: 7
Sound: 7
Light: 8
Total: 7.5 / 10
All pictures by Elena Arens