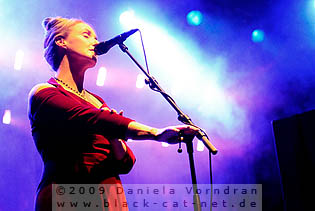 Lichtburg, Essen, Germany
22nd September 2009
Klaus Schulze feat. Lisa Gerrard

She is an exceptional vocalist and most notable as being the second half of the legendary duo DEAD CAN DANCE which broke up in 1998 and he is deemed as the synth pope and while that surely is an over the top statement of some press representative there can be no doubt about the fact that he's one of the most significant and influential actors of the electronic music scene. We're talking about KLAUS SCHULZE & LISA GERRARD who came together thanks to a busy manager and with 'Farscape' (2008) created a monument of sound, followed by the Live CDs/DVDs 'Rheingold' and 'Dziekuje Bardzo - Vielen Dank'. On 22nd September these two exceptional artists were supposed to be giving the audience at Essen's Lichtburg a memorable evening, and it was a memorable evening. It just turned out different than planned.
http://www.klaus-schulze.com/
/
http://www.lisagerrardmusic.com/
/
http://www.myspace.com/farscape2008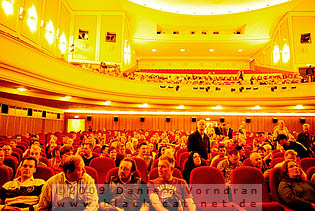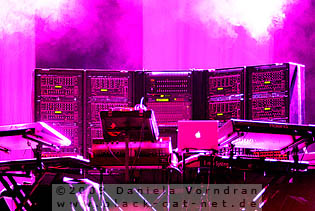 Music & Performance

After everyone had taken a seat in the old cinema, also a new environment for me to watch a concert, a time of waiting began that ended with a guy coming up on stage telling us that KLAUS SCHULZE was still in the hotel and sick, and might not be able to be with us. Everyone who was particularly there for KLAUS SCHULZE was told that if he wanted to he could leave now and gets his money back at the box office, and to my honest surprise I guess half the people left the room. Too bad, especially since LISA GERRARD alone was a reason to stay and those people missed a performance extraordinaire. Deafening applause welcomed the lady on stage. She was wearing a red dress and took place behind the microphone. After expansive sound sculptures spread in tonight's auditorium she would begin to add her very own timbre.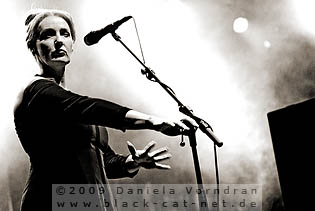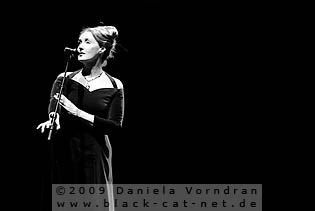 I have seen and heard a lot already and I know artists adding fantasy language to a song to emphasize or stress a particular mood given by a song's basic orchestration. Just not on such an intuitive level. It was simply otherworldly and onomatopoeia on a level that is beyond what other artists would be capable of. She just stood up there and sent a great deal of emotions like pulsating streams down to the audience, whose eyes were all fixed on her no matter where you would look. More than once, I had showers of goose bumps running over my body and I think I wasn't the only one that evening. When on the third song there was a technical problem, she would improvise an a-cappella performance of such grandeur it's hard to capture in words. Without any instruments, she mesmerized an entire room. I would really like to see a full show of her like this. I'm sure it would be an experience.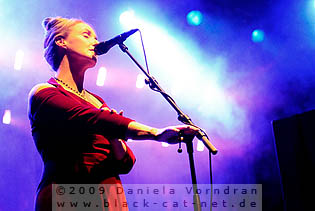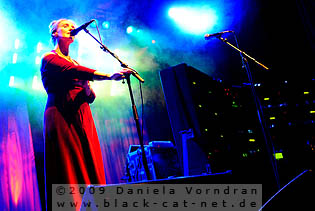 After her voice faded into the ether she was given a long-lasting applause, the longest she received that evening up to that point shall I say. Later on, after she had left the stage and the background music started playing, we thought that this couldn't and shouldn't be the end and collectively started clapping, and it was like Lisa's just waiting for that. After a while she came back, was given roses from various people and seemed visibly touched by the enthusiasm of everyone that she would give another a-capella performance of an old song. It was 'The Wind that Shakes the Barley' and merely the first line caused storms of cheers and excitement. Such an incredible showcase deserved standing ovations and that's how we bid a great artist farewell. The only sad thing was that the show didn't last longer than I guess 70 minutes. But given the circumstances, it was acceptable though not a full-length program as announced. I'd like to conclude this review with a few adjectives which I think sum up this show very well: Magical and simply fantastic!
Rating

Music: 8
Performance: 10
Sound: 9
Light: 8
Total: 8.8 / 10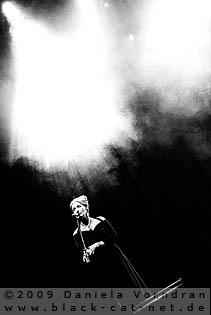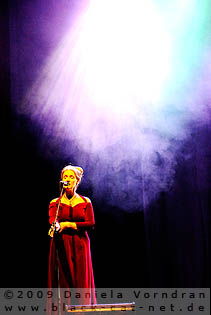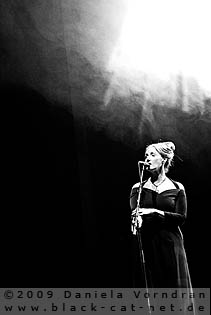 All pictures by Daniela Vorndran (
http://www.vorndranphotography.com/
/
http://www.black-cat-net.de/
/
www.myspace.com/vorndranphotography
)
{jos_sb_discuss:17}
See also (all categories):