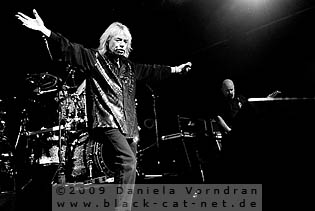 Zeche, Bochum, Germany
5th October 2009
Magnum & Soley Mourning

The outlook of an evening with the Hard Rock veterans of MAGNUM lured quite a few people out to the Zeche in Bochum on this freezing cold and rainy Monday evening. We were following the call as well and were already very curious…
Soley Mourning

Birmingham-based five-piece SOLEY MOURNING formed in late 2005. In 2006, the band signed to Casket Records to release their debut album 'Mambo County'. In the following years the band won over fans with their live shows. 2009 then saw the release of their second album 'Remove Replace Rewire'. SOLEY MOURNING is Mat Partridge (vocals), Tone Chambers (guitar), Dattani (bass), Andy Guest (guitar) and Chris Smith (drums).
http://www.soleymourning.com/
/
http://www.myspace.com/soleymourning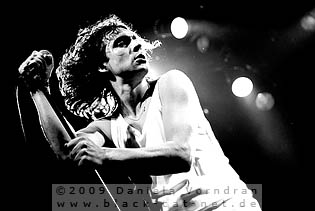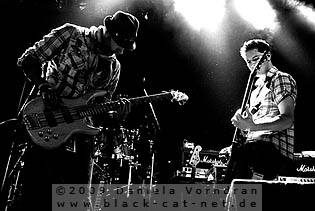 Music & Performance

The very task of a support band is to warm-up the audience for the main act. Some fail to do that for reasons that might be lack of enthusiasm on their own side or on the audiences'; others manage to bring the necessary spark across like SOLEY MOURNING did the other day. Their very own blend of music woven from influential threads coming out of the Blues Rock, classic Rock'n'Roll or even Metal on its own is already rousing enough to get even an army of ice statues into action . But when you see the passion, energy and fun the 5-piece shows when they're on stage you can't honestly be standing still. Thus, you could spot lots of people in the building nodding with their heads, tapping with their feet or clapping enthusiastically to the music without or with animation by charismatic lead singer Mat Partridge.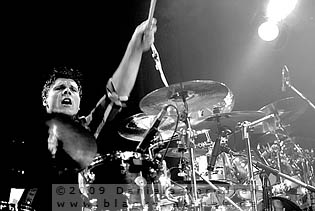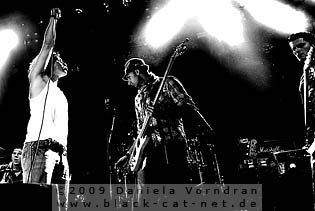 Once you hear this strong voice coming out his mouth, you know exactly where that Blues influence in their music is coming from. So, people were warm now and after the band had closed their set with a cover of 'Born to be Wild', they left an excited audience who gave them a long-lasting applause for their great performance.
Setlist

01. Midday
02. Remove Replace Rewire
03. Heathen
04. Going Down To Rio
05. The City is Mine
06. Easylife
07. Double Drop
08. Bridges Gonna Burn
09. Wake Up Callin'
10. Blue Bourbon
11. Gas Pedal Screamin'
12. Born to be Wild (Steppenwolf Cover)
Rating

Music: 8
Performance: 8
Sound: 7
Light: 6
Total: 7.6 / 10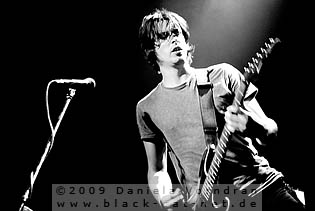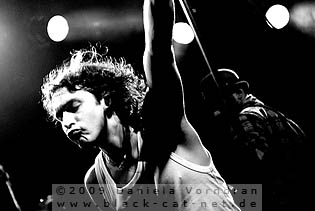 Magnum

The band that formed in 1972 started its career with playing background for several American singers during their concerts with little success. The band had their breakthrough in 1976 as support act for JUDAS PRIEST. In 1978, the band released its first album 'Kingdom of Madness', followed just a year later by the second effort 'Magnum II'. But 1985 brought the release of the album that is still famous among MAGNUM fans: 'On a Storyteller's Night'. Until their preliminary break-up in 1995, they had released eleven albums. With 2002s 'Breath of Life', the band returned to the public and wouldn't leave their fans alone ever since. The newest album is called 'in The Valley of the Moonking'. MAGNUM is Bob Catley (vocals), Al Barrow (bass), Tony Clarkin (guitar), Mark Stanway (keys) and Harry James (drums).
http://www.magnumonline.co.uk/
/
http://www.myspace.com/magnumuk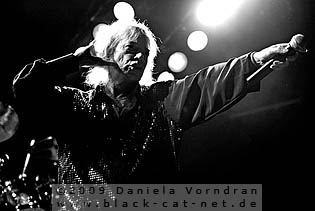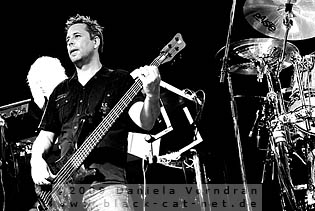 Music & Performance

Even though people were visibly enjoying the show of the support act, they wanted to see the big show now, what they've actually come to see: British veteran rockers of MAGNUM! They just had to wait a little while for the changeover to be completed and then the moment of relief would come. The band would take positions and symphonic sounds generated with the piano and synth started circulating. Mister Bob Catley wearing a glittering shirt would be entering the stage as the last one raising a frenetic response in the audience. Then the set could really start with the hymnal 'Cry to Yourself' from the band's newest album 'Into The Valley of the Moonking' which was extensively supported on this show with other tracks like 'Take Me to the Edge', 'The Moonking' or 'No one knows his Name'.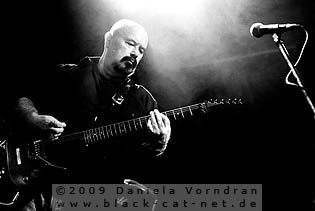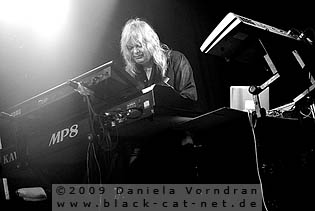 The fans also wanted to hear some much-loved hits though, so the much focused band provided them with some classic stuff. Amongst these old hits were e.g. 'Les Morts Dansant' or 'All England's Eyes' from the famous 'On a Storyteller's Night' album. But no matter what song they played, the crowd celebrated every single one and in-between the songs, there was hardly any moment of silence for everyone was constantly clapping and shouting. Well, they had to do that a little longer to get an encore later, but the joy was all the bigger when the band returned and threw more hits into the crowd ending a very entertaining evening with it.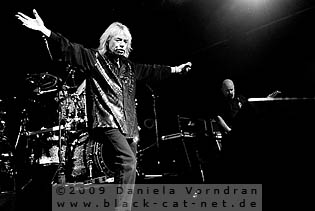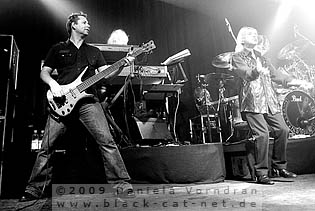 Setlist

01. Cry to Yourself
02. Take me to the edge
03. Brand new morning
04. The Moonking
05. When we were younger
06. No one knows his name
07. Dragons are real
08. Face in the crowd
09. We all run
10. Les Morts Dansant
11. All my bridges
12. Shame for the bad boy
13. All England's Eyes
14. Vigilante
---
15. Kingdom of madness
Rating

Music: 7
Performance: 7
Sound: 8
Light: 8
Total: 7.3 / 10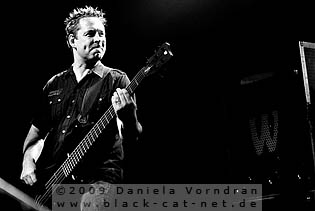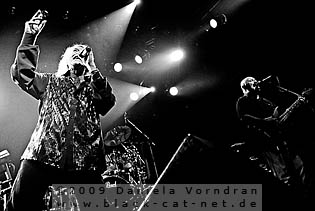 All pictures by Daniela Vorndran (
http://www.vorndranphotography.com/
/
http://www.black-cat-net.de/
/
www.myspace.com/vorndranphotography
)
{jos_sb_discuss:17}
See also (all categories):