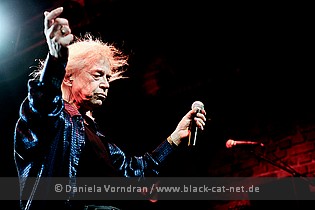 Matrix, Bochum, Germany
23rd March 2011
Magnum, Gwyn Ashton

British MAGNUM were in town again and as expected the crowd waiting in front of the venue to get in more or less were in their 40 at the average. I started to think that would become a cosy little concert with a not too packed tube. Turns out I was wrong.



Gwyn Ashton

Welsh-born GWYN ASHTON started playing guitar at the age of 12 which was just the humble start of what was to become an exemplary career, opening for STATUS QUO on their tour in 1999 with his band for instance. His newest project was established in 2008 with the TWO-MAN BLUES ARMY format, followed by a series of performances. Former drummer Dave Small left after the recording of the self-titled album and was replaced by Kevin Hickmann. http://www.gwynashton.com/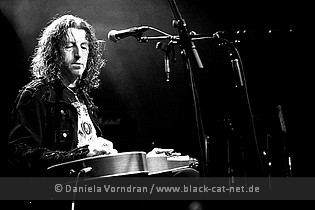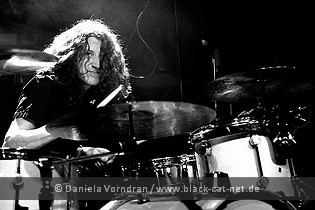 Music & Performance
So there was this guy walking on stage suddenly, looking like one of those old rock stars. A bit worn-out at that and then he started playing with one of his guitars, of which he had several on stage. Anyway, the dexterity he was playing with baffled me and made my jaw drop to the floor. There was a gritty blues style to his playing, complemented with a searing rhythm section when Kevin Hickmann took his place and started maltreating his instrument. One could not refrain from giving him big credit. Frequently, lengthy solos were played in the songs with ever changing figures and depending on which guitar he was playing, like a lap steel guitar, or an acoustic one, the feelings transported changed, while Kevin Hickman's beats made you either tap with your toes or nodding your head. I could've watched this all evening, but at some point all things come to an end and he could be secure of a warm applause and acclaim. I think one or the other went to get some CDs signed afterwards. Loved it!

Rating
Music: 8
Performance: 8
Sound: 6
Light: 7
Total: 7.6 / 10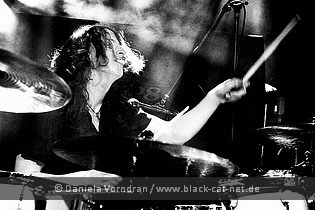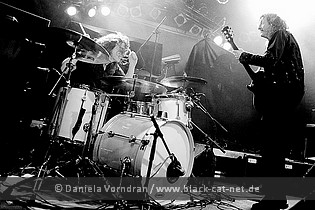 Magnum

The band that formed in 1972 started its career with playing background for several American singers during their concerts with little success. The band had their breakthrough in 1976 as support act for JUDAS PRIEST. In 1978, the band released its first album 'Kingdom of Madness', followed just a year later by the second effort 'Magnum II'. But 1985 brought the release of the album that is still famous among MAGNUM fans: 'On a Storyteller's Night'. Until their preliminary break-up in 1995, they had released eleven albums. With 2002s 'Breath of Life', the band returned to the public and wouldn't leave their fans alone ever since. The newest album is called 'The Visitation'. MAGNUM is Bob Catley (vocals), Al Barrow (bass), Tony Clarkin (guitar), Mark Stanway (keys) and Harry James (drums). http://www.magnumonline.co.uk/ / http://www.myspace.com/magnumuk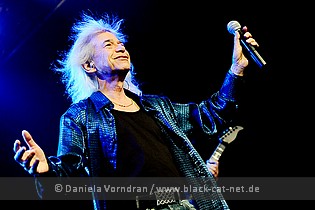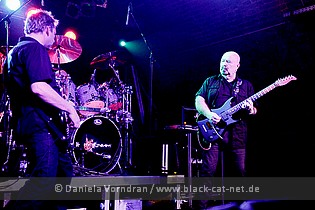 Music & Performance
The rebuilding break became a very long thing but you'd be surprised how you can bridge time talking about silver fishes and stuff. Since we're here for the music we'll go about talking that subject. With a string intro, the band walked up on stage to start their set with something off the 'Chase The Dragon' record, entitled 'Back to Earth'. In close distance that already was enough to get fans taking off of the Earth while dancing. Next up followed a track from a more recent album with 'When We Were Younger' off 'Princess Alice And The Broken Arrow' beginning with mellow piano chords leading to a soaring chorus in the end. This year's early days saw the release of the new MAGNUM album 'The Visitation' and the next one 'Wild Angels' was taken from that one, gliding away on elegy and softer marching rhythm. This one revealed the strong give and take between band and fans, a constant exchange of energy which gave the older gentlemen, except their bassist, visibly more energy.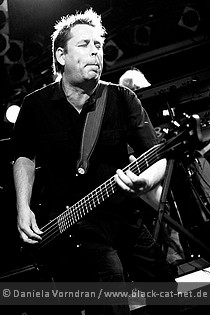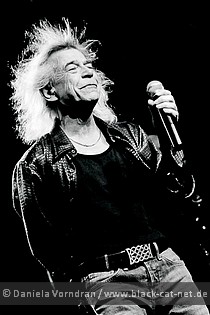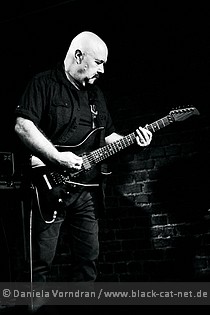 They might not be as agile as in the past anymore, but as long as they didn't lose their fun performing that does rarely matter. A treat for everyone was up with 'How Far Jerusalem, including a keyboard solo and following applause. The arrival of 'The Moonking' equally met with excitement on the fan's side, building from calmer to rocking sections for them to go along with. So they would continue to deliver one track at a time making their long-time fans go berserk to a certain extent, ending everything with 'The Kingdom Of Madness'. Well, not everything there was still an encore to be delivered and it would make sure no one left the house unhappy.

Setlist
01. Back to Earth
02. When We Were Younger
03. Wild Angels
04. Brand New Morning
05. Mother Nature's Final Dance
06. How Far Jerusalem
07. Spin Like a Wheel
08. The Moonking
09. Freedom Day
10. Les Morts Dansant
11. Black Skies
12. All My Bridges
13. All England's Eyes
14. Vigilante
15. Kingdom Of Madness
---
16. Wild Swan
17. On A Storyteller's Night

Rating
Music: 7
Performance: 7
Sound: 8
Light: 7
Total: 7.2 / 10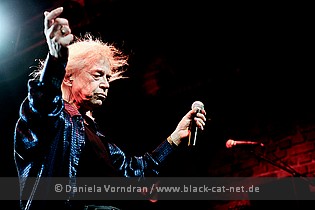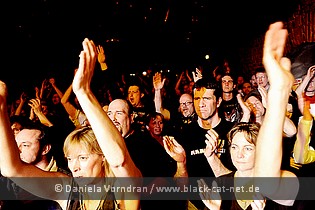 All pictures by Daniela Vorndran (http://www.vorndranphotography.com / http://www.black-cat-net.de / http://www.myspace.com/vorndranphotography / http://www.facebook.com/blackcatnet)



See also (all categories):