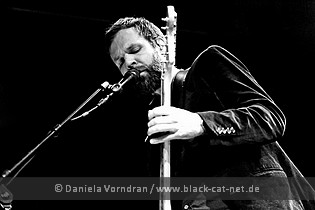 Zeche, Bochum, Germany
8th December 2010
Kashmir, Sea Wolf, Tusq

While I headed to Bochum I was wondering how many people would actually make it to the show under those problematic weather conditions and indeed there wasn't a particularly big crowd gathering in there. Something different for a change and promising a rather familiar atmosphere for this concert evening that had, besides the show of KASHMIR, two support acts in stock for us.
Tusq


The history of TUSQ is a pretty short one. The band members founding it in 2009 have all been in involved in other musical endeavours. This year the band has recorded their debut album. TUSQ is Uli (vox, keys), Timo (guitar), Paul (bass) and Holger (drums). http://tusq.net/ / http://www.facebook.com/tusqmusic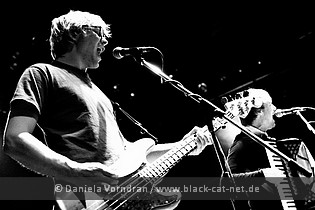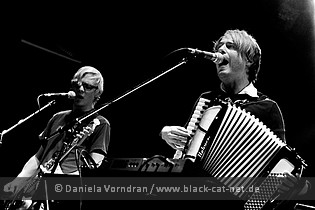 Music & Performance
First of all that was German TUSQ who introduced themselves with a driving piece of well-executed, melancholic indie rock that most of all impressed with the vocal presence of singer Uli who in the following mistook Bochum with Oberhausen where they're yet to play next year. Nobody held it against him and took it with a pinch of salt. For the second song Uli equipped himself with a harmonium that gave 'Love vs. Reason' a unique note. Also the little crowd in front of the stage visibly enjoyed the passionate tunes of the four-piece and as a sign of appreciation requited song by song with an at first a little cautious but then constantly louder and well-deserved applause. I could bet at least a few were headed to the merchandize booth afterwards to get one of the CDs lying out there for buying.

Rating
Music: 7
Performance: 8
Sound: 8
Light: 7
Total: 7.5 / 10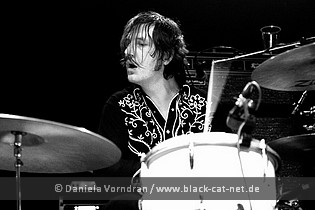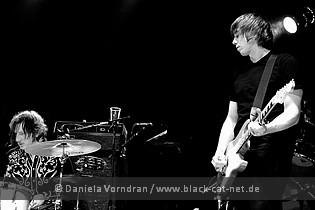 Sea Wolf

SEA WOLF is the project of Alex Brown Church who started performing under that moniker around 2003 and in the following would begin recording demos as well as touring around locally. In 2007, SEA WOLF signed to a label and released the first EP 'Get To The River Before It Runs Too Low', followed up by the full-length 'Leaves In The River'. The second album 'White Water White Bloom' came out in 2009. http://www.seawolfmusic.com/ / http://www.myspace.com/seawolf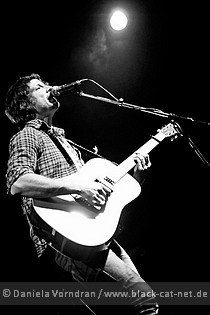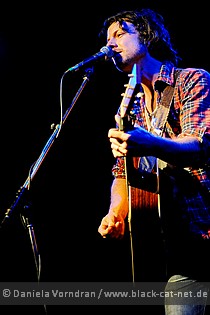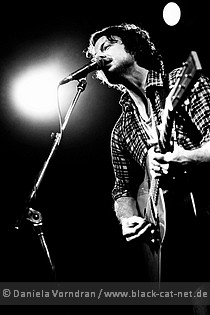 Music & Performance
Actually, he uses to have more people with him on stage but when we got to see SEA WOLF for the first time, it was only Alex coming on stage to play a completely acoustic set to the audience. A performance that started with the folky tune 'Dew In The Grass' he moved a little to, but moreover he focused on delivering the vocals intensely and in that he perfectly succeeded. You could almost forget there was a guitar involved at all. With the next song 'Winter Windows' approaching, there was some little sound problem, a constant crackling that spoiled a little the atmosphere the track was building up. Hearing the melody of 'The Traitor' reminded me a little of BRUCE SPRINGSTEEN's 'Dancing In The Dark' and a sad mood took hold on 'Middle Distance Runner'. But if I had to pick one song that got to me the most it was 'Turn The Dirt Over', dedicated to his brother, a fire fighter, who died in a fire a while ago. There was a special feeling to this performance and fortunately the other people around felt the same as I did and honoured Alex's show.

Setlist
01. Dew In The Grass
02. Winter Windows
03. The Traitor
04. Middle Distance Runner
05. You're A Wolf
06. Turn The Dirt Over
07. Wicked Blood

Rating
Music: 7
Performance: 7
Sound: 8
Light: 7
Total: 7.2 / 10


Kashmir

KASHMIR started in 1991 with the name NIRVANA and had to change their name eventually due to the growing popularity of that other band with the same name ;) The Danish band which has come to great recognition with albums such as 'The Good Life' from 1999 and the platinum-certified 'Zitilites' from 2003 is returning in 2010 with their sixth album 'Trespassers' that once again sees a band matured in sound and expression. KASHMIR is Kasper Eistrup (vocals, lead guitar), Mads Tunebjerg (bass), Asger Techau (drums) and Henrik Lindstrand (keyboards, guitar). http://www.kashmir.dk/ / http://www.myspace.com/kashmiryeah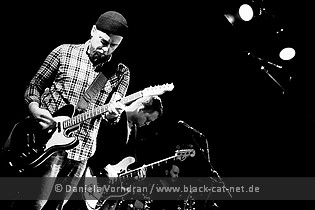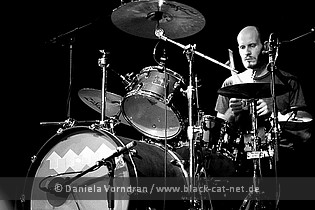 Music & Performance
Now, before the headliner was to enter the stage, the people all started gathering closer to get the most of the performance. Considering there weren't much people in attendance anyway they could get as close as they wanted to. 'Danger Bear' was to open this set and only one by one the members appeared on stage to join in later with their instruments. All the while, Kasper had already started enchanting everyone with his all-pervasive vocals embraced by soft piano clanging. A fragile groove came with the chilly 'Mouthful Of Wasps' off the new album 'Trespassers' and its crystal melodies seemed to have travelled through worlds before getting into the track. The rhythm was predestined to be an accentuation for nodding, while the subsequently following 'Kalifornia' was the perfect thing to really dance along to. On 'Mantaray' then finally Kasper started to rock out, too. On 'Petite Machine' we were treated to a more uncommon rhythm showing that KASHMIR works aside of too simplistic structures also.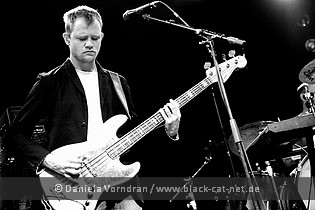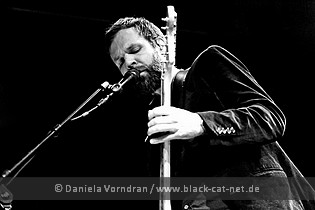 A wonderful piano introduction led the way to 'In The Sand', something to just get lost into and to dream. Over the entire distance of the show, KASHMIR knew very well how to keep the balance between the two poles of melancholia and rock. All the songs were placed in a way so they could send everyone through a rollercoaster ride of moods and the band obviously enjoyed seeing everyone getting through them and how they were enjoying themselves to the tunes. The hails were unbreakable on starting of the initial chords to 'Rocket Brothers', coming up with an extended instrumental part, especially for the closing ceremony this song was. The clapping wouldn't cease afterwards until the band was back on stage. Then, out of the blue, someone demanded to hear a Christmas song and the band did actually fulfil the wish with a little intermezzo of 'Silent Night' in Danish, a very special moment but also a bit strange to hear it in that language. The first proper song of the encore, 'The Aftermath', spread a wonderful atmosphere and everywhere you would look you would see people having a good time to it. Two more songs, namely 'Still Boy' and 'The Cynic' would follow until the crowd's released into the snowy winter night again, with a content smile on their faces over a just past, memorable concert experience with fantastic music.

Setlist
01. Danger Bear
02. Mouthful Of Wasps
03. Kalifornia
04. Mantaray
05. The Curse Of Being A Girl
06. Petite Machine
07. Surfing The Warm Industry
08. The Indian (That Dwells In This Chest)
09. In The Sand
10. Pursuit Of Misery
11. Bewildered In The City
12. She's Made Of Chalk
13. Rocket Brothers
---
14. The Aftermath
15. Still Boy
16. The Cynic

Rating
Music: 9
Performance: 9
Sound: 8
Light: 8
Total: 8.7 / 10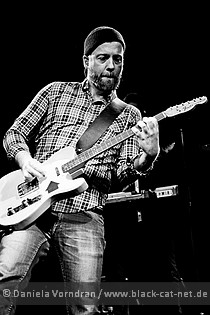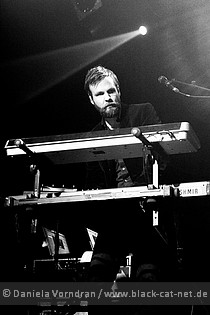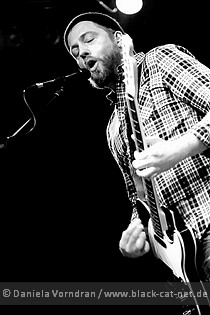 All pictures by Daniela Vorndran (http://www.vorndranphotography.com/ / http://www.black-cat-net.de/ / www.myspace.com/vorndranphotography)
{jos_sb_discuss:17}