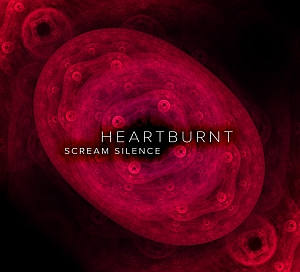 Artist: Scream Silence
Title: Heartburnt
Genre: Dark Rock
Release Date: 5th June 2015
Label: Plainsong Records
Album Review

Almost three years had to pass since 'Scream Silence', their eighth and then latest output, for receiving a new life sign of Berlin's eponymic model Dark Rockers. Three years which saw them keeping an oddly low profile in public (aside from joining the tour of the moving up colleagues of STAUBKIND), although there were a lot of things going on beneath the surface. So they split up with the mighty Out Of Line label which had its finger in the above mentioned pie, they had to resettle their studio/ rehearsal home base and they had to reanimate Plainsong Records, their own and homemade label for preparing the release of what became 'Heartburnt', their fulltime album number nine (so it seems that the few months "off" were not a creative waste of time at least!), hitting earth a few days ago with the aid of their loyal set of fans and the contemporary device of a successful crowd funding campaign. So how burnt down a heart can be?
Taking a look at their back catalogue it points up a certain kind of mutability relating to a specific genre or tag, when the classic Goth Rock tunes of the early days made more and more way for brighter and more amenable sounds, wrapped in sprawling and catchy layers of orchestral soundscapes for culminating in an elaborated Indie Rock that became the heart of their precursive long-player. And now? Back to the roots? A familiar bearing? Or new territories (like New Wave and Post-and Progressive Rock) as the jacket text claims?
So let me preliminary say that those, who are familiar with SCREAM SILENCE and slave to their last bunch of albums have no reason to be afraid or fazed - they know their ingredients and they know how to use them. Multiple layers of yearning, mourning, tempting and pillowing synthetic sounds face a kaleidoscope of guitars, sometimes like a lead weight, sawing and growling, sometimes fragile like a glassy structure, all backed by mostly propulsive rhythms, which navigate the song to its dense and catchy climax - the chorus. So up to now we move in safe and familiar climes (as any admirer will notice with a sigh of relief!). And yes, there seems to be that one acquainted atmosphere sitting enthroned like a welkin above the ten songs that already supplied the primary colour for their 'Elegy', 'Aphelia' or 'Apathology' albums - this bittersweet and soulful affliction, this malady dripping from the staves what also finds a proper home on 'Heartburnt' (as titles like 'The Seventh Sorrow', 'The Weeping' or 'Etwas Starb In Mir' bluntly reveal!). Oh, that doesn't mean that the songs' structure is dreary or trite, no, it's just a mood that seems to like to wear similar costumes, the undercoat that blurs the contours. But enough perceived, let's take a closer look at the album's chapters.
We start with 'Born with Blood on my hands', a plaintive carpet of woven synthesizer tunes, carrying Hardy Fieting's fragile vocals like deep waters before they pass the edge for falling down as a chorus of distortion and energy, filling the ether with despair and gasps like thinly dispersed water droplets. Next is 'The Art Remains', a catchy mid-tempo rocker, whose melodic verses contrasts appealingly with a driven chorus, tamed by a bridle of candy-like synthetic melodies (You guess why this is the album's first single!). 'The Seventh Sorrow' attracts with its medieval style-like verses and a gripping rhythm, slightly off the albums usual track, just for flowing (unfortunately) in a familiar kind of chorus made of massive guitars, thundering drums and the mandatory synthetic framework. Almost a pity, cause this could have become something really unexpected! 'We can do no wrong' and the title track seem to be soul mates, at least stylistically. Ballad-like swansongs with a lot of piano and emotion, electronics and gloom, empty alleys and pouring rain (Interrupted by a pleasant off-kilter feeling when in 'Heartburnt' the guitars suddenly attack in a staccato rhythm, a really nice stratagem!). 'Weeping' gains pace again, coming along dressed as an unusual happy bundle of tunes, whose comfortable dynamics are deeply indebted to the unfussy but powerful playing of the drums.
And now... I'm usually not the one who gives a thumb-down easily, but with the following track, a cover of THE NATIONAL's 'Conversation 16' they do themselves not a favour. I have to admit that I'm a huge fan of THE NATIONAL and so it would´ve been hard to convince me generally, but by erasing the song's original rough surface, its stained texture and urban claustrophobic fragility for pressing it in the band's typical fabric of wraparound guitars, towers of electronic string-layers and resonant drums they steal the song's soul, whitewash it and change it into a polished shimmering but empty shell. Ironically for the first time on that album singer Fieting fails to hit the proper melancholic level and there's nothing left of Matt Berninger's great bleak and joyful cynicism, just a white-tiled sterile room. But as I said - just an admirer's self-deprecating opinion…
With 'Etwas starb in mir', the band enters new territories, debuting their first ever song with German lyrics. A delicate issue. But I think they managed to walk the thin line between content and kitsch, what is all the more thinner when it deals with the present emotional subjects! But let me use that moment to say that all the album's words, written by the Sheffield based musician and comedian Anthony J. Brown, are well done and brilliantly arranged. They own a kind of sophisticated down-to-earth-poetry, intuitively accessible but far beyond clichés and templates and it´s really a joy following the lines. But back to the music. I can summarize that the remaining two songs are not that stylistic astonishment. Why should it? As I said - they know what they do. 'Echoes' is a pleasing and catchy rock-outfit, straight and pimped with a lot of electronic gimmickries, while 'The End Of The Lie' turns out to be a suitable closing ballad, which can claim to own one of the album´s most appealing guitar tunes in the form of moody slide-guitars, which provide a strange exotic patina to a song, whose epic final dishes once more all what this album stands for - heartaches, distortion, strings and a sonic panorama. A last fading cymbal... and over.
So what is the moral? For instance that 'Heartburnt' is an album that proves that all protagonists know their craft, know how to write songs with strong, dominating melodies and interesting musical vagaries. It is not this stylistic realignment the press release is claiming, but you can feel that they know the waters they´re moving in. Mastermind Hardy Fieting did (again) a stunning job behind the desk, because sonically it sounds immaculate. It is full and dense; it is saturated and flawless… but when this indicates talent of producing and an outstanding audible quality on the one hand, then it´s likewise the albums crux on the other. Over time it sounds too shiny, too glassy for not becoming predictable and gets somehow hand tame. All gaps and cracks, all possible irregularities are carefully plastered with keyboard-sounds and liquid electronic noises so that you can easily lose solid ground and unfortunately the tracks´ marginal outlines.
Additionally there is that mighty, leaden atmosphere, this veil of gloom and sorrow, though doubtlessly credible and palpable, detectable in almost every song, mostly triggered by the vocals, which pour its high registered laments down on every musical effort to leave this emotional single-lane road. Deplorable… in every sense of the word. So let me finish this little observation with a simple but comforting quote of Mister Henry Wadsworth Longfellow:
"Be still, sad heart! and cease repining; Behind the clouds is the sun still shining; Thy fate is the common fate of all, Into each life some rain must fall"…
Tracklist

01. Born With Blood On My Hands
02. Art Remains
03. The Seventh Sorrow
04. We Can Do No Wrong
05. Heartburnt
06. The Weeping
07. Conversation 16
08. Etwas Starb In Mir
09. Echoes
10. The End Of The Lie
Line-up

Hardy Fieting – Vocals, Synths, Keyboards
Robert Klausch – Guitars
Rene Gödde – Guitars
Hagen Schneevoigt – Bass
Nestor deValley – Drums
Website

http://www.screamsilence.de/
Cover Picture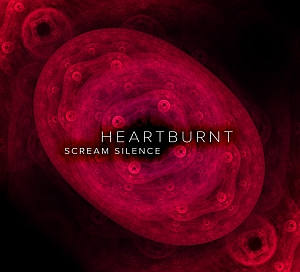 Rating

Music: 6
Sound: 8
Total: 7 / 10