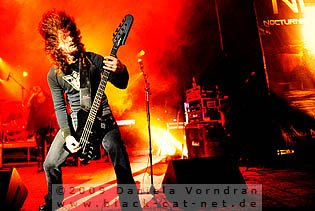 Kulturpark, Deutzen, Germany
4th - 6th September 2009
Nocturnal Culture Night 4 Day 3: Crematory, 32Crash, Funker Vogt, Escape with Romeo, Kloq, Scream Silence, Nachtgeschrei, Jäger90, Battle Scream, Camping im Keller, Deathgression

After two "long" festival nights we had a really tough time heading off so "early" on Sunday morning not to miss any band. But we managed and arrived the main stage just in time for DEATHGRESSION to start.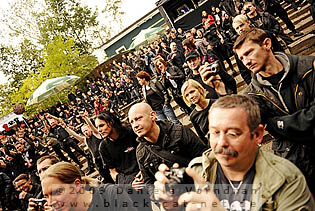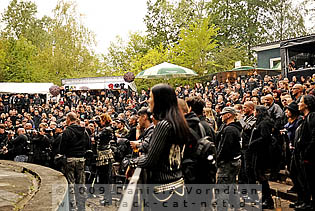 Deathgression (Main Stage)

The project was formed in 2006 under the name TRANSGRESSOR. Founder Rinze Wouda released two demos before getting a shot to work with legendary Len LEMEIRE who helped with the production of the debut album which still wasn't released due to problems with the former record label. In 2009, the project's name was changed to DEATHGRESSION. Production on the second album with the name 'Distorted Dreams/Vaginal Explorations' has started in August.
http://www.myspace.com/transgressornl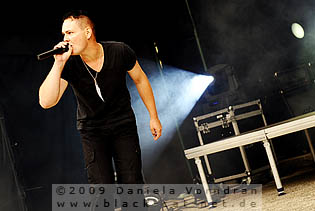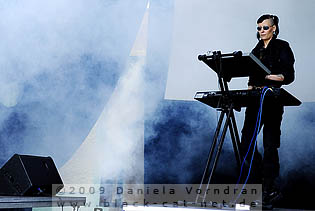 Music & Performance

Sharp at 12 PM, the program on the main stage started with the Dutch project DEATHGRESSION. In cooperation with Len Lemeire (IMPLANT, 32CRASH, ANNE CLARK) he created the yet unreleased album 'Battlefield Ethics'. It is from this album that we got presented a full doze of "Battlefield Electro" with songs such as 'Tote Helden' or 'The End of Reason' which convinced musically. The distorted, jarring vocals, however, were rather exhausting for me at this early hour.
Setlist
01. Degenerated
02. Opposites Attack
03. Over the Top
04. Tote Helden
05. Deathshock
06. The way of the Blood
07. End of Reason
08. Sugar Crash
Rating

Music: 6
Performance: 6
Sound: 7
Light: - (daylight)
Total: 6.2 / 10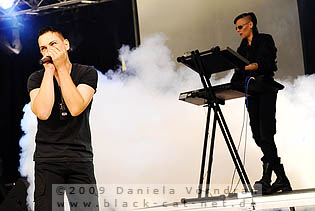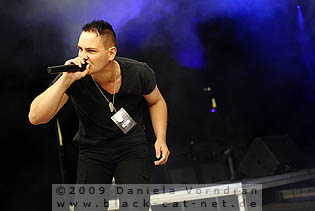 Camping im Keller (Small Stage)

Both future members of the project were already active in the music business, but in completely different genres. One day, one contacted the other with a request to remix a track of his project. They eventually came to an agreement and as they were working together in the studio, the first song titled 'Ode an die Frauen' was created as well. Today, the band has released an EP and an album called 'Am Puls der Zeit'. CAMPING IM KELLER is derMatt (vocals, music, lyrics) and Ron (synths, programming).
http://www.myspace.com/kellercamping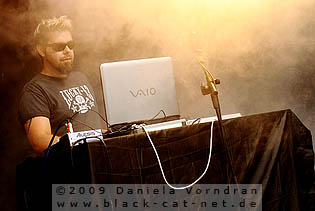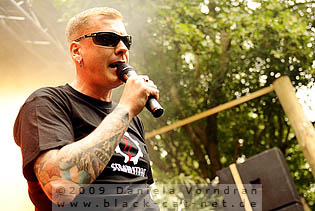 Music & Performance

Opener on the little stage today was the Leipzig-based formation CAMPING IM KELLER. The project comprises derMatt and Ron. They don't have too much of a live history this far. But instead they catered for a great wake-up call for mind and body. We saw and heard songs from the debut album 'Am Puls der Zeit' such as 'Stolz' and 'Baby, ich lieb dich'. Little electronic earworms attracted the interest of EBM and Electro fans.
Rating

Music: 7
Performance: 6
Sound: 7
Light: - (daylight)
Total: 6.7 / 10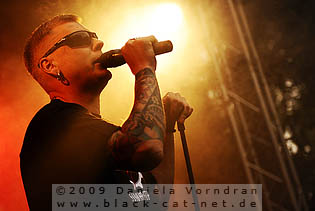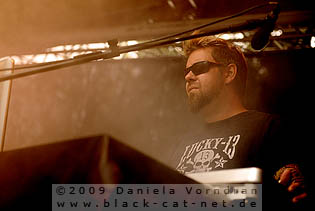 Battle Scream (Main Stage)

2001 is said to be the funding year of BATTLE SCREAM and until 2004, the band had released two albums and an EP. September 2008 saw the release of the already fourth album of the band, called 'Suffering' followed by their first tour through Germany around the same time. BATTLE SCREAM is: Alex (songwriting, vocals), René (guitar, programming, vocals), Toni (guitar), Simon (programming, arranging, keys, synth) and Heiko (drums).
http://www.myspace.com/battlescream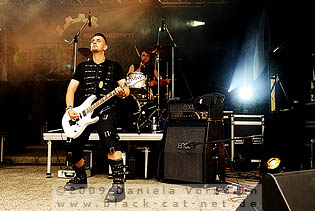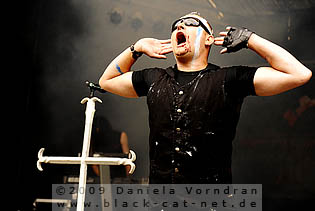 Music & Performance

The program on the main stage continued with more guitar-driven stuff of Dresden-based BATTLE SCREAM. Singer Alex, the guitarists René and Tom, as well as Simon on keys and Heiko on drums all had white stripes painted on their faces, as well as sprinkles on their clothes. Alex even topped it with his mouth smeared with artificial blood. What followed now wasn't bad at all. The powerful, experimental Electro sound with guitar riffs made sure the audience got into a good mood. From the current album 'Suffer' we heard the energetic, catchy 'Child of Fire' with an awesome guitar solo. Sadly, their performance was over much too soon, so keep an eye on them!
Setlist

01. Intro
02. Suffering
03. Mother Russia
04. Secret Invasion
05. Child of Fire
06. Ghost in the Machine
07. Pray - Outro
Rating

Music: 6
Performance: 8
Sound: 8
Light: - (daylight)
Total: 7.1 / 10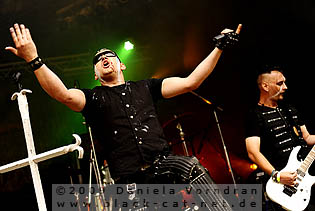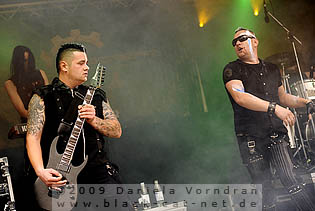 Jäger90 (Small Stage)

In 2005, two German guys formed JÄGER90 without ever having the intention of re-inventing the wheel or something like that. Entering 2007, the duo was able to release their first official album 'Muskeln & Küsse' via Electric Tremor and in 2008 had a successful performance at Wave Gotik Treffen and with a bag of new songs; they're now aiming to mix-up the Nocturnal Culture Night festival as well. JÄGER90 is Thoralf (vocals, programming) and Vigo (technique, live drums).
http://www.jaeger90.com/
/
http://www.myspace.com/jaeger90ebm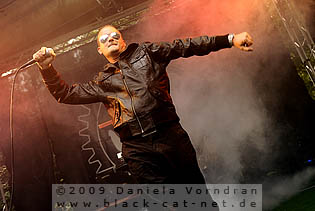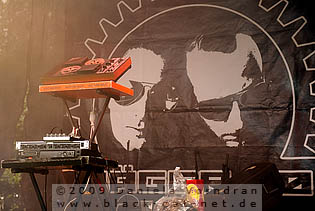 Music & Performance

From my hometown Rostock, the EBM formation JÄGER90 was coming up now on the little stage and brought us their "Body-focused German dance music". Thoralf and Vogo don't want to follow a trend; they just want to make pure, energetic and hard old-school EBM. No room for mumbo-jumbo. They sound like DAF any this with intention. They presented driving songs with powerful, commanding vocals off the albums 'Muskeln & Küsse' and the all new 'Drischne Skasal'. Thoralf, wearing sunglasses, was standing at the font mostly enclosed in lots of fog while Vigo treated the drums and catered for the rest of the sound.
Rating

Music: 7
Performance: 6
Sound: 7
Light: - (daylight)
Total: 6.7 / 10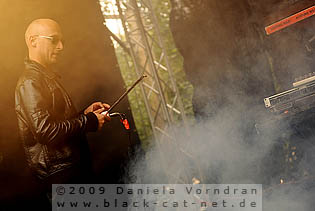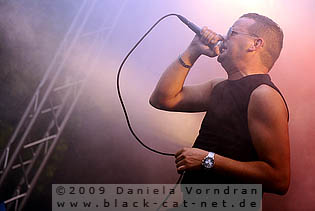 Nachtgeschrei (Main Stage)

German medieval band NACTGESCHREI formed in 2006. A little while later they would be signing a label deal with the renowned brand Massacre Records and release their debut album 'Hoffnungschimmer' to critical acclaim. The follow-up album 'Am Rande der Welt' came out on 20th March 2009 and continued their victory march. Besides that, the band has been heavily touring festivals and clubs this year. NACHTGESCHREI is Hotti (vocals, acoustic guitar), Joe, (accordion, hurdy-gurdy), Nik (bagpipe, flute), Oli (bass), Sane (e-guitar, acoustic guitar), Tilman (e-guitar) and Stefan (drums).
http://www.nachtgeschrei.de/
/
http://www.myspace.com/nachtgeschrei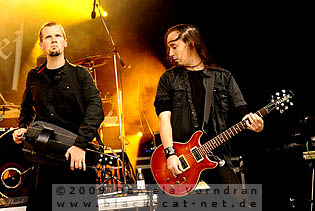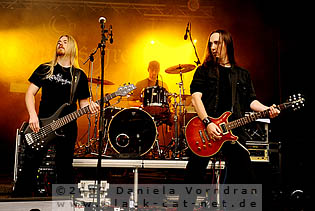 Music & Performance

Now it got lively on the main stage with the seven guys of NACHTGESCHREI from Frankfurt with their Medieval Rock music. Holger, Joachim, Dominik, Sanedin, Tilman, Oliver and Stefan mainly played songs from their current album 'Am Rande der Welt', amongst them being 'Nuspilli' or 'Niob'. Diverse instruments such as bagpipes, hurdy-gurdy or flute mixed with rocking guitar sounds. The simple, hand-made and timeless sounds were used by us as opportunity to brace ourselves for the rest of the day.
Setlist

01. Fiur
02. Muspilli
03. Herz
04. Räuber
05. Niob
06. Fernweh
07. Windstill
08. Glut
09. Meister
Rating

Music: 5
Performance: 7
Sound: 7
Light: - (daylight)
Total: 6.1 / 10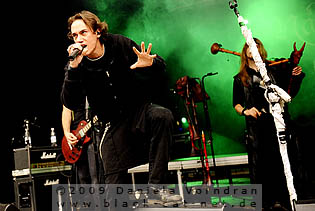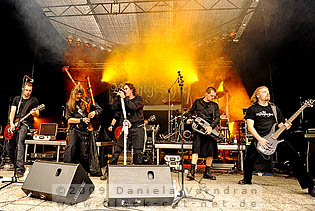 Scream Silence (Small Stage)

Berlin-based SCREAM SILENCE was founded in 1998. Already the first album 'To Die For', released in 1999, became "CD of the Month" at German music magazine Orkus. Due to the success of the first album they were able to tour with the likes of CHRISTIAN DEATH and DREADFUL SHADOWS. The sophomore album 'The 2nd' (2001) and its follow up 'Seven Tears' (2003) became incredibly successful as well with great press reception and spread the name SCREAM SILENCE way beyond Germany's borders. In spring 2004, the band founded its own label Plainsong Records whose first release was the fourth album 'Elegy'. Rolling forward to 2009 they've released seven albums in total and are considered being the spearhead of the so called "Dark Rock" movement. The latest album is called 'Apathology' and hit store shelves in October 2008. SCREAM SILENCE is Hardy Fieting (vocals, keys, synth), Robert Klausch (guitar, acoustic guitar), René Gödde (guitar), Hagen Schneevoigt, (bass) and Heiko Wolf (drums).
http://www.screamsilence.de/
/
http://www.myspace.com/screamsilencemusic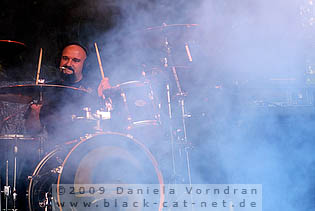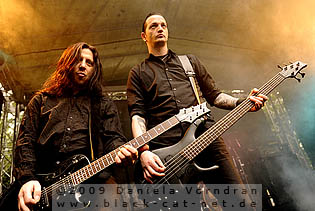 Music & Performance

On short notice, the Berlin dark rockers of SCREAM SILENCE, whose performances always are something special, had been announced for the festival. Just returning from the tour with ZEROMANCER, the band around singer and mastermind Hardy Fieting opened their set with the rocking 'The Vitriol'. Again Hardy's mellow vocals were crawling under my skin. The spark jumped across to the audience through the action on the narrow stage and the radiated sympathy. Also the following 'The Harvest' went down very well and rocked. The song 'Apathy' off the current album 'Apathology' gave us some time to rest and to enjoy the great atmosphere. One of my all-time favourites followed with 'Creed' and also the audience cheered to the well-known sounds. The melancholic and beautiful 'My Eyes' ended a show that was over way too fast.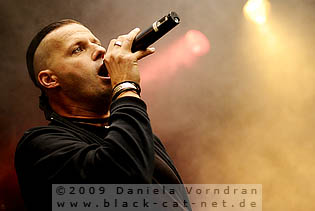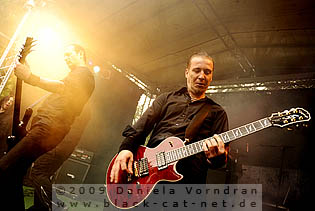 Setlist

01. The vitriol
02. Harvest
03. Kerosene
04. Apathy
05. Creed
06. Above and within
07. Athanasia
08. My eyes
Rating

Music: 8
Performance: 8
Sound: 8
Light: - (daylight)
Total: 8 / 10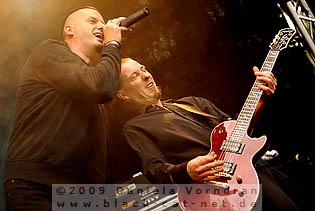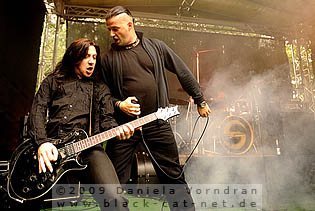 Kloq (Main Stage)

KLOQ is the musical outlet of Oz Morsley, who should be familiar to many people as part of EMPIRION with whom he released several singles such as 'Narcotic Influence' and remixed well-known acts like THE PRODIGY, FRONT 242 or MOBY. After EMPIRION, the first KLOQ tracks were released through Atomic Records which Ors describes as "…the transition from EMPIRION to what the KLOQ sound is now." After producing some other artists he thought about developing the sound, incorporating vocals and stuff like that and the voice for the tracks on the single 'We're just Physical' released in 2007 via Out of Line was no one less than Douglas McCarthy from NITZER EBB, delivering his trademark shouts to the energetic sounds to make the dance floors quake.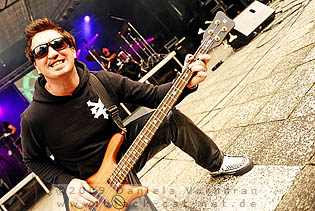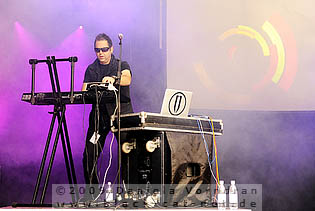 The subsequent release of the very first album 'Move Forward' was an overall success for the project and sneaked into the top lists of many music fans all over the world. KLOQ is Oz Morsley (producer / writer) with vocal performances by Douglas McCarthy and Greg Cumbers. Live on stage, KLOQ is Oz Morsley (keyboards), Greg Cumbers (vocals), Tim Jackson (bass) and Steve Wilson (drums).
http://www.kloq.co.uk/
/
http://www.myspace.com/kloq
Music & Performance

Last year's newcomers KLOQ also seemed to be very popular at this festival as the attendance of so many people revealed. The weather fitted as well and so nothing stood in the way of a performance of the Englishmen, who started right away with 'Ibiza' (Cover version of the dance act AMNESIA). Oz Morsley as well as Tim Jackson and Steve Wilson remained alone on stage for the entire song.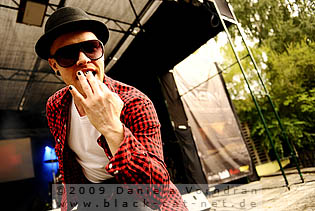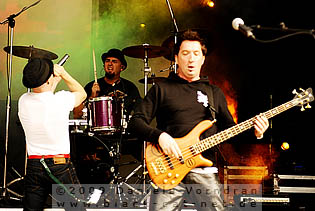 It wasn't before the following 'We're just Physical' that singer Greg Cumbers entered the stage wearing a fancy hat and a checked jacket. The original vocals were sung by no one less than Douglas McCarthy of NITZER EBB. The mix of EBM, Synth Pop and club sound made the people dancing and partying. Greg danced around on the semicircular stage. 'Push it' gave us hell once more before the new song 'Going Electric' of the upcoming album was presented. We can look forward something great again.
Setlist

01. Ibiza
02. We're just physical
03. You never know
04. I never said
05. Move forward
06. Push it
07. Going electric (unfinished version for new album)
Rating

Music: 8
Performance: 9
Sound: 8
Light: - (daylight)
Total: 8.4 / 10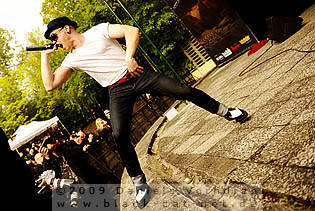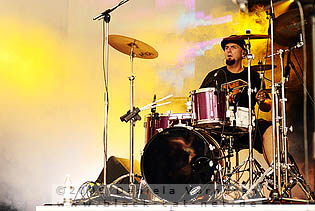 Escape with Romeo (Small Stage)

Founded in 1989 by Thomas Elbern after leaving PINK TURNS BLUE, ESCAPE WITH ROMEO soon was joined by keyboard player Martin Pott. Right in the year of foundation, the band released its first, self-titled album. One year later, the first concerts were played and in 1991 the second album 'Autumn on Venus' followed. Meanwhile, the band has entered the year of their 20th anniversary, have released nine albums, and enjoy a high reputation. On 13th March 2009, they've released a retrospective aptly titled 'History'.
http://www.escape-with-romeo.de/
/
http://www.myspace.com/escapewithromeo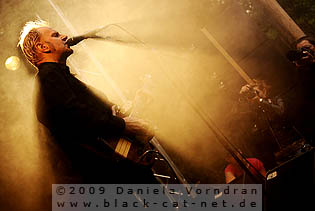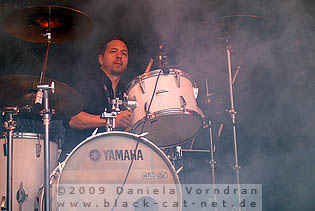 Music & Performance

For all the Dark Wave fans now followed one of the veterans, and a real highlight with ESCAPE WITH ROMEO. For 20 years, the scene could be hardly imagined without the trio around Thomas Elbern with its many classics. On keyboards we had Martin Pott, Frenzy on drums and on bass Ralf in action. Following the unknown sounds of the introduction we got presented with a colourful cross-section of all hits like 'Glitter on the Snow' or 'Somebody' which is almost as old as the band is. Mutual dancing, clapping and everywhere you looked you saw happy faces. Throughout the entire performance, the band made us wallow in thoughts and radiated harmony and joy of playing. The balladry 'Here comes the Night' went down just as well as the melodic, danceable songs like e.g. 'Anteroom for your Love'. So the 60 minutes were like a little journey through time with a lot of moody moments, but over way too soon.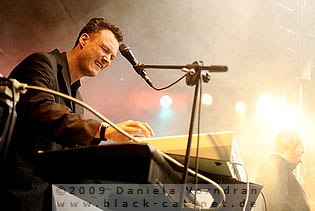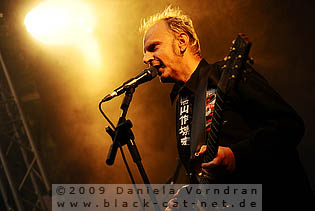 Setlist

01. Intro
02. Helicopters
03. Something underground
04. Glitter on the snow
05. Here comes the night
06. Somebody
07. If seeing is believing
08. Anteroom for Your Love
09. It's loneliness
10. Skeletons
11. White room
Rating

Music: 8
Performance: 7
Sound: 8
Light: 6
Total: 7.4 / 10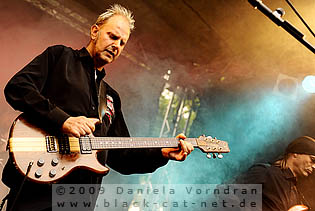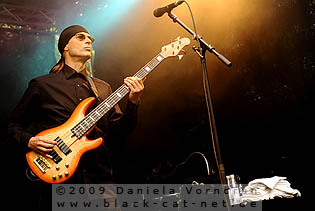 Funker Vogt (Main Stage)

FUNKER VOGT was born in 1995. The name derives from a friend of the band who was a Radio Operator at the German Armed Forces at that time. The project has released several albums over the years with 'Aviator' as the latest. The first DVD 'Warzone K17 - Live in Berlin' has been released in May 2009. FUNKER VOGT live is Jens Kästel (lead vocals), Gerrit Thomas (synths), Björn Böttcher (synths) and Frank Schweigert (guitar).
http://www.funkervogt.de/
/
http://www.myspace.com/funkervogt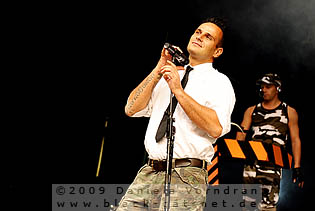 Music & Performance

It's been an eternity since I've seen FUNKER VOGT for the last time, whereas it was an emotionally-charged experience every time! Instead of four, only three guys led by singer Jens Kästel entered the stage this time. The colourfully painted Björn Böttcher was missing for unknown reasons. Already the first song 'Date of Expiration' came like a bombshell and in the middle stage area, people were dancing and jumping wildly. In 15 years, the band has carved themselves out a respectable place in the Electro scene. The topics military, war and the martial image are essential parts of FUNKER VOGT. The camouflage dresses of the trio fitted perfectly to the black-orange keyboard, and as always singer Jens was a real eye-turner. He danced over the stage to brachial beats and encouraged the excited audience. Visibly touched and pleased by the reception he drank out of an offered bottle of wine and regularly gave high-fives to the people in the first row.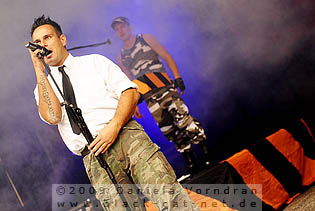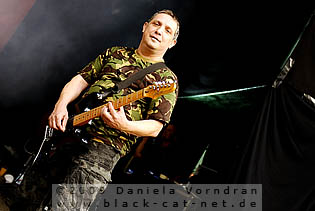 One hit followed the other, amongst them being 'Black Whole', 'White Trash' or 'Tragic Hero' which made the closing of the performance. The audience, however, was in party mood and loudly demanded and encore, granted in the form of 'Words of Power.
Setlist

01. Intro
02. Date of Expiration
03. Child Soldier
04. Final Thrill
05. Take Care
06. City of Darkness
07. Killing Fields
08. Black Hole
09. Fallen Hero
10. Gunman
11. Maschine Zeit
12. White Trash
13. Thanatophobia
14. Funker Vogt 2nd Unit
15. Tragic Hero
16. Navigator
---
17. Words of Power
Rating

Music: 5
Performance: 8
Sound: 8
Light: 6
Total: 6.5 / 10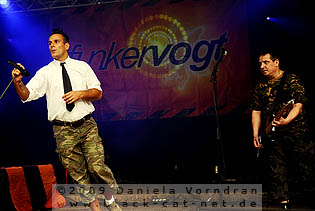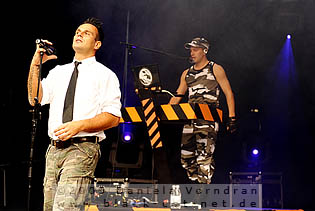 32 Crash (Small Stage)

When you hear the name Jean-Luc de Meyer one instantly makes the connection to EBM pioneers FRONT 242, where he put his distinct vocals on the tracks. Over the long course of his career, de Meyer has been active in several other projects besides F242 i.e. CYBERTEC, C-TEC or COBALT 60. With 32CRASH, he's focussing only on song writing and singing while his two colleagues Len Lemeire (IMPLANT) and Jan D'Hooghe (VIVE LA FETE, IMPLANT) are responsible for the musical accentuation. Following the release of the promising 'Humanity EP', the album 'Weird News from an Uncertain Future' was released in October 2007 on Belgian label Alfa Matrix.
http://www.32crash.com/
/
http://www.myspace.com/32crash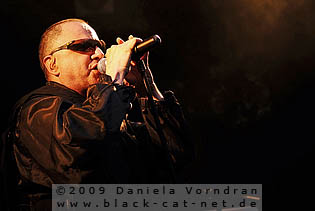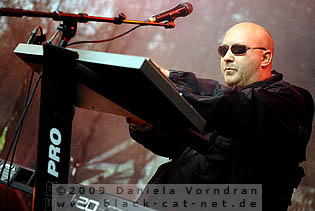 Music & Performance

Meanwhile, the name 32CRASH rings a bell with most people and in the same breath the name Jean-Luc De Meyer of FRONT 242 is dropped, who founded the project in 2007 with Len Lemeire (IMPLANT) and Jan D'Hooghe (IMPLANT und ex VIVE LA FETE).Contrary to FRONT 242, the songs of the side-project are much calmer and can be labelled as Electro Wave. Literally melancholic and with clean vocals was the song 'Slow Crash'. 'Propaganda' on the other hand was more Synth Pop and for the fans of harder sounds they had 'Isomodia', 'NTT' or the closing 'Fast Crash' up their sleeves. The mighty aura, vocals and science-fiction stories of Jean Luc De Meyer had an impressing effect on the audience who celebrated a little party in front of the stage.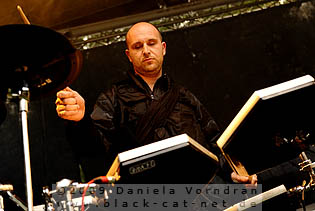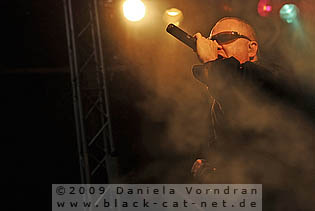 Setlist

01. Intro
02. Merlin's Gun
03. Porcupine
04. Slow Crash
05. Spaceman
06. Dust a drought
07. Lone Ranger
08. Beware
09. NTT
10. Fibers, Carbon and Germs
11. I remember
12. The Creature
13. Plutonian breeders
14. Let me enjoy
15. Propaganda
16. Humanity
17. Isomodia
18. Fast crash
Rating

Music: 8
Performance: 7
Sound: 8
Light: 7
Total: 7.6 / 10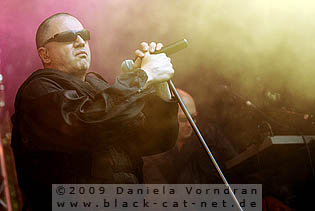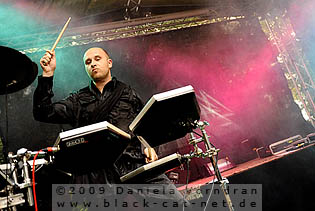 Crematory (Main Stage)

After the foundation of the band in 1991, and with the addition of two further musicians to the line-up, CREMATORY recorded their first self-titled demo: according to the band it has sold about 1,500 times. In the meantime, the former bassist left the line-up and joined another band, but they quickly found a new one and could start working on their debut 'Transmigration', released in 1993 after which he already left the band again to be finally replaced by a fixed bass player. With the following albums 'Just Dreaming' (1994) and 'Illusion' (1995) they moved further away from the Death Metal what made the band more popular. Many of the following albums would hit the German album charts such as 'Awake' (1997) or 'Act 7' (1999). Their most recent album is called 'Pray' and was released in February 2008. CREMATORY is Gerhard Stass (vocals), Matthias Hechtler (guitar, vocals), Harald Heine (bass), Katrin Jülich (keys) and Markus Jülich (drums).
http://www.crematory.de/
/
http://www.myspace.com/crematorymusic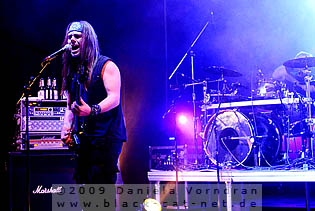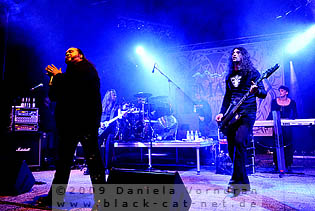 Music & Performance

As the very last band and closing of the festival, the organizers could get one of the most successful German Gothic Metal bands. In complete darkness and at very low temperatures keyboardist Katrin Jülich, drummer Markus Jülich, Guitarist Matthias Hechler, bassist Harald Heine and singer Felix Stass entered the stage. A great lightshow and fog enveloped the band members while coming up with smashers such as 'Tick Tack' or 'Greed' and phat guitar riffs. Nobody seemed to be entirely sober up there on stage and the numerous bottles of beer only supported that impression. Felix was very talkative and in-between the songs kept ordering drinks from the cocktail bar to the right, even delivering fresh drinks directly to the stage. From the current album 'Pray' we heard 'Left The Ground' and the title track where Felix' deep vocals alternated with Matthias' clean vocals.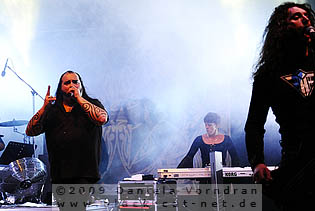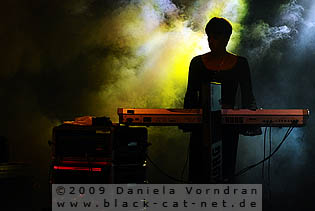 There was much more free space in front of the stage than a few hours before. That might be due to the fact that much more Electro- than Metal fans attended the festival, or just because it was Sunday and many would already have to work again on Monday. But the rest of the attendees and also the band had much fun and the band fulfilled a wish with a cover of 'Temple of Love', originally by the SISTERS OF MERCY, and the wonderful ballad 'Perils of the Wind'.
Setlist

01. Intro
02. Remember
03. Fly
04. Tick Tack
05. Greed
06. Pray
07. Höllenbrand
08. Tears of Time
09. Revolution
10. Left the Ground
11. The Fallen
---
12. I never die
13. Temple of Love
14. Perils of the Wind
Rating

Music: 7
Performance: 8
Sound: 8
Light: 7
Total: 7.5 / 10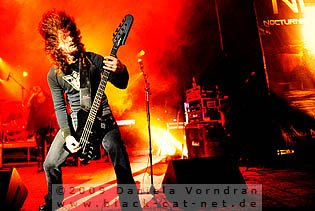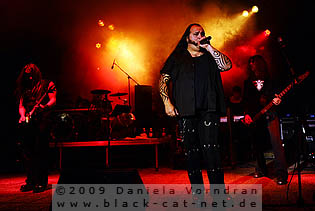 Last time I attended the Nocturnal Culture Nights Festival in 2007, I used the following words to sum it up: Unconventional, different, cosy, intimate and with its own charm, and I can only say the same about this year's issue. Besides that, the flawless organization and a sympathetic host deserve a positive mention, and regardless of the erratic weather, bands and audience had a lot of fun. We love to come back.
All pictures by Daniela Vorndran (
http://www.vorndranphotography.com/
/
http://www.black-cat-net.de/
/
www.myspace.com/vorndranphotography
)
Written by Daniela Vorndran (Overall editorial) and Cathie Niemann, Translations and Intros by Sebastian Huhn
{jos_sb_discuss:18}
See also (all categories):