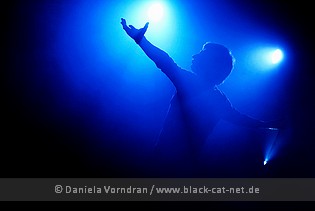 Trix Club, Antwerp, Belgium
20th and 21st December 2013
BIM Fest 2013 Day 2: MRDTC, 6Comm, Brain Sektor, A Split Second, 32Crash, The Young Gods, Monolith

During the previous years, second day of BIM fest always stated on early afternoon, meaning there were many bands coming up and you would be totally knocked out at the end of the day. This year, the first band on Saturday would enter the stage at 18:00, so you had a lot of time before to relax after you probably got drunk during the first day's after show party. Also the second festival day had big names on the bill, like i.e. THE YOUNG GODS promising an exclusive set.



MRDTC

MRDTC stands for Mr. Dupont (Christoph Lemke) and Timo Claus (from AMNISTIA). The duo presented old-school EBM / Electro finding surely some lovers within the BIM Fest crowd. The first release was the 7" '#1 (Liar)' in 2012 followed by the first album, '#2 (We Transfer)' in 2013 vial Emmobiz label. I already saw the band performing in autumn at the Nocturnal Culture Night festival where they made a good impression with their danceable songs spreading kind of old-school feel. But still, performing at bright daylight, felt kinda strange for such music and the spark did not catch me totally. It was much different at the BIM Fest show. The darkness, only broken by videos on the screen, suited the music and performance much more. The hard electro rhythms made people in front of the stage move right from the start.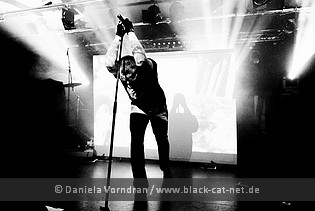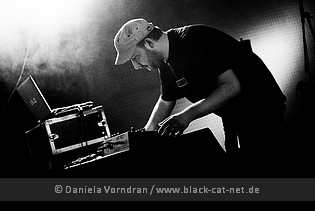 This time I knew the band already, but once more it was the first band of the day for me that surprised me in a positive way. MRDTC as opener for the second festival day was a great choice. After their gig, the crowd was definitely on fire. // http://www.9xo.de/mrdtc / https://www.facebook.com/MRDTC.site // Setlist: 1. For The Good Times / 2. Discretion / 3. Belief / 4. Netwerk / 5. Revenge / 6. Traffic / 7. Motif / 8. God Of Anger / 9. Liar / 10. Sickness // Rating: 8 / 10


6Comm

After the huge energy of MRDTC, with 6COMM we walk on calmer grounds now. Just like MRDTC, I had my first live contact with 6COMM on this year's NCN. A few months ago, they had a special performance with Pagan healer Freya Aswynn, today, Patrick Leagas performed together with his new companion on stage, Mark. Let me just tell you a few words about British 6COMM, the experimental, rock and synth pop group founded by Patrick Leagas in 1986. Being also labelled as Neo Folk, the project is much influenced by Norse magic and mythology. Originally, Leagas was vocalist and percussionist for controversial neo-folk/post-industrial group DEATH IN JUNE and so, early recordings of 6COMM also contained different versions of some DIJ songs. While early works of 6COMM still can be labelled as Neo Folk, the band moved later in a more experimental electronic direction and found an own way, later using also tape-loops and tribal beats, creating wild Pagan atmospheres. During the show at BIM Fest, Patrick and new companion Mark, who performed the second show with him so far and they had never rehearsed before, presented a minimal set of mostly old material from the 80s, enriched by a few new tunes.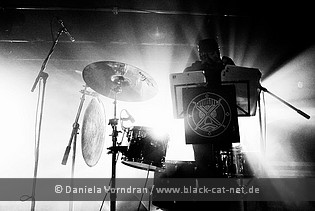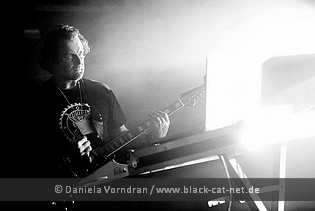 There were no visuals on stage, the light was sparse and you had to concentrate on the beats. Quite a challenging performance and not everybody in the venua liked it, but of course there were also lots of people admiring what they saw. I think I prefer the music rather on CD too. Talking about CDs, there will be new material out in March 2014, as Patrick reveals on his Facebook page, and with 'Angel Scream', the played also a new song already. // www.hagshadow.net/6comm / https://www.facebook.com/pages/6comm/446990411978769 // Setlist: 1. Sonfelte / 2. Neiflheim / 3. Salerno Carousel / 4. Foretold / 5. Calling / 6. Born Again / 7. Angel Scream / 8. Red cloak red Hat // Rating: 7 / 10


Brain Sektor

After the calmer sounds of 6COMM it was now time to turn on the heating again. And BRAIN SEKTOR were the perfect choice for that task. BRAIN SEKTOR comes from Belgium and is an electro-industrial project of Richard. G from EBM band COMBAT VOICE (composition, vocals, backing vocals, mixing and mastering), J3 from EBM band à;GRUMH... (vocals, lyrics) and Shane Del Borealis (drums and sound engineering). The band came into being in November 2012. As the band's description tells, the trio is melting electronic and industrial music, while exploring the complexity of brain in a future that could be made of human and cyborgs. Right from the first sound, the band was pouring out harsh electro rhythms with a typical EBM sound making people immediately move. Besides the pushing sounds and hard beats, there was a lot of passion in the vocals too. The audience was really into the music and loved it, honoured the band with lots of dancing and applause.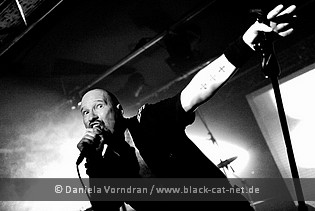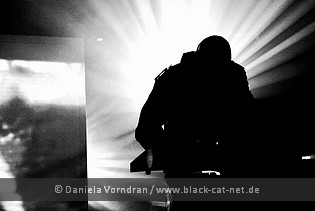 People wanted more and the band wanted to play more. But since there was already little delay, stage manager showed no mercy and the band had to stop their gig. I am sure, we'll see and hear more of them in future. // www.reverbnation.com/brainsektor / https://www.facebook.com/BrainSektor // Setlist: 1. Intro / 2. Stress State / 3. Dark Side Of Brain / 4. Bad Spirit / 5. Cerebral Engine Start / 6. Cyber Wiring Error / 7. Human Machine Complexity / 8. Hell Inside / 9. Main Sektor / 10. World Of Fire / 11. Mental Test // Rating: 7.5 / 10


A Split Second

BIM Fest always knows to get cult bands on stage. Another one comes now with A SPLIT SECOND. The band's career, fuelled by ambition, built on hard work and constant perseverance, started in the mid-eighties, resulting in a blend of "digital pulses, distorted guitars and intriguing vocals". In the past, the band had released some milestone albums, like 'Flesh', somehow the blueprint for the New Beat movement, 'Rigor Mortis' or 'Ballistic Statues'. With those albums, the band not only secured a place at the forefront of international underground, they also showed their variety of lyrical themes, arrangements and musical styles. Touring through Europe and USA, the band furthermore built up a good reputation as live band. There were many years of silence in the past though, but the band was back in 2002 with a fantastic best-of show at BIM Fest. And now, we saw a revival when current members Marc Ickx (vocals, percussion, bass, composing, programming, Djuro (guitars) and Roel Eysackers (keyboards) entered the stage. I must admit that I somehow in the past missed A SPLIT SECOND playing live a lot. There were only a few shows I saw. But I love their music. During the last gig I had seen, at Shadowplay festival 2011, they already impressed my with their energy on stage, but this time they beat anything.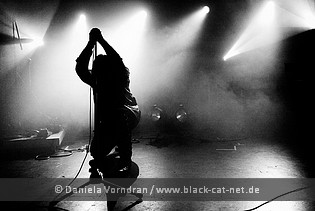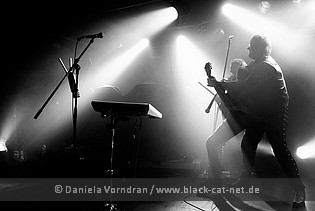 The band on stage was on fire and the audience reacted immediately. At one point, guitarist Djuro was playing his instrument at with the security fence and nearly falling into the audience, at another point singer Marc nearly destroyed his microphone stand and later he had kind of "fight" with Djuro, making anything more intense. Just hope no one got hurt since there was blood on the floor and in Djuro's face. And last but not least there was this great music with songs like 'Rigor Mortis' or 'Scandinavian Bellydance' pleasing anyone in the hall. Great show! // http://www.myspace.com/asplitsecondofficial / https://www.facebook.com/pages/A-Split-Second/121596900511 // Setlist: 1. Colonial Discharge / 2. Rigor Mortis / 3. The Colosseum Crash / 4. Backlash / 5. Crime Wave / 6. Scandinavian Bellydance / 7. Close Combat / 8. Firewalker / 9. Vengeance C.O.D. / 10. Mambo Witch / 11. On Command / 12. Bend my Body Armour / 13. Flesh (not played due to time restrictions) // Rating: 8.5 / 10


32Crash

We had IMPLANT the day before and now the duo is enriched by Jean-Luc de Meyer and what you get is 32 CRASH. When you hear the name Jean-Luc de Meyer one instantly makes the connection to EBM pioneers FRONT 242, where he put his distinct vocals on the tracks. Over the long course of his career, de Meyer has been active in several other projects besides F242 i.e. CYBERTEC, C-TEC or COBALT 60. With 32CRASH, he's focussing only on song writing and singing while his two colleagues Len Lemeire (IMPLANT) and Jan D'Hooghe (ex-VIVE LA FETE, IMPLANT) are responsible for the musical accentuation. The project of those three Belgian electro veterans is a cocktail of influences from electro to punk and some eighties EBM flavour. The latest release, 'Y2112Y', dates already back to 2011. When the trio entered the stage, we already had quite a delay… much to the dislike of band and fans who at the end missed out several of the planned songs, there was no time to play the full set, not to speak of an encore. But the stuff that was presented was great.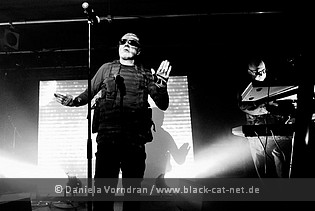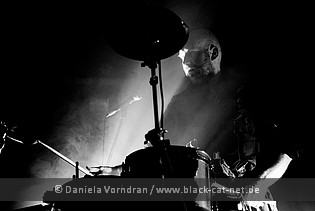 When listening to the music of 32 CRASH, you hear of course the FRONT 242 influences. But the songs offer many more facets. You had a song like 'Propaganda' sounding more like Synth Pop, or the last presented song, 'Isomodia', with some harder beats. In their home land, the band of course had an impressing effect on the audience who was celebrating a big party in front of stage. It was really sad that there was not enough time for more and again, the stage manager was really strict when it came to time issues. But well, there were more bands to follow and they also deserved their time… // http://www.32crash.com / https://www.facebook.com/32CRASH // Setlist: 1. What Happened Here / 2. The Attack on ZA4 / 3. Humanity / 4. Propaganda / 5. Dust and Drought / 6. Neighbours / 7. Spacemen and Poets / 8. I Remember / 9. Kryptonically Yours / 10. Aliens on Earth / 11. The Autobahn / 12. Slow Crash / 13. Isomodia / 14. Les mouches (not played due to time restrictions) / 15. Fast crash (not played due to time restrictions) // Rating: 8 / 10


The Young Gods

Time for more cult bands, now THE YOUNG GODS – though not young anymore but probably still gods for many – entered the stage. For their exclusive BIM fest show, Franz Treichler, Cesare Pizzi and Bernard Trontin have prepared a repertoire based on the first two albums 'The Young Gods' (1987) and 'L'eau rouge' (1989). Cesare Pizzi is an original member of the band's first period and is playing on both albums. I think people missed several of the hits, but still there was so much admiration in the hall. The floor was totally packed by now and it seemed that many people just came for that one show. Over all those years lying behind them, the band never was quiet. 2010 saw the release of the 'Everybody Knows' album. For their twentieth birthday, the band celebrated on stage at Montreux Jazz Festival two nights in a row. The band was founded in 1985 in Switzerland and back then, guitarist Treichler was already sick of rock and new wave of those times, choosing a sampler instead for making music, using them in a radically different way to reconfigure and re-infuse rock by creating new shapes and spreading fresh fire. Also nearly thirty years after their foundation, the band is really popular and they also put on a good show. The show started with 'Commes C'Était La Derniere Fois' from the debut album with singer Franz Treichler and Cesare Pizzi on stage alone. Soon, drummer Bernard Trontin joined them on stage and as trio, there was 'Jusqu'Au Bout' presented with much drama.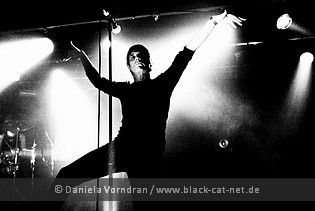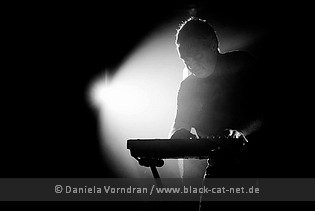 Already after the beginning it was sure that this would be a gig for many to remember. The audience's reaction was fantastic, there was heavy dancing and jumping around, accompanied with constant screams and applause. And even though the presented songs are so old by now, there was no nostalgic feeling in the room; the band is still on top. Songs like 'Jusq'Au Bout', 'Crier les chiens', 'Pas mal' or 'Envoyé' just are timeless. // http://www.younggods.com / https://www.facebook.com/theyounggods // Setlist: 1. Comme si c'était la dernière fois / 2. Jusqu'au bout / 3. Fais la mouette / 4. Irrtum boys / 5. Jimmy / 6. A ciel ouvert / 7. L'eau rouge / 8. Did you miss me / 9. Percussione / 10. Criez les chiens / 11. Pas mal / 12. L'amourir / 13. Si tu garde / Encores: 14. Feu / 15. Envoyé... // Rating: 8.5 / 10


Monolith

When the show of THE YOUNG GODS had finally ended, it was already quite late. Finally, I felt that I was still suffering from my heavy cold and it would be impossible to stay longer to see the last band, or rather project, of the evening, the solo project of electro music producer and sound wizard Eric Van Wonterghem, MONOLITH. The project is known for elaborate electronic arrangements and speaking to people the day after, the show was quite good. // https://myspace.com/mono-lith / https://www.facebook.com/ericvanwonterghem

So, what is left to say after two days of fantastic music? BIM Fest once more was a big success and promoters managed to put up a fantastic line-up. What I really love about this festival is the mixture of very old cult bands you barely see on stage nowadays, at least when you live in Germany, and young promising bands. My personal highlights were THE KLINIK and both openers, NO SLEEP BY THE MACHINE and MRDTC. Besides the music, the festival always offers a great, familiar atmosphere where you after the shows always have the chance to speak with the artists or people from different countries who just travel far to be part of BIM. Still, the festival is kind of small and you meet people again every year. Already looking forward the 2014 edition and a hope the promoters are able to continue with this great event, even in hard times when speaking about independent music.

All pictures by Daniela Vorndran (http://www.vorndranphotography.com / http://www.black-cat-net.de/ / http://www.facebook.com/blackcatnet)



See also (all categories):