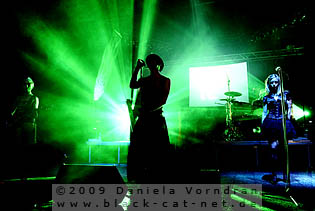 Kulturpark, Deutzen, Germany
4th - 6th September 2009
Nocturnal Culture Night IV Day 2: Rome, In Strict Confidence, The Cassandra Complex, Das Ich, Jesus & The Gurus, Spectra*Paris, Accessory, Rabenschrey, Tamtrum, goja Moon ROCKAH, Die Perlen, Manipulation, Suicidal Romance

Saturday started with a nice breakfast before we he headed off to the festival grounds again. Good mood all around and the dry weather just felt good.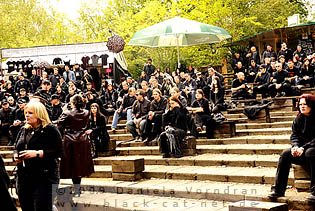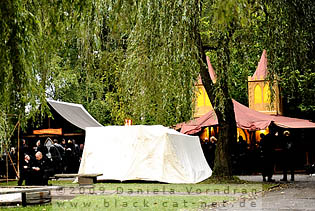 Suicidal Romance (Small Stage)

The band formed in 2004 in Talinn, Estonia and their first musical piece was a song called 'Cold Kiss'. In 2006, the band signed with German label Infacted Recordings. Their very first live appearance was a support show for SPETSNAZ. Shortly thereafter, the band entered the studio to record their debut album 'Love beyond Reach' which was released then in 2007. 2008 saw the appearance of the band on Germany's Wave Gotik Treffen and the release of the EP 'A Kiss to Resist'. The second album now is just around the corner. SUICIDAL ROMANCE is Dmitry Ivanov (vocals, lyrics, music), Viktoria Seimar (vocals) and Maarja Korstnik (synths, lyrics, visual concept). http://www.suicidal-romance.com/ / http://www.myspace.com/suicidalromancemusic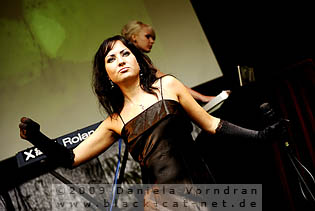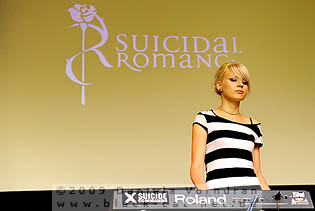 Music & Performance
We're at the stage just in time for the first band. There, a little more or less sleepy crowd expected the Estonian band SUICIDAL ROMANCE. A handsome lady on synths with the name Maarja who had changed her hair colour from deep red to peroxide blonde, and the delicate dark-haired singer Viktoria, started with the first brand-new song 'S.h.r' that will be released on the upcoming new album. For the next title, singer Dmitry joined the ladies and completed the impression of looking at a BLUTENGEL copy. Viktoria danced lasciviously in her evening dress with waving arms and both ladies at least scored with the male audience. The vocal performance was rather empty and the songs were quite similar in arrangement. Only 'Star' off the debut album 'Love beyond Reach' left a nice impression.

Setlist
01. Intro
02. S.h.r.
03. Will it be (for us)
04. Poisoned kiss
05. Make me blind
06. White snow
07. Star

Rating
Music: 6
Performance: 6
Sound: 7
Light: - (daylight)
Total: 6.2 / 10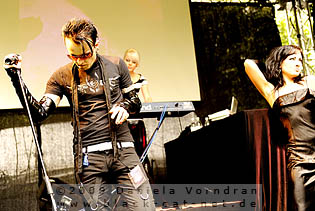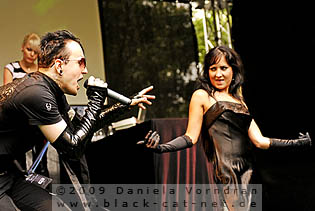 Manipulation (Main Stage)

It was in the year 1993 that Andreas Steckmann formed MANIPULATION. In 1995, they recorded and released their debut full-length 'Sens'e'sation' followed by a successful support tour for AND ONE. The second album 'Tumor' wasn't released before 1998 due to severe health issues of the front man. Following a series of live gigs the band's now focusing on producing their third album. http://www.myspace.com/manipulationberlin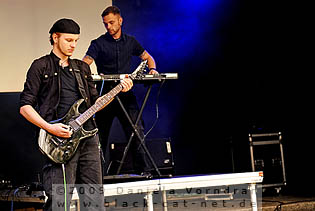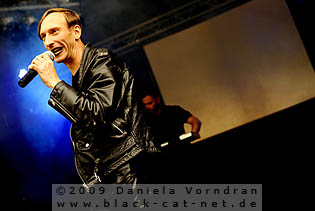 Music & Performance
The ungrateful job of opening Saturday morning on the main stage fell on MANIPULATION from Berlin. Some might remember the band, founded in 1993 by Andreas Steckmann, as support of AND ONE on their past I.S.T. tour. On stage singer Andreas acted with a live guitarist and the well-known face of Frank Glassl, usually being the live drummer of SOLITARY EXPERIMENTS. With dark-coloured lips and stiff dancing style, he looked a little insecure. Musically, the style could be pigeonholed into the melodic EBM corner. From their two albums 'Sens'e'sation' and 'Tumor' they played songs such as 'Keep Me', 'Schwarz' or 'Feel the Same'. The audience seemed busy with starting the day with a cosy breakfast and the performance more or less passed them by.

Setlist
01. Hypnotisiert
02. Opposite
03. Keep me
04. Forever
05. Schwarz
06. Feel the same

Rating
Music: 5
Performance: 5
Sound: 7
Light: - (daylight)
Total: 5.4 / 10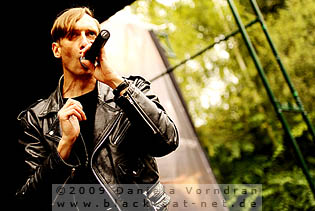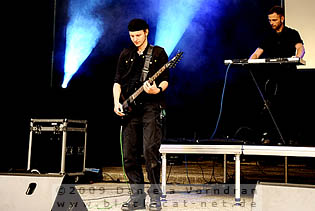 Die Perlen (Small Stage)

The story started in 2000 when the project was founded as PERLEN VOR DIE SÄUE. But since there already was a band with this name, they just shortened it to DIE PERLEN. The first EP 'Gedankenzüge' was released in 2004 followed by the debut album 'Telektroponk' in 2006. On their second album 'Szenenwechsel' the band collaborated with WELLE:ERDBALL on the song 'Wir hören mit'. Their most recent release is the 'Stadt' EP. http://www.dieperlen.de/ / http://www.myspace.com/perlen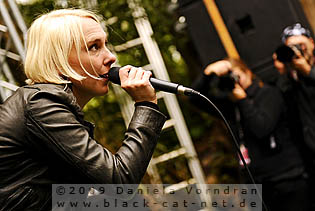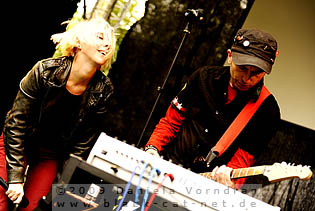 Music & Performance
One great "morning" performance was delivered then by DIE PERLEN from Nürnberg. Through the whole set, the duo around Ferdinand Ess and Katja Hah were just fun, no matter if it was with songs like 'Augen der Großstadt', '5 vor 12' or the comments of both in-between. It was just a pity that just a little crowd had gathered in front of the stage. All those who didn't come missed a lot! Already three albums have been released in the 10 years of band history and with their self-created 'Telektroponk', a mixture of Electro, Pop, Punk and Techno they've created intelligent and refreshingly different songs. Ferdinand commanded computer, guitar and synths, while Katja dashed the stage like a whirlwind riling us up with clear words. Especially catchy tunes followed with 'Großstadtangst', where instead of Nürnberg, Leipzig was integrated, and also the last song 'Geiz' invited to dance and party. A real insider's tip and don't miss the 10 years anniversary compilation still slated for a 2009 release.

Setlist
01. Villes jumelées
02. Augen der Großstadt
03. Beweg Dich nicht
04. Szenenwechsel
05. 5 vor 12
06. Großstadtangst
07. Stadt stirbt
08. Geiz

Rating
Music: 8
Performance: 8
Sound: 8
Light: - (daylight)
Total: 8 / 10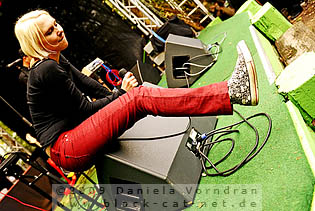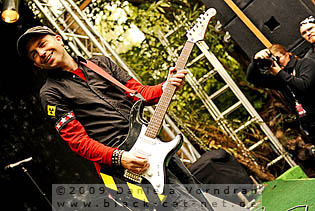 gojah Moon ROCKAH (Main Stage)

In summer 2006, three guys joined forces to revive the dusted Electro Pop genre. The first musical result was the 'Sex im Turnschuh' EP. Driven by its success the band entered the studio to produce the debut full-length album 'Elektronation', released in 2007. Following the release of an extended version of the debut album, the band supports UNHEILIG on eight shows of their "Puppenspieler" tour. Their second album 'Disco Dracula' will be released on 9th October 2009. GOJA MOON ROCKAH is Herr Ja (vocals), Herr Schreck (bass), Herr Buh (guitar) and Herr Moll (keys). http://www.myspace.com/gojamusic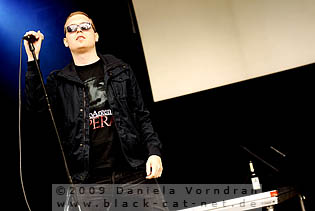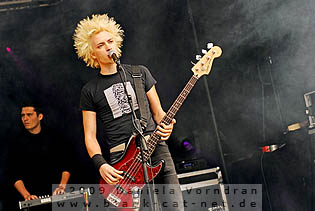 Music & Performance
Confirmed as last band for the festival was GOJA MOON ROCKAH which I still remembered from their funny performance on the last UNHEILIG tour. Back then, the four-piece couldn't fully convince me which was to change today. With imaginative names like Herr Ja, Herr Moll, Herr Schreck with his wild hairstyle and a distinctive design, and Herr Buh they're entering the stage and started with songs such as 'Schwarz' or 'Geile Tiere'. No that was something to wake up and the space in front of the stage filled up quickly. On CD, the songs were rather electronic but here they really rocked. With humour, energy, ludicrous lyrics and trashy songs like 'Generäle essen gerne Erdbeereis' or 'Disco Dracula' the four-piece played itself into the heart of the festival attendees.

Setlist
01. Flashing (Intro)
02. Schwarz
03. Geile Tiere
04. Heavy Metal Computer
05. Monotone Liebe
06. Mein Vampir
07. Generäle essen gerne Erdbeereis
08. Banana Split
09. Attackah Massakah
10. Disco Dracula

Rating
Music: 7
Performance: 7
Sound: 8
Light: - (daylight)
Total: 7.2 / 10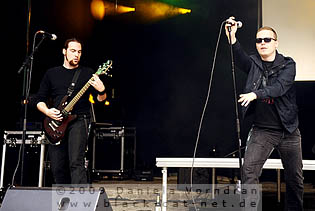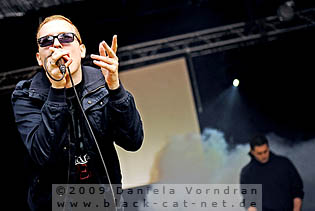 Accessory (Small Stage)

It began in 1995 when Dirk and Kay created a band under the name of VOICES OF DARKNESS, later becoming ACCESSORY in 1996. A demo album called 'Electric Controlled Mind' was released in 1997. The band released their first official album with the name 'Jukka2147.de' in 2001 under the moniker of their new label Out of Line. The next album 'Titan' followed in 2003. By now the band has released six albums with 'More than Machinery' released in 2008. ACCESSORY is Dirk Steyer (programming, sampling, synthesizers, vocals, mixing) and Mike Königsberger (live performance, management). http://jukka2147.de/ / http://www.myspace.com/accessoryweb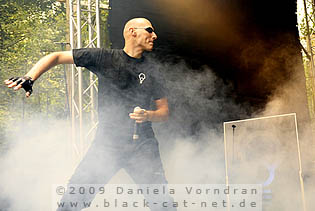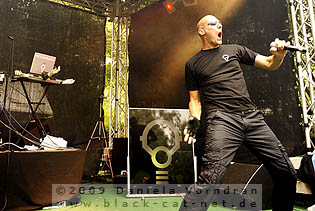 Music & Performance
With ACCESSORY, the band replacing FADERHEAD was on the agenda now. They had to change slots with TAMTRUM because they were stuck in traffic. The duo from Chemnitz consisting of founding member Dirk Steyer and the rather new member Mike Koenigsberger already pushed pummelling beats through the speakers at early afternoon hours. Their old-school EBM with Techno and Trance influences appealed to the audience. Songs like 'Strafbar' or 'Ewigkeit' gave us hell and singer Dirk attracted all the attention. In the dark, the show would've looked better, but the people in front of the stage really didn't seem to bother. The absolute pinnacle followed with 'Tanzflächenmann' which enjoys a high popularity in the clubs.

Setlist
01. Strafbar
02. Ewigkeit
03. Livesaver
04. If this isnt a dream
05. Holy Machine
06. Humanity
07. Bad Conditions
08. Tanzflächenmann
09. What the hell is
10. Deadline

Rating
Music: 7
Performance: 7
Sound: 7
Light: - (daylight)
Total: 7 / 10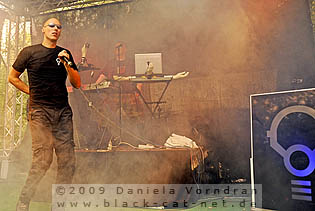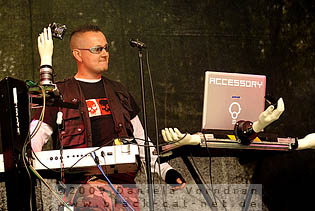 Rabenschrey (Main Stage)

The band that describes their style as "Pagan Medieval Folk" was founded by Peter Herbertz ("Donar von Rabenschrey") and O'Connor in the year 2000. To go own musical ways and to write the music and lyrics themselves is a priority since the very beginning. Following their founding they released the debut 'Der verwunschene Eichenwald' the same year, followed a string of albums to the newest 'Unvollkommen'. Not only the band plays on medieval market as it is typical, they also play on festivals and in clubs. http://www.rabenschrey.de/ / http://www.myspace.com/rabenschrey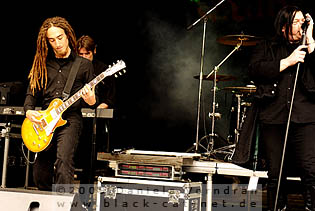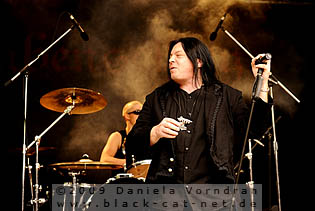 Music & Performance
The medieval metal heads of RABENSCHREY took us into an entirely different musical direction being an exception on this festival. Typical medieval guys with names like Donar von Rabenschrey, Ragnar, das Elend vom Knochenberg, Raisclin der Humpaumph or Gahaed, Knecht der geächteten Klänge played dance music. The audience was restrained, but medieval sounds partly in the form of nursery rhymes or the sing-a-long song 'Hey wir sind Heiden' with Pippi Longstocking melody relaxed the mood. Also the funny comments and interaction between songs like 'Walhalla' or 'Auf den Fersen' went down particularly well. The compositions seemed to be creative and full of ideas, whereas it still wasn't my cup of tea.

Rating
Music: 6
Performance: 8
Sound: 7
Light: - (daylight)
Total: 6.9 / 10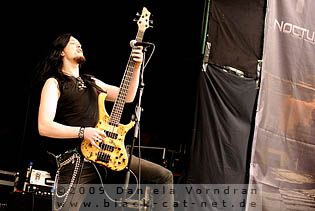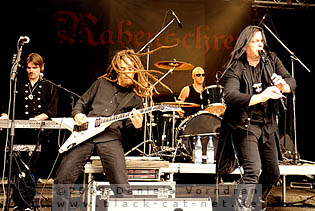 Tamtrum (Small Stage)

TAMTRUM started in 2003 and already released their first album 'Some Atomik Songz'. The band has become famous for their spectacular live shows which are said to have included fire breathing in their early incarnations. The second album 'Electronik Black Mess' followed in 2006. It was the first release for their new label Alfa Matrix. The split release 'Fuck you I'm Drunk / Stronger than Cats' is their newest offering released in June 2009. http://tmtrm.com/ / http://www.myspace.com/tamtrum

Music & Performance
Now an eye and ear candy followed hailing from the South of France. Since 2003, TAMTRUM release their harsh Electro sound, whereas a stylistic change from towards electronic Punk Rock was made. Sylviicous was standing behind the drums, Fixhead was responsible for the keys and the front was occupied by Benoit Sixteen as singer.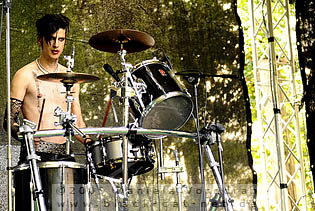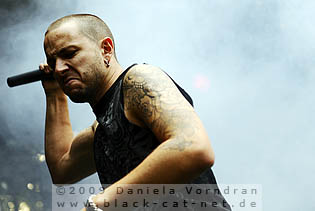 Who thought that ACCESSORY was hard was taught better here. Extremely danceable, crazy Electro Rock songs were thrown into the crowd. With distorted screams and thrashing beats they really pulled a hard show. 'Ass Rider' fairly rocked and also 'Paranoiak, Hypokondriak & Toxicomaniak!' made the dancing crowd go wild. People poged regardless of the consequences and the first thing others did was taking to the boats. You always had to fear the keyboard would fall during Fixhead's rocking performance. But you didn't have much time to watch him since Sylvicious did half a striptease behind his drums. The presentation of songs from the current split album 'Fuck you I'm Drunk & Stronger than Cats' was absolute fun and Benoit's aloof and damn cool gestures fitted perfectly into the picture. Anyway, a great new discovery!

Setlist
01. Speed madly twisted earth fuck off
02. Abort the pope
03. Ass rider
04. Paranoiak, Hypokondriak & Toxicomaniak!
05. Le son de la pluie
06. Under the sign of the angel dust
07. O.killed
08. My fall
09. Datura dream
10. The world you live in

Rating
Music: 8
Performance: 8
Sound: 8
Light: - (daylight)
Total: 8 / 10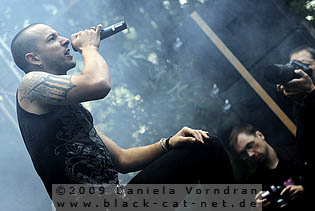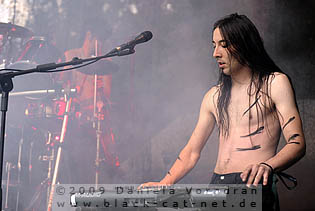 Spectra*Paris (Main Stage)

SPECTRA*PARIS is the legal follow-up project to SIDERARCTICA initiated by no one less than KIRLIAN CAMERA vocalist and Angelo Bergamini's partner in crime Elena Alice Fossi. The debut album of the still young project titled 'Dead Models Society' came out initially in late 2007 and was re-issued in early 2008. It is known that Elena's working on a new album & single for several months which supposedly will see a release this year. SPECTRA*PARIS is Elena Alice Fossi (lead & backing vocals, electronics, bass, music, lyrics), Arianna Alfieri (guitars, bass), Alessia Cavalieri (backing vocals, synth) and Cristina Restani (guitars). http://www.myspace.com/spectraparis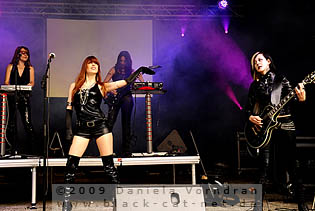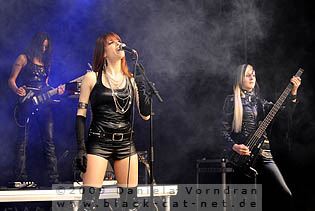 Music & Performance
Men's eyes began to sparkle when SPECTRA*PARIS was announced. Four Italian ladies appeared on stage and right away you knew the reason why. Glamorous and sexy were the right words for Elena Fossi, known as one part of KIRLIAN CAMERA and her three model colleagues Alessia Cavalieri, Marianna Alfieri and Christina Restani, and the ladies proved they weren't just looking good with songs such as 'Size Zero' or 'Mad World'. Elena's voice was wonderful, strong and she put everyone under her spell with charisma and lascivious movements. As opposed to her, the remaining girls seemed colourless, what might have been due as well to Elena's shorter dress. Songs from the debut album 'Dead Models Society (Young Ladies Homicide Club)' literally mesmerized and combined electronic rhythms with powerful guitar sounds.

Setlist
01. Futurintro
02. Size Zero
03. License to Kill
04. Mad World
05. A Clockwork London
06. Falsos Suenos
07. Antland
08. Spectra Murder Show
09. Instrumental Break
10. Gold

Rating
Music: 8
Performance: 8
Sound: 8
Light: - (daylight)
Total: 8 / 10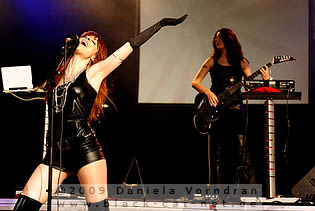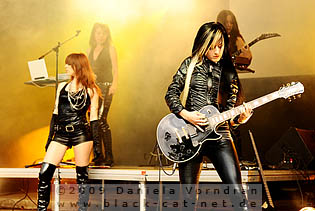 Jesus and the Gurus (Small Stage)

JESUS AND THE GURUS embark on a mission to save the children because this world is on the edge of mental enfeeblement. Due to their engagements on various Techno, Fetish and Rock parties the band attracted the attention of the media, but it only resulted in dubbings of the band being Fetishist-Satanist musicians. In 2003, they've signed to the Fear Section label and debuted with the album 'Hammering on the Gates of Heaven' on 31st October 2003 and only reaped praise for it. In 2009, they've released their fourth collection of work 'Blood, Sweat and Tears' on the Black Rain label and they're not willing to slow down. JESUS AND THE GURUS are Son ov David (lead vocals), Gabriell Medicine Man (keys & sampling), Tom Alien (guitars & bass) and Lila Magila (live drums). http://www.jesusandthegurus.com/ / http://www.myspace.com/jesusandthegurus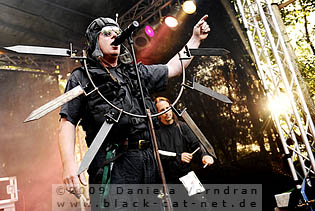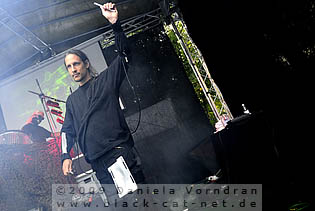 Music & Performance
Quite a lot has happened on the small stage. Camouflage nets enveloped the pedestal with the drums and the microphone stand framed with various daggers. Then the band members appeared aptly dressed in a military look, captain's hats and glasses. The wicked and provoking show of Son ov David, Gabriel M.M, Tom Aline, Lila and Jean von Eisentanz started with 'Storm of Steel' from the current album 'King Ov Saló'. You could already sing along to the melodious chorus after first listen. The comparison to RAMMSTEIN crossed my mind instantly, because of the emphasized and rolled "R". Dark keys, Industrial drums, hard guitars and deep vocals accompanied all songs. Especially 'Kill'em All' left an impression.

Rating
Music: 7
Performance: 9
Sound: 8
Light: - (daylight)
Total: 7.9 / 10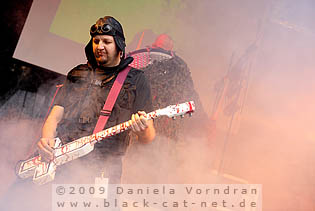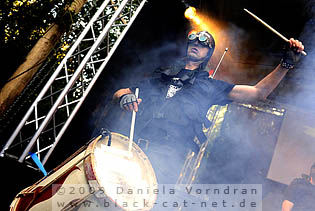 Das Ich (Main Stage)

The band around Bruno Kramm and Stefan Ackermann is one of the biggest exceptions in the German - and also in the International - music scene and since the early 90s also belongs to the most important bands of the Gothic Scene in Germany. Despite them only singing in German, they play gigs all over Europe and America. Hits like 'Gottes Tod' are guarantors for full clubs since they've been released but they're not only able to fill clubs, they cause you to think with the Stefan's spit-out penetrating lyrics and challenge with their demanding compositions, blending, neo-classic, avant-garde and playful electronics to a matchless mixture. The latest release was the 'Kannibale' EP in 2008. A re-release of 'Die Propheten' took place in 2009. DAS ICH is Bruno Kramm (music & backing vocals) and Stefan Ackermann (lyrics and vocals) and live keyboarder Marty Söffker. http://www.dasich.de/ / http://www.myspace.com/dasich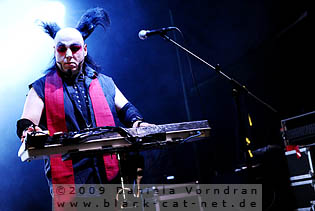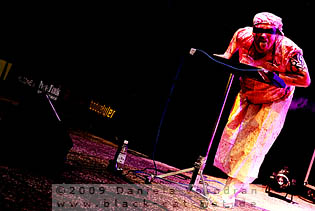 Music & Performance
For 20 years now, it's getting flamboyant with DAS ICH and thus, Bruno Kramm, Stefan Ackermann and live keyboard player Marty Söffker received a warm welcome when entering the main stage. The outfits were the same as on the last performances I've seen lately. Stefan all painted in red, Bruno with wild haircut and Marty looked like a butcher wearing blood-sprinkled gumboots. Now the spectacle could begin. The exceptional formation fired out songs like 'Kindgott', 'Kannibale' and 'Destillat' and wildly flourishing Stefan just scared me as he always does with his fanatic look and creepy grimaces. Quite apparently the fans liked it considering the loud cheering. Shocking and DAS ICH simply belong together! The band thanked everyone for their time and keyboard player Marty was so grateful he fell on his knees before his fellow band members. The next congratulations were sent out to Bruno, who had just become a father.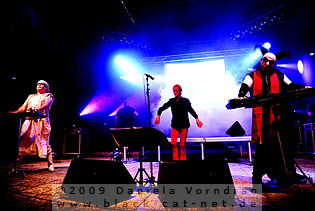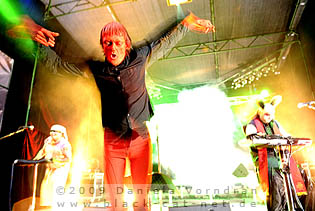 Then, the set went on with electronic and industrial elements, and the songs 'Gottes Tod' and 'Schwarzes Gift'. The heavens didn't seem to like it as much as the audience and it started raining, so that the amphi theatre looked like a sea of umbrellas towards the end of the performance. It wasn't a damper for the good mood though and the loud choirs caused me goose bumps time and again.

Rating
Music: 8
Performance: 9
Sound: 8
Light: 7
Total: 8.2 / 10


The Cassandra Complex (Small Stage)

Rodney Orpheus and Paul Dillon gave birth to THE CASSANDRA COMPLEX in 1980. The world saw their first release coming up in 1985 with the self-financed single 'March' in March of that same year. A month later after the release of a live tape they signed to the local label Rouska. When the band released their second single, 'Moscow Idaho' (1985), it quickly soared to the top of the indie charts all over the world, got played to death on alternative radio stations, and influenced an entire generation of bands to come. After the 1993 release of 'Sex & Death' which was the first album to include the works of Volker Zacharias (GIRLS UNDER GLASS), t became silent until Rodney and Volker met in a club in 2000, resulting in the first regular album since 1993 called 'Wetfare' followed by a successful tour. After another silent period the original band members reformed in 2007 and played several shows in Europe and Brazil. THE CASSANDRA COMPLEX is Rodney Orpheus, Paul Dillon, Andy Booth and Volker Zacharias. http://cassandracomplex.co.uk/ / http://www.myspace.com/cx2k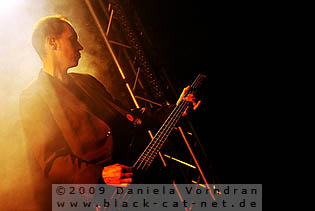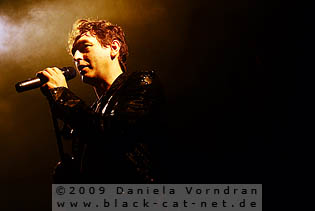 Music & Performance
A true legend of the Goth scene was the headliner of the small stage THE CASSANDRA COMPLEX, founded already in 1983 by Rodney Orpheus. After some hits and a longer dormancy period. The band was re-activated in 2007 and ever since Rodney Orpheus, Paul Dillon, Andy Booth and Volker Zacharias (GIRLS UNDER GLASS) are back touring the stages of the world together. What happened up there on stage really was respectable. The 40-somethings rocked like hell. The mixture of Electro Punk, Wave, Rock and the fact that one classic followed the other left the apparently older fans no chance but to dance. The mood was great with hits like 'Bad Faith'; the super hit 'Moscow Idaho', 'Twice as Good', 'War against Sleep' or 'What Can I Do for You'. The charismatic Rodney grinned all the time. It was my first encounter with the band and I was really impressed by the atmosphere and mood.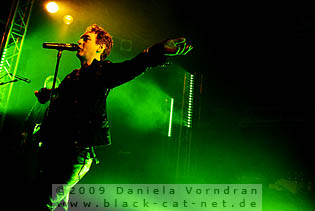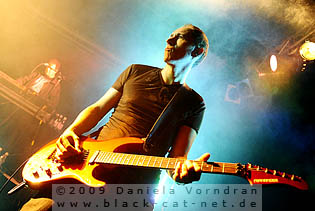 Setlist
01. Nightfall
02. God John
03. Valis
04. What can I do for you
05. Bad Faith
06. Datakill
07. War against Sleep
08. Voices
09. Twice as Good
10. Presents
11. Satisfy me
12. Moscow Idaho
13. Kneel to the Boss
14. March
---
15. Second Shot
16. When I fall in Love
17. Frankie Teardrop

Rating
Music: 9
Performance: 9
Sound: 8
Light: 6
Total: 8.4 / 10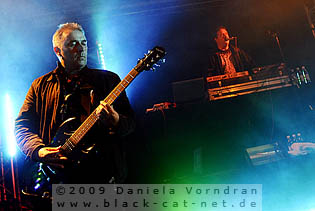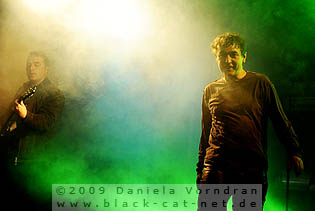 In Strict Confidence (Main Stage)

IN STRICT CONFIDENCE is surely not a new name in the Electro/Industrial scene. Mastermind Dennis Ostermann creates his own vision of dark electronic music since the early 1990s and with various collaborators he produced massive genre hits such as 'Zauberschloss', 'Kiss Your Shadow' or 'Englesstaub'. IN STRICT CONFIDENCE turn out to be more of a live band than one might expect from their Electro-dominated studio material. With a fully-fledged acoustic drum kit and a guitarist they sound much more organic than many of their colleagues who rely too much on pre-recorded music data. The latest release 'Exile Paradise' dated back to 2007. A new EP is promised for the end of 2009 and the album I said to follow in 2010. ISC is Dennis Ostermann (songwriting, lyrics), Jörg Schelte (songwriting, programming, keys), Steve Vesper (rhythms, programming, drums), Antje Schulz (vocals, lyrics) and Haydee Sparks (bass). http://www.instrictconfidence.de/ / www.myspace.com/instrictconfidence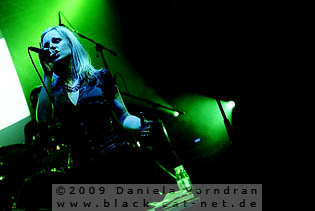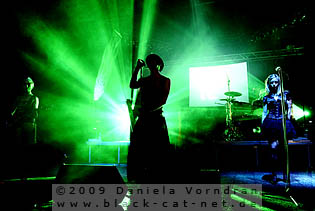 Music & Performance
When former headliner SUICIDE COMANDO had to cancel their show over personal reasons, IN STRICT CONFIDENCE filled in for them much to my liking, because live shows of the formation are rare recently. This evening, mastermind Dennis Ostermann, Antje Schulz, Jörg Schelte, Steve Vesper, and newest member Haydee Sparks presented sort of a "Best Of" show of all released albums. Both ladies were good-looking, whereas Antje in her little skirt appeared sweet and Haydee rather sexy. Dennis also came up with the new look - with a painted torso and a hat - we already got to see during their February show in Romania. The songs 'Promised Land' and 'Closing Eyes' got the crowd into the right mood for a terrific live set with a tremendous light show. To the suspense-packed intro of 'Heal Me' the lights went dim and Dennis' sonorous voice started with "Is there hope between your ruins?" while Haydee was waving a burning torch. She let the flames gliding over her arm, took a second torch and artfully panned both from left to right to the rhythm of the music.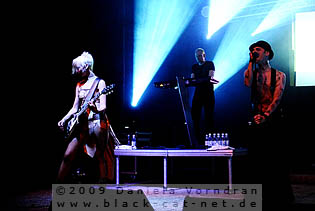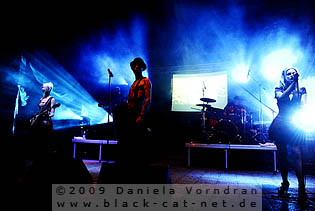 The pinnacle was her fire-breathing performance repeated to other songs as well. The versions of old songs seemed to be slightly altered and through that received new drive. Equally wonderful was 'Forbidden Fruit' with a video clip running in the background, or Antje's solo on 'Away from here'. The much loved tunes 'Zauberschloss', 'Herzattacke' and 'Engelsstaub' turned the crowd into a dancing, partying mass and as the encore shouts wouldn't cease, they played 'Zauberschloss' a second time. Let's hope we won't have to wait too long for new material comes out.

Setlist
01. Intro
02. Promised Land
03. Closing Eyes
04. Seven Lives
05. Heal me
06. Zauberschloss
07. Kiss your Shadow
08. Forbidden Fruit
09. Away from here
10. Herzattacke
11. Engelsstaub
---
12. Zauberschloss

Rating
Music: 9
Performance: 9
Sound: 8
Light: 8
Total: 8.7 / 10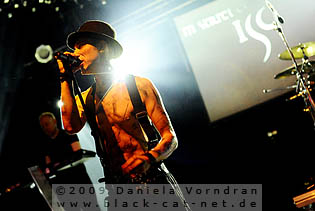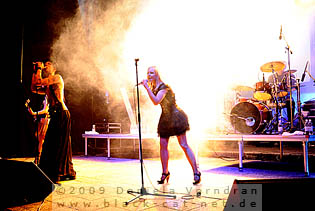 Rome (Small Stage – Midnight Special)

With three full-length records, a MCD, and a style headed as Apocalyptic Folk, the duo ROME has made quite a name for themselves in a comparatively short amount of time. After the cooperation with their former label; the legendary brand Cold Meat Industrial had come to an end for whatever reasons the two have found a new home on German label Trisol and with 'To Die Among Strangers' offered a harbinger for their newest record 'Flowers from Exile' released at the end of June. ROME is Jerome Reuter (instruments, vocals, songwriting, arrangements), Patrick Damiani (instruments, arrangements, sound design) and Patrick Y. Kleinbauer (live bass). http://www.myspace.com/romecmi

Music & Performance
I was very excited to see the midnight performance of Luxemburg-based Neo-folk formation ROME who struck me positive on their recently released single 'To Die among Strangers'. Sadly we were told by the festival host that the band wouldn't be playing at the bonfire but on the small stage. We could flush down this little disappointment with delicious fruit wine in various flavours and were still looking forward the show starting way after midnight. ROME has been founded in 2003 by Jerome Reuter. Later on, Patrick Damiani and Niko Mavridis joined in. The set comprised purely acoustic versions of songs from the new album such as 'To Die among Strangers', 'A Legacy of Unrest' or 'Odessa'. The extraordinary arrangements and lyrics enchanted the audience and fixed their look on the little stage. You always wanted to close your eyes to let those sounds take a deep effect on you.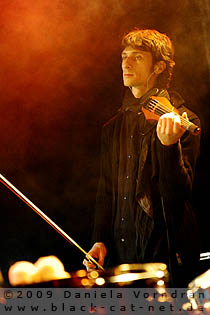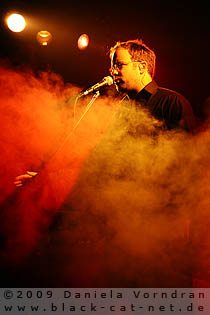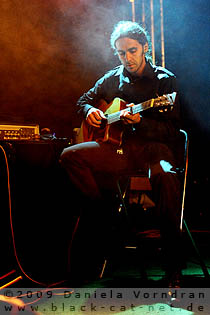 Melancholic, apocalyptic and particularly intense were also the older songs like 'Wir Götter der Stadt' or the encore 'Der Brandtaucher'. Occasionally, Jerome would grab the acoustic guitar and all in all, the trio delivered a perfect closing to the main festival day we eventually ended up finishing at the warming bonfire.

Setlist
01. To Die among Strangers
02. The Torture Detachment
03. A Legacy of Unrest
04. Hope Dies Painless
05. Das Feuerordal
06. Odessa
07. Reversion
08. Wir Götter der Stadt
---
09. Der Brandtaucher
10. Swords to Rust-Hearts to Dust

Rating
Music: 8
Performance: 8
Sound: 8
Light: 6
Total: 7.7 / 10

All pictures by Daniela Vorndran (http://www.vorndranphotography.com/ / http://www.black-cat-net.de/ / www.myspace.com/vorndranphotography)
Written by Daniela Vorndran (Overall editorial and common parts) and Cathie Niemann, Translations and Intros by Sebastian Huhn

{jos_sb_discuss:18}
See also (all categories):