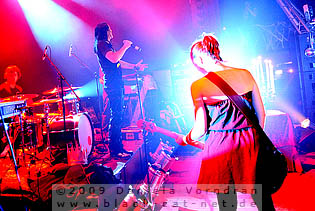 Universal D.O.G, Lahr, Germany
26th September 2009
Dark Dance Treffen 31: Henke, Diorama, Reaper, Faderhead

On 26th September 2009, it was time fort he 31st edition of the Dark Dance Treffen in Lahr. On 2 floors, Europe's biggest indoor event for the dark music scene offered seven live bands. This time, the festival would be headlined by Oswald Henke's new band HENKE. Of course, there's much more to tell but you better read it yourself.
Faderhead

After FADERHEAD from Hamburg / Germany was making music for about 17 years, he finally released his debut album 'FH1' on the Accession Records label in 2006. His musical influences are spread widely - OASIS, MARILYN MANSON, ICE CUBE, SLAYER, THE PRODIGY, PET SHOP BOYS and many others - over different genres. According to his own statements, he did not grow up influenced by the typical electronic bands (i.e. DEPECHE MODE or KRAFTWERK) and had very few electronic influences. He just likes "synthesizers and fat drumbeats". The second album 'FH2' was released in April 2007. After FADERHEAD and his former record company Accession Records parted ways, it wasn't so sure if a new FADERHEAD album would ever see the light of day (according to his own words). But with a new label (L-Tracks) the new album, surprisingly titled 'FH3' was hitting store shelves on 10th October 2008. This time FADERHEAD live consisted of Sami (song writing, production, vocals, guitars), Joe & Daniel of SAM (synths, keys).
http://www.faderhead.com/
/
http://www.myspace.com/faderhead666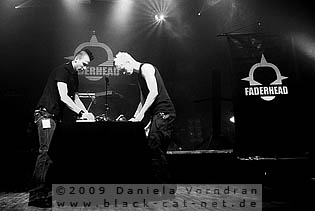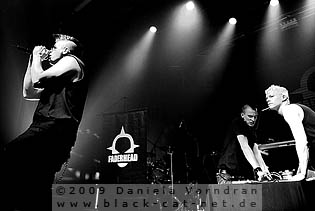 Music & Performance

If FADERHEAD is announced to play a single show or a gig within the scopes of a festival one things guaranteed: A big party! This was something people knew of course and thus, many headed to the stage at the Dark Dance floor to get on working temperature for the rest of the evening that started with the thundering 'Acquire the Fire' everyone instantly started dancing to, and was continued with 'Electrosluts Extraordinaire'. Giving the crowd a short time of rest with 'Little Girly Show', the 'Hammer of the Gods' would soon strike us own. While Mr. Faderhead himself was always busy scouring the stage or sharing his Vodka with the crowd, Joe & Daniel of SAM ("Synthetic Adrenaline Music") either jumped and danced behind their synth facing each other or switched to the stage front for a little while. With the rest of the set comprising such club bombardments as 'Houston', 'Dirtygrrrls / Dirtybois' or the closer 'TZDV' FADERHEAD made the dance floor quake and left lots of sweaty and happy people.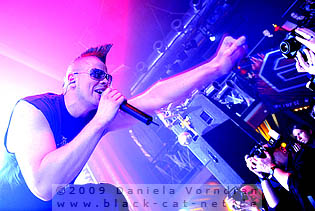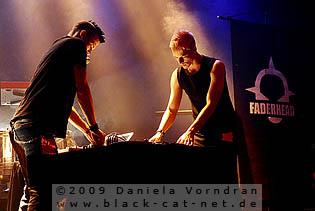 Setlist

01. Acquire The Fire
02. Electrosluts
03. Girly Show
04. Hammer of the Gods
05. ZigZag Machinery
06. Houston
07. O/H Scavenger
08. Noisebastardz
09. Dirtygrrrls/Dirtybois
10. TZDV
Rating

Music: 8
Performance: 8
Sound: 7
Light: 7
Total: 7.7 / 10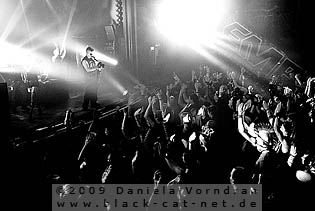 Reaper

The project was founded by Vasi Vallis, known through NAMNAMBULU and the follow-up project FROZEN PLASMA as side project just for the sake of fun. The harsh industrial club music he produces with REAPER is on heavy rotation in the clubs. His latest release is called 'The Devil is Female' and hit the stores in November 2007. The live line-up consisted of Vase (vocals), Gregsen (keys) and Gordon (guitar).
http://www.reaper-music.de/
/
http://www.myspace.com/reapermusic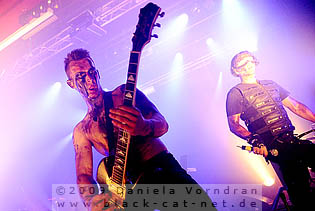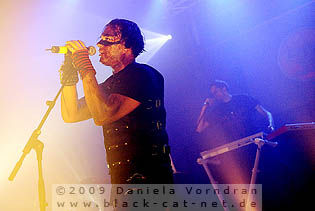 Music & Performance

Just recently I had seen Vasi Vallis with his main project FROZEN PLASMA and on keys with VNV NATION. Now, with REAPER, he switched position and became the energetic, encouraging front man with black raggery. REAPER is all about making people dance, having a good time together etc. There are, however, still people taking the whole thing too seriously labelling the project just another representative of the TBM genre. Well, that might be right but at least he's honest enough not to pretend there's a deeper hidden level behind everything. He had fun on stage and so did his live colleagues, though I'm asking myself to where the guitar chords disappeared that were played. Couldn't hear anything akin to a guitar!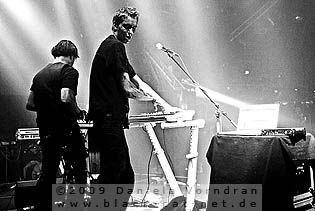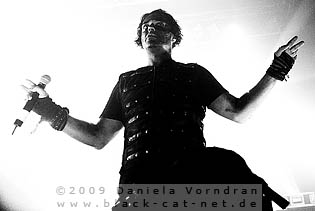 Anyway, club anthems like 'The Devil is Female', 'Twisted Trophy Hunter' or 'Robuste Maschine', where Vasi would take place behind the synths again and not contribute shouts to the otherwise instrumental songs, got the crowds adrenaline flowing. At the very end we even got an unreleased song named 'Dirty Cash'. Mission accomplished, I'd say.
Setlist

01. The Devil is Female
02. Twisted Trophy Hunter
03. Angst
04. Execution of your Mind
05. Robuste Maschine
06. X-Junkie
07. She is a Devil and a Whore
08. Dirty Cash (unreleased)
Rating

Music: 6
Performance: 6
Sound: 7
Light: 7
Total: 6.3 / 10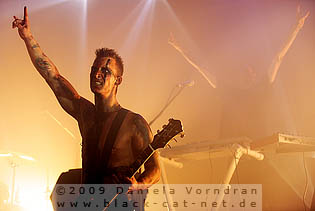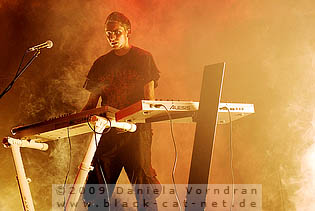 Diorama

DIORAMA was founded by Torben Wendt between 1994 and 1996. His long-time friend Felix Marc soon joined him as a co-producer and keyboard player. Sometime later, bass player Bernard le Sigue and guitarist Sash Fiddler, who were fellow students of Torben and Felix, gradually grew into the line-up and last but not least drummer Marquess became a member of the band. Unfortunately Bernard le Sigue left the Band in October 2006. In 2007, the band released their fifth and newest album 'A Different Life', preceded by the single 'Synthesize me'. There was no tour, accompanying the album release (Still, I do think that was a mistake, but now it's too late anyway). The band, however, played some extremely energetic and compelling festival shows to present the album and kept playing various shows in the following time. Temporary peak were two acclaimed full live sets in February 2009 on of which taking place within the scopes of D-Day III in their home base Reutlingen, presenting some material out of the upcoming album 'Cubed' due in March 2010. DIORAMA is: Torben Wendt (words and music, vocals, keys, percussion), Felix Marc (co-production, keys, vocals), Sash Fiddler (guitars) and Marquess (drums).
http://www.diorama-music.com/
/
http://www.myspace.com/dioramamusic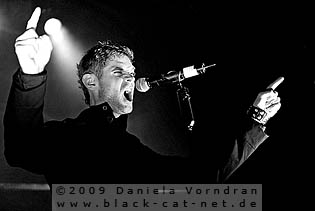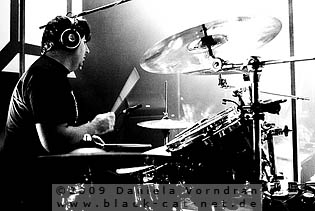 Music & Performance

It was supposed to be an album release show but it ultimately couldn't be one for the simple fact that the album won't be out before 19th March 2010 as announced on the band website with a single preceding the album release in January. The opening track of tonight's set 'Acid Trip' would be a good single choice. Most salient about it is this chorus line that echoes on and on in your head "I'm stuck on the acid trip, baby" You just can't stop singing it. The well-known 'Erase Me' frenetically celebrated by the crowd preceded a song I personally had never heard live before: 'Times Galore'. A very, very positive surprise! A real bomb dropped with the following 'The Girls' which is one of my live favourites. It's a song tearing down all resistance seeing people jumping around completely go mad, letting go of everything in a way and just shaking off the dirt of the past week, riled up by the pure energy of the song itself and the vibrant performance of Sash and Torben who went into close contact with the audience later.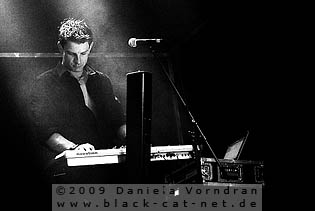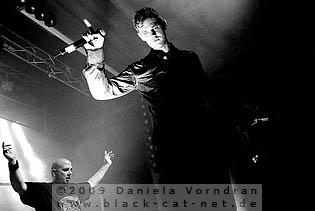 His way of living the songs live always makes a DIORAMA show a special experience, and another special thing was coming up next with the world premier of 'Alpha Animal Complex' having straight-in your face attitude with a high degree of melodiosity. You must say it hit the crowd very well given that it was its first time presentation. 'Why' was meant to be the set's end for this evening! This song is quite a special thing since a show in Zurich in February, and this time it again made a crazy pack of people start a stadium chant encouraging many people around to follow them suit, this time even riled up by the band having visible fun pushing us further. There was still room for an encore afterwards and 'Exit the Grey' was just the right choice. Maybe not for everybody I guess but definitely for one or the other person. Well, what can I say at the end? Oh, I know it was so much fun again and once more the guys impressed an audience that seems getting bigger every time. May be a good idea considering them for a headliner position for the next time, whenever that will be. They would have deserved that!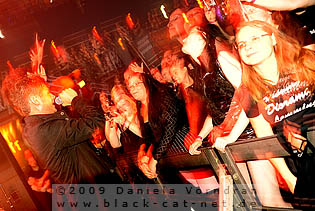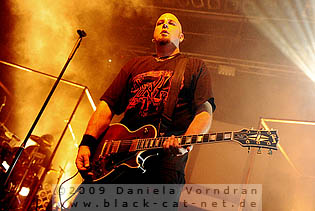 Setlist

01. Acid Trip
02. Erase Me
03. Times Galore
04. The Girls
05. Alpha Animal Complex (World Premier)
06. Advance
07. Synthesize Me
08. Why
---
09. Exit the Grey
Rating

Music: 10
Performance: 10
Sound: 8
Light: 7
Total: 9.3 / 10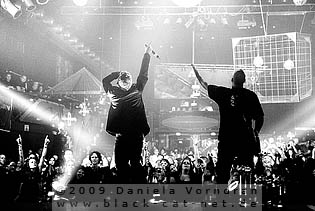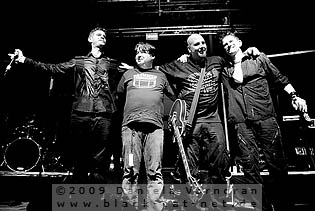 Henke

Henke, and here comes the big surprise, is the newest brainchild of Oswald Henke most people now very well from GOETHE'S ERBEN, ARTWORK and ERBLAST and HENKE is about these projects; about a fresh re-interpretation of well-known songs off these projects whilst retaining the roots. HENKE is also a clash of two generations with one half of the band comprising very young musicians around the age of 20 and the other one filled with seasoned artist of an older semester and together they will tour selected festivals in 2009 and as recently confirmed play shows in 2010 as well to present a fresh Best-Of set of these three bands. HENKE is Oswald Henke (vocals), René Gruhl (guitar), Tom Bola (bass and special fx coordinator), A:lex Popp (piano, keys), Hanna Løg (piano, keys, backing vocals) and Benjamin (drums).
http://www.oswald-henke.de/henke.html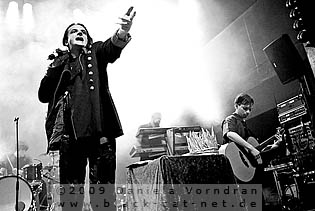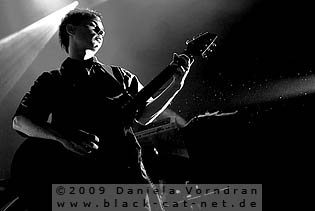 Music & Performance

This time I was prepared for what's to come now with HENKE, the newest project of scene veteran Oswald Henke known for his theatrical way of performing the lyrics, which I think could as well be described as dark prose of a metaphoric and ambiguous nature. There's always more to it than you could catch with one superficial listen. A topic opinions always differ on is Henke's voice. Some hate it; others love it and quite likely there's nothing in-between these two stands. But no matter if you're a lover or a hater you must give it to him that he knows how to captivate an audience with what he does, and he did it once again with the performance at Dark Dance Treffen in Lahr that started with the intro 'Kopfstimme' followed by 'Der Eissturm' and a surprise for fans, and particularly for photographers, who suddenly saw themselves confronted with an "ice" storm followed by the seemingly childish 'Märchenprinzen' after the band performed 'Vermisster Traum'.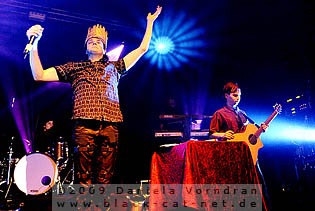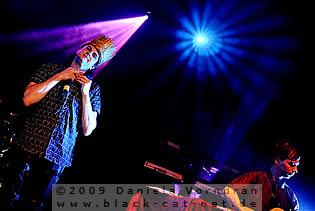 The crowd pleaser 'Zinnsoldaten' was just as well a part of the program as was 'Sitz der Gnade' or the ARTWORK song 'Stadt der Träume'. The dynamics on stage between the mastermind and his partly very young band may have been another plus point for the band and something this enormous fascination of the people came from, or they just wanted to celebrate a reunion with much-loved songs, who knows. Anyway, the band received enormously positive and loud reception from the people.
Setlist

01. Kopfstimme
02. Der Eissturm
03. Vermisster Traum
04. Märchenprinzen
05. Zinnsoldaten
06. Stadt der Träume
07. Iphigenie
08. Die Brut
09. Nichts bleibt wie es war
10. Himmelgrau
11. Das schwarze Wesen
12. Was war bleibt
13. Liebling der Götter
14. Sitz der Gnade
---
15. Heiden
16. Warum
Rating

Music: 7
Performance: 8
Sound: 8
Light: 7
Total: 7.5 / 10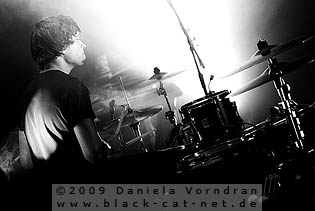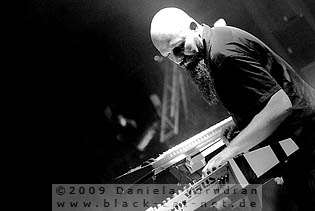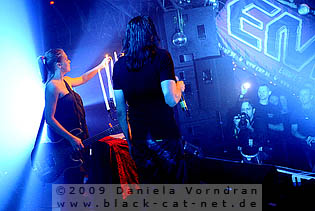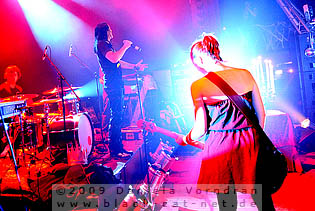 The end of the HENKE live performance also meant the end of the live program on the Dark Dance floor. Those who wanted to could still enter the Maschinenraum (Engine Room) floor and get a doze of electronics with SAM, EISENFUNK and EXTIZE, or instead dance through the night to a variety of music from every genre. We decided to have chats with friends we hadn't seen in a long time, drink something and enjoy the rest of the time together until it was time to say goodbye again, also to the festival but it won't be the last time.
All pictures by Daniela Vorndran (
http://www.vorndranphotography.com/
/
http://www.black-cat-net.de/
/
www.myspace.com/vorndranphotography
)
{jos_sb_discuss:18}
See also (all categories):