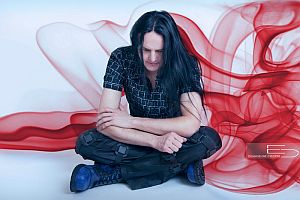 Interview with

Oswald Henke of Henke

Five years ago, an era seemed to go to an end. Oswald Henke and Mindy Kumbalek decided to freeze their project GOETHES ERBEN. But the active and restless mastermind Oswald Henke didn't want to relinquish being on stage and performing songs. Therefore in 2009, he founded HENKE, a live band that first performed songs from GOETHES ERBEN but in a bit different way due to the fact that more people were involved. Now in 2011, HENKE released the first album 'Seelenfütterung' and gave us a brief insight behind the scenes just short before the album was released…


Reflections of Darkness (RoD): First of all, could you tell us about your actual situation and your activities, please?
Oswald Henke (Henke): Well, the next days are quite exciting, we are planning to release our record in a dramaturgical way, there's an upcoming tour ahead and a lot of promo stuff has to be done. According to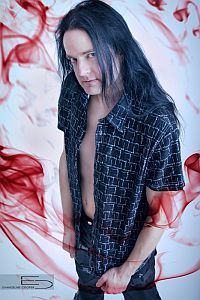 the hype of social networks and the fact of keeping the cost to a minimum we are trying to reach the audience via Facebook (the official band page is http://www.facebook.com/henkeband) and our channel on YouTube by posting 13 little videos. In these small parts of "self-revelation". Ben and me are talking about some facts and descriptions of the tracks on our release 'Seelenfütterung' (the following link leads to the first part: http://www.youtube.com/watch?v=pO3OLhQ9Lvg) and one will get a glimpse into our "secret chamber": our rehearsal room.

RoD: As I remember your last statements about releasing new material with GOETHES ERBEN and the paths you tried to pursue with FETISCH:MENSCH, how come that HENKE releases a record in the traditional way?
Henke: The reason is as simple as evident: with Oblivion I found a label that was willing to bear all of the costs. As I made the decision not to release anymore in the usual way, I swore to myself that I will never suffer from financial damages in future. The decision was not end up releasing material, but to have the opportunity of keeping the focus as an artist on the music and not on money. And Oblivion was willing to do this, without listening to one song afore by the way. Indigo for instance didn't want to take that risk.

RoD: Now, THAT´S a proof of confidence, I guess. And with HENKE, the focus is even more on your person, as it was in the past. So, how can I imagine the development of songs? Is there a process within the band is involved, are you giving a guideline or is the composition your own business?  
Henke: Most of the songs develop during our rehearsals or in a constellation of two people. My duty is a little bit like the one of a director, as you can say so. At first, the lyrics come into being and are the linchpin. Each evolutional track carries a special atmosphere due to the text that we try to implement and in this case my business is to point out my thoughts and feelings during the writing in order to support the process of development.

RoD: According to that points, could you tell us some thoughts to your new album, please?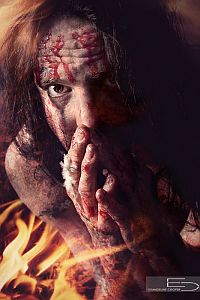 Henke: Of course!!! HENKE is something new and different from what I made with GOETHES ERBEN. More people within a band demand other structures. The songs are therefore more band-orientated. My part is not that outstanding anymore, because the involved persons are a unity. As you can hear the songs are varied and we try to realize the mood each of it carries along. HENKE is that kind of music, we all want to do. The mediation will not be that dramatic as in times of GOETHES ERBEN, although that part will never leave the stage as long as I will stand on "the boards that mean the world". The visual part will not get lost - I'm a performer and I probably ever will be. In my opinion, the mixture of all will do it.

RoD: Is the conclusion that GOETHES ERBEN will come to an end? Is HENKE the end of the era GOETHES ERBEN?
Henke: Well , at the moment Mindy is not interested in composing and in playing music. The copyright of the songs is in my hands and therefore GOETHES ERBEN will probably be a part in my life forever. But GOETHES ERBEN will not return till that point when Mindy sends a signal that she's ready for this. In my opinion you can exclude the possibility of a new release by GOETHES ERBEN, but if Mindy fells lust for playing concerts, GOETHES ERBEN will return, at any time without any retention. For instance, at the Wave Gotik Treffen (WGT) we will play a whole set with only songs of GOETHES ERBEN… Susanne Reinhardt who played violin at GOETHES ERBEN will attend this set and another one at Rüsselsheim.

RoD: As one tries to follow your history, he gets aware  that the idea of soul could be one that bothers you. Is there any reason or conception that you chose the word of "Seelen-Diebstahl", "Seelen-Konzil", "Seelen-Fütterung" over the years…?
Henke: The soul is the distinctive part of human being, it accounts mankind. Therefore it bothers me sometimes - but to be honest, somehow it just turned out without any conception.

RoD: In your last blog of "Henke Digital", you wrote that maybe a nuclear war could stop the corruptive developments and the fact of a "Demokratiediktatur" - now in view of Fukushima  and the controversy on nuclear phase-out  could you tell us some t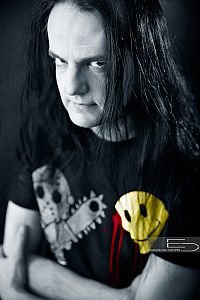 houghts?
Henke: Reality nowadays unfortunately has to face a fiction or rather my fiction. In North Africa people try to break up frozen structures, in Europe the business of salesman and bankers is hegemonic. There's huge discrepancy between opulence and pauperism and the gap is getting bigger and bigger. In my opinion, if some things will not change the whole situation will blow right in our face. Maybe that's the reason that platoon has augmented in the last month, maybe our political leaders sense the domestic potential of an explosion? There's a festival of young bands in my home in Upper Franconia - and this year it was the first time, that there has to be a presence of police according to political demand.  Somehow, this is strange and even disconcerting.

RoD: At the end of our interview, let's have a look what happens next…
Henke: At first, we're going to rehearse, because we're heading our tour. At the same time we're shooting the videos I brought up at the beginning and we will spread information within the new media. What is so nice about Facebook e.g. is, that I can bring up the information by myself and am able to mingle with people - in my opinion there's a better media exposure. I can identify with people in a better was and vice versa. Print media depend on the number of customers and sort out interesting facts or polarising points of view. Of course our presence in print media is important too and I'm grateful that the magazines are still interested in things I do. But with the kind of publication we chose with HENKE (Facebook AND Videos) we created somehow our own media - and are therefore the master of our own house. In autumn, there will be another release by HENKE, the recordings of this EP are done, but now it's time to go on stage once…

RoD: Thanks a lot for spending your time and thoughts with us - it was a pleasure. Are there any last words, you want to tell your audience?
Henke: Well, you are responsible for quality of music. Don't follow the crap of designed bands or musician like DSDS or all that senseless stuff. I invite you to come to our concerts, to have a lot of fun and ask you to let HENKE win you over. It depends on your favour whether HENKE continues to release record or not! Stay well and have a great time - until somewhere some when…!

Promo pictures by Evangeline Cooper



See also (all categories):