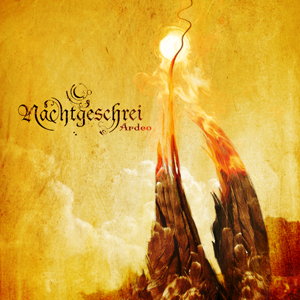 Artist: Nachtgeschrei
Title: Ardeo
Genre: Medieval, Metal
Release Date: 26th November 2010
Label: Massacre Records




Album Review

Kicking off this excellent album from the seven guys from Frankfurt who go by the name of NACHTGESCHREI is 'An Mein Ende' a sturdy driving track never lacking in melody and with a great slower medieval section in the middle which is a tad unexpected but resolves beautifully to the main refrain. Formed in 2006 and with festival appearances too numerous to list, they have literally worked themselves from scratch to become one of the most sort after of the up and coming medieval metal bands. On this their third album they venture further into their very own sound and I have to say it's impressive and it's really working. 'Kein Reiner Ort' is the second track with a very solid sound to it, the vocals being well balanced and the track well put together. I love the very individual folkey metalish take this band has and find myself with this refrain in my mind after the album is long ended.
'Herzschlag' is an altogether heftier offering than the first two tracks, at least that's what you think until the very well put together vocal comes in and gives it a gentler air than you anticipate before descending into a hard driving chorus. Nice. 'Herbst' is a mournful track full of atmosphere and exquisitely restrained drumming whilst 'Ad astra' is just beautiful with intricate guitar work vying against threatening drums and makes itself one of the finest tracks on the album despite it's lack of vocals and whilst historically the album namer 'Ardeo' should be the best track on the album (and in many ways it is being hard and strong and everything which you could want from a band of their genre), I think in terms of sheer beauty 'Ad Astra' has it. 'Ich Hör Nichts Mehr' gives us a glimpse at the band's capability for a grittier sound and they do a fine job of it too.
'Soweit Wie Nötig' gives us another taste of the perfectly beautiful vocal with a few surprise guitars breaking things up nicely. 'Lichtschimmer' is another quality track on what is turning out to be a very high quality album and is followed by the frenzied 'Hintern Deinen Augen' before 'Der Reisende' ends the album in great style. This is a beautifully put together offering form one of the bands that you really should be listening to, being carefully mastered and balanced to perfection as well as offering fresh and exciting material. It's really a fine album and one I wouldn't hesitate in recommending to anyone. 'Ardeo' means 'I burn' and for me they certainly set ablaze any preconceptions I had about medieval metal, carving a niche all of their own in my favourite genre.
Tracklist

01. An mein Ende
02. Kein reiner Ort
03. Herzschlag
04. Herbst
05. Ad Astra
06. Ardeo
07. Ich hör nichts mehr
08. Soweit wie nötig
09. Lichtschimmer
10. Hinter deinen Augen
11. Der Reisende
Line-up

Hotti - Vocals, Guitar
Joe - Hurdy-Gurdy, Accordion
Nik - Pipes, Flute
Tilman - Guitar
Sane - Guitar
Oli - Bass
Stefan - Drums
Website

http://www.nachtgeschrei.de/
/
http://www.myspace.com/nachtgeschrei
Cover Picture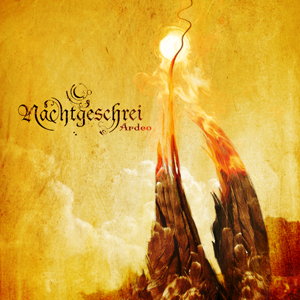 Rating

Music: 9
Sound: 9
Extras:-
Total: 9 / 10
{jos_sb_discuss:19}
See also (all categories):