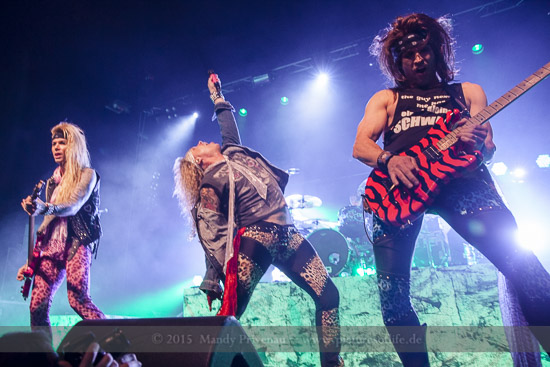 Docks, Hamburg, Germany
19th March 2015
Steel Panther - All You Can Eat Tour - & The Lounge Kittens

It's been a long time but now, glam hair metal is also finally back in Germany! STEEL PANTHER, an US-American glam metal band from Los Angeles, are also stopping by in Germany for their "All You Can Eat" tour.
The Lounge Kittens

Who are these LOUNGE KITTENS? THE LOUNGE KITTENS are a Southampton based trio. Popular songs with a twist – all in three part harmony! Tuneful, cheeky, glamorous and geeky. The three good-looking ladies rearrange metal songs in a sexy lounge style. Recently THE KITTENS have knocked audiences for six at Glastonbury and Sonisphere festivals. They were invited to open LIMP BIZKIT's set on the main stage at Sonisphere to 40,000 bemused onlookers and in March 2015 they're off on tour now with the bad boys of heavy metal, STEEL PANTHER! THE LOUNGE KITTENS is Jenny Deacon, Timia Gwendoline and Zan Lawther.
http://www.theloungekittens.com
/
https://www.facebook.com/TheLoungeKittens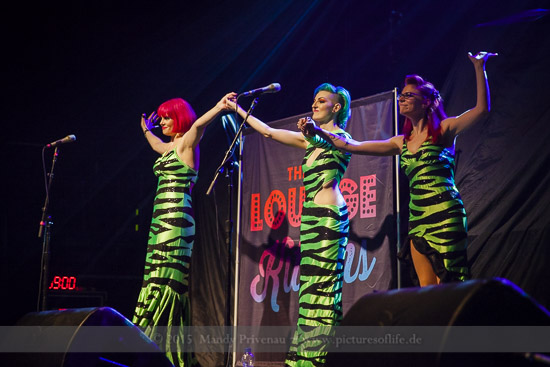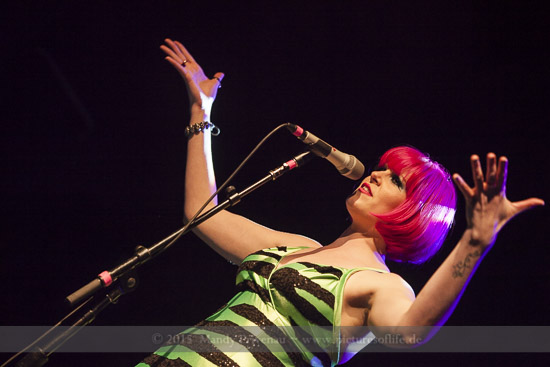 Music & Performance
This choice of a support was perfect and was perceived very well by the STEEL PANTHER audience. THE KITTENS cover SLIPKNOT, RAMMSTEIN and QUEEN - only with a piano and their voices! Performing only well-known songs animated the audience to sing along. The three girls are fantastic musicians, vocally on point and possess enough creativity to transform the dust on the old classics into gold. Their dry, dark British humour and their interaction with the audience was another big plus. As the three singers have already played Sonisphere before Limp Bizkit with flying colours, it was only a logical step, then, to expose them to sleaze and glam metal audiences as well.
Setlist

01. Party Hard (Andrew W.K. cover)
02. Duality (Slipknot cover)
03. Last Resort (Papa Roach cover)
04. Sad But True (Metallica cover)
05. Run to the Hills (Iron Maiden cover)
06. Chop Suey (System of a Down cover)
07. Firestarter / Smack My Bitch Up (The Prodigy cover)
08. Sonne / Engel / Feuer frei (Bang Bang) (Rammstein cover)
09. Rollin (Limp Bizkit cover)
10. Gloryhole (Steel Panther cover)
11. The Sickness (Disturbed cover)
Rating

Music: 10
Performance: 8
Sound: 8
Light: 8
Total: 8.5 / 10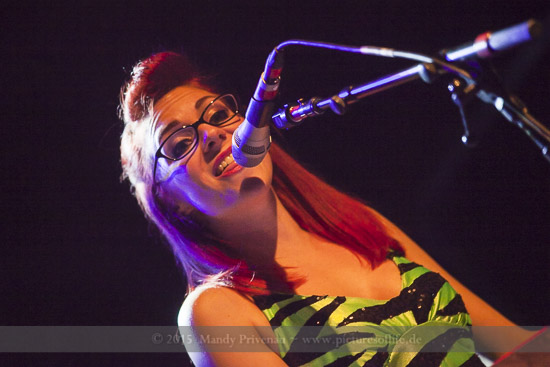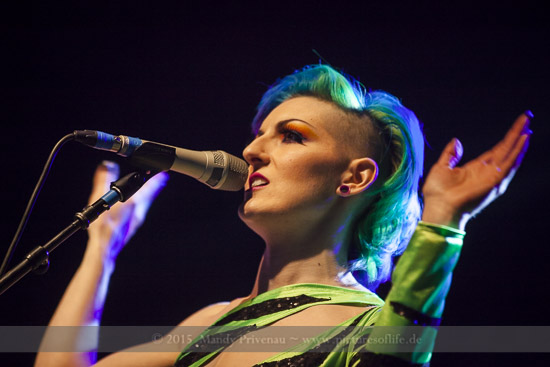 Steel Panther

STEEL PANTHER are a Glam Rock/ Heavy Metal band (in their own words: the greatest Heavy Metal band of all times) that was established under this name in 2009. Many members were active in bands during the late 1980s and they started off as a cover band. So far, they released two studio albums and have gained a lot of popularity during the last year. The four top musicians Ralph Saenz (Michael Starr, vocals), Russ Parrish (Satchel, guitar), travis Haley (Lexxi Foxxx, bass) and Darren Leader (Stix Zadinia, drums) entertain with a cliché-ridden and exaggerated attitude and ironic texts that primarily focus on sex, women and drug consumption. Catchy sing along-parts and party beats paired with an amusing live show contribute to an unforgettable concert evening. The new album is called 'All You Can Eat' and was out in March 2014 via the own label Open E Records. With the new album STEEL PANTHER sound better than ever before and songs like 'Gloryhole', 'Gangbang At The Old Folks Home' and 'BVS' demonstrate the huge musical abilities of the band.
http://www.steelpantherrocks.com
/
http://www.facebook.com/steelpantherkicksass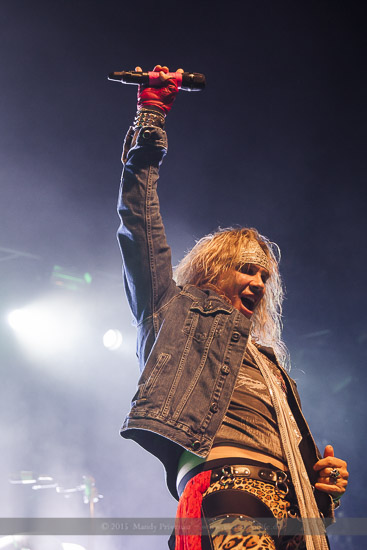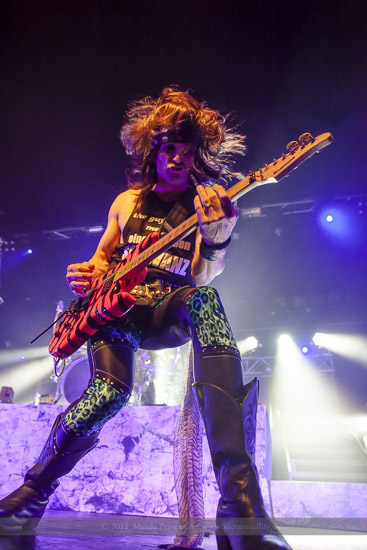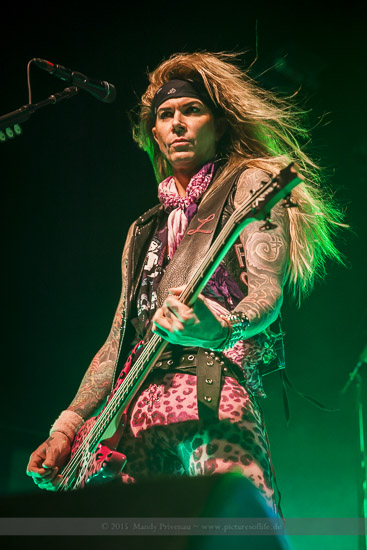 Music & Performance
The party already begins way before the first song of the band. Their fans kick-start the evening with glittery or leo-patterned leggings, wigs, a lot of beer and songs by, for example, BON JOVI. STEEL PANTHER introduced their almost 2h long set with a long and absolutely dark intro. They didn't miss any chance to ask for more nudity from the female audience and to invite to sex with calls and gestures. The most important item on stage was neither guitar nor the microphone. No, hairspray and a mirror as big as a man in order to do their hair styles anew played a far more important role. Only for this show did Satchel grant himself a new t-shirt. It said "The guy next to me has einen kleinen Schwanz" (English: "The guy next to me has a small dick")... It was definitely low down. Self-irony about 500 records that have already been sold or details about the advantage of unsafe sex since one has all sicknesses already anyway made the people laugh.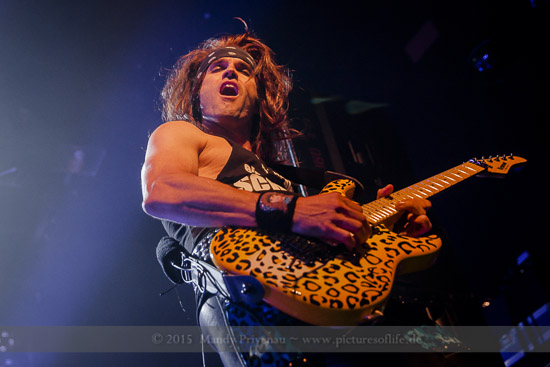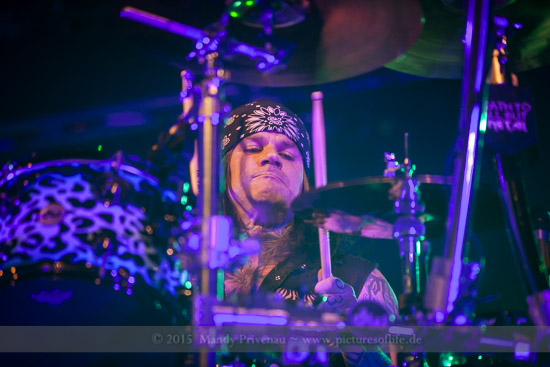 One shouldn't take oneself nor life too seriously after all. STEEL PANTHER demonstrate how to enjoy it and how to be successful with blunt remarks. The sold-out DOCKS proved that this concept works. The fan favourite is definitely Lexxi Foxxx even though Satchel who does everything in the band including telling the singer to sing, to write songs and putting the band on stage on time pushes himself to the fore quite well. He also spilled some secrets, that at least 60% are still sung by the old singer Michael live. Only 40% are playback! Anyhow, among all the entertainment some songs were also played. Here it was striking that the "oldies" were much better received than the titles from the new record. They were, of course, also celebrated and sung but real escalations were only provoked by classics like 'The Shocker', 'Asian Hooker' or 'Community Property'. The middle part consisted of some kind of "acoustic set". The "ballads" were given and Stix ascended from his drums to support the piano in the middle of the stage.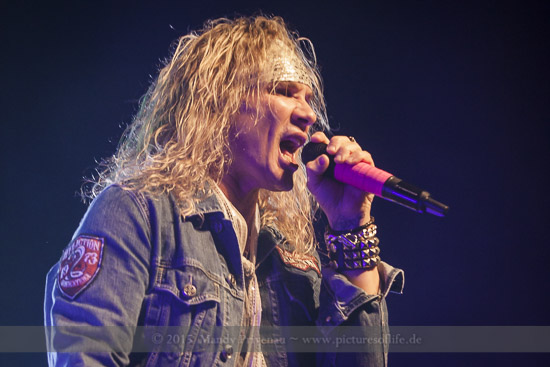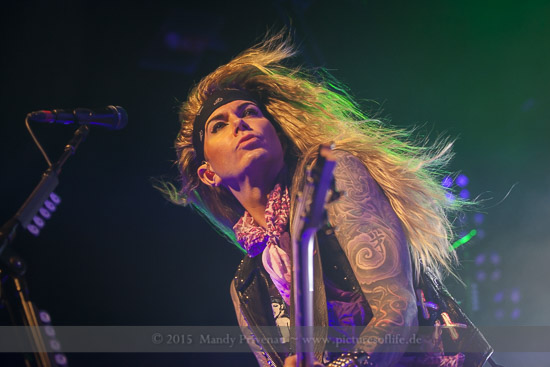 One has to acknowledge ungrudgingly that all four of them are excellent musicians who know their stuff to perfection. All the persiflage and side blows probably try to distract from this a bit. The evening was priceless and drew a wide smile on every visitor's face on their way home.
Setlist

01. Pussywhipped
02. Party Like Tomorrow Is the End of the World
03. Fat Girl (Thar She Blows)
04. Tomorrow Night
05. The Shocker
06. Hair Solo
07. 17 Girls in a Row
08. Gloryhole
09. If I Was the King
10. Guitar Solo
11. Ten Strikes You're Out
-Acoustic-
13. Kanye
14. Weenie Ride (first verse and chorus)
15. Stripper Girl (until after second chorus)
16. Why Can't You Trust Me (until after second chorus)
17. Girl From Oklahoma
-Acoustic end-
18. Asian Hooker
19. Eyes of a Panther
20. Death to All but Metal
---
21. Community Property
22. Party All Day (Fuck All Night)
Rating

Music: 8
Performance: 9
Sound: 8
Light: 9
Total: 8.5 / 10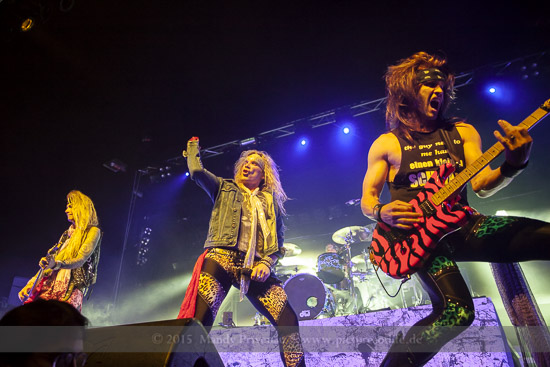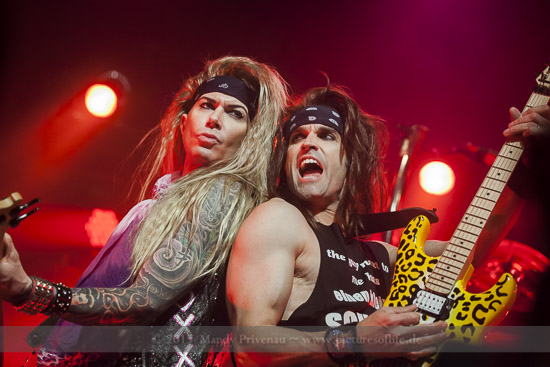 Full Gallery

All pictures by Mandy Previenau (
http://www.picturesoflife.de/
)
Written by Mandy Privenau, Translation by Alex UltraRiot