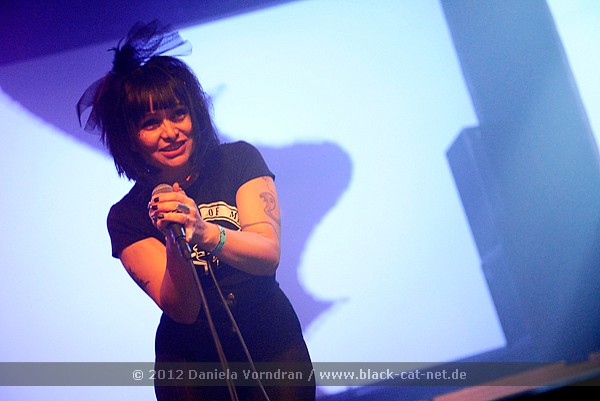 Interview with
Simi Nah

SIMI NAH, bassist, songwriter & vocalist originally from France and now living in Ostend, Belgium, has just released her third album, an album of covers called 'Be My Guest'. Together with her partner in crime, Kenny aka KGB, she recorded covers of classics/ alternatives tracks from the 80's with a very wide array of renowned guests. She will be performing at Wave Gotik Treffen in Leipzig on June the 9th. An ideal opportunity to meet her and to talk a little bit...
Reflections of Darkness [RoD]
: Simi, thank you for this interview. Can you tell us more about your new album?
Simi
:
Yes! It's a special concept with covers from the 80s, new-wave / disco hits from the 80s and we have invited Belgian artists to sing in duo with me.
RoD
: Let's talk about these guests and about the songs. Let's start with Safyée.
Simi
:
Yes! Safyée is the daughter of Micky Mike, the late SNOWY RED. She's singing one of her father's songs together with me, so it's very emotional.
RoD
: It's 'Wardance (Euroshima)'...
Simi
:
Yes. We chose one song that many people know.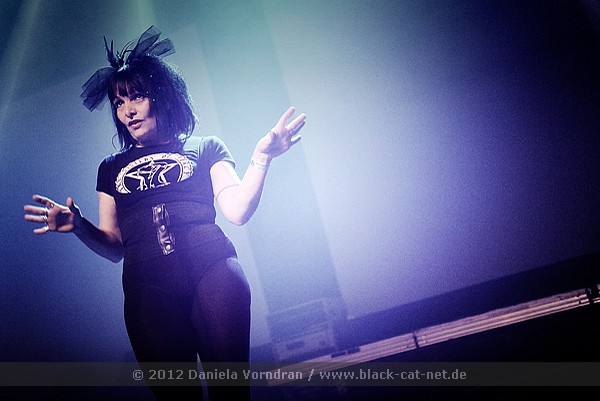 RoD
: Then Dirk Ivens, whom everybody knows through his numerous projects: THE KLINIK, ABSOLUTE BODY CONTROL, DIVE, SONAR...
Simi
:
He was one of the last guests. He had heard about the project and he asked me whether he could participate. I was really delighted because I had thought about him but hadn't dared to ask him.
RoD
: In fact he is a very nice guy...
Simi
:
Yes, it was magical. He covered 'You Spin Me 'Round' of DEAD OR ALIVE. You could say: a disco song sung by Dirk Ivens? It's strange! But you have to listen to our version because it is completely different.
RoD
: Yes, I listened to it and it's completely transformed. Now it sounds like a song he could have composed. How did the transformation take place?
Simi
:
All adaptations were done by Kenny (KGB) and I helped by giving my idea's. But he did most of the work and it was quite a difficult job!
RoD
: Also because you need to adapt the song to the guest singer?
Simi
:
Yes, you must adapt it to the singer and it's not easy to do. It's even more difficult than arranging a new song because you need to detach yourself from the original. So, chapeau! Hat off because he managed to create a version that suits Dirk perfectly.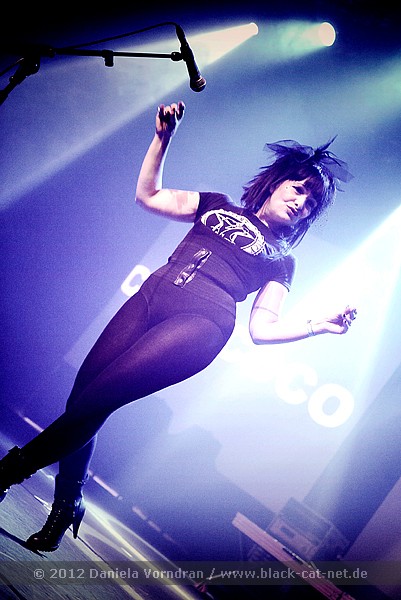 RoD
: Another famous guest: Dirk Da Davo, from THE NEON JUDGEMENT...
Simi
:
I asked him and he accepted immediately and with enthusiasm. It took a little bit of time because he was very busy, like all the other guests. We had chosen 'Nag, Nag, Nag' of CABARET VOLTAIRE for him and he was delighted with this choice. We sent him the song and he recorded his vocals in his own home studio. Then Kenny arranged everything and the result is really great! I also managed to find my place in the song, because it was also the idea of the album, that I should sort of sneak into the songs. And it works perfectly.
RoD
: Yes and it's also nice to have a new version of this very minimal, rather lo-fi song, now with the very powerful and ample sound produced by KGB. A good plan for all the Dj's!
Simi
:
Indeed!
RoD
: And then, VIVE LA FÊTE!
Simi
:
Yes, we played with them last year and we were talking backstage about French songs and Danny Mommens said: It would be cool to cover a French song together. So, at first we thought about covering CHAGRIN D'AMOUR's 'Chacun fait ce qu'il lui plaît' but we never got round to it so I suggested we cover 'Eisbär', a song they had been singing on stage for quite a while. We changed the song of course and I won't go too much into details to keep the surprise!
RoD
: ...and then Luc Van Acker!
Simi
:
Luc was the last to come to the studio to sing. He chose the song, MATHÉMATIQUES MODERNES' 'Disco Rough' because it's a song he had wanted to cover for more than 10 years. It was a challenge because the words in the song are very difficult to understand, so it took a whole lot of work to decipher the lyrics, by isolating the vocals on the computer and then playing the samples at low speed etc. It took me several days. Crazy. Luc was very happy. The original is rather up-beat and light, so we transformed it into a slower, more powerful song, which suited Luc Van Acker's voice perfectly.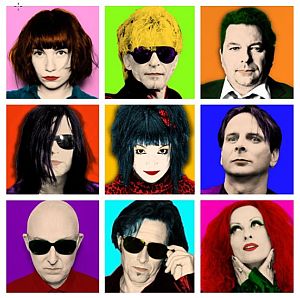 RoD
: Then the singer of Wolf Banes?
Simi
:
Yes, it's Wim Punk, nothing to do with the other artists, because he's more in the rock world. When we were presenting our 2nd album, '5', esp. 'Coco Charnel', the track made him think of SUICIDE. Both SUICIDE fans and after more than a couple of drinks Kenny asked him: maybe we should do a cover of a SUICIDE song. And last year, he came to our studio to record a SUICIDE cover: 'Cheree' and did a brilliant job. Then we started to play with the idea to do a concept "guest" album…
RoD
: Then, Nikkie Van Lierop. Can you present her please?
Simi
:
She's had a lot of hits at the period of New-Beat with LORDS OF ACID, especially in the USA, and also with the song 'To The Beat'...
RoD
: Yeah, by the band 101...
Simi
:
She also did the vocals in MILK INC. She's got an exceptional voice. I love her. I toured a lot with her when we were in PRAGA KHNA. We were very close. We chose a song for her: a diva who covers a diva...
RoD
: A song of Amanda Lear!
Simi
:
Yes, a very famous song from the disco period, 'Follow Me'. Again, our version is completely different. Even Amanda Lear would not recognize it! (laughs) Nikkie did this like a queen...
RoD
: And last but not least, Kenny KBG!
Simi
:
Indeed. I just couldn't do without my little Kenny on this album. He had doubts but I convinced him. He's got a soft voice, which I like a lot. We chose 'Fade To Grey' because it fitted best our two voices. Our first version was close to the original and it was too "normal". Kenny transformed it and now it's "wow".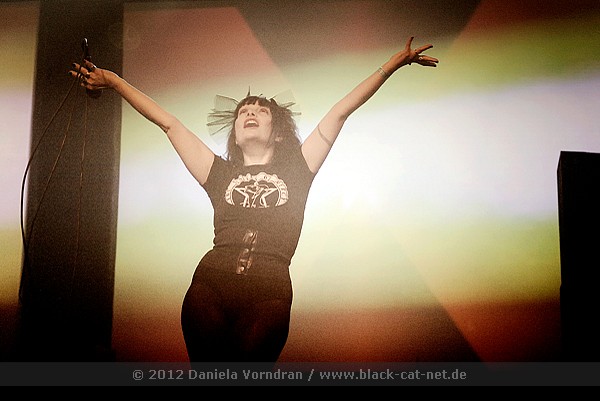 RoD
: You're singing the female voice who sings in French...
Simi
:
Yes!
RoD
: The album will be released on June 6th first on digipack CD and digital Download.
Simi: And then we will see in function of the reactions. We might release it on vinyl as well, mabe with the help of another label. That would be great.
RoD
: Let's talk about the past. What was your background?
Simi
:
My first musical emotions date back from the 80s, when I started to play bass in my room. I learned with THE CURE. I knew all their songs by heart. I started to play with several bands. I came to live in Belgium and played with THE CHICKS, then I started a band with Micky Mike, it was very Rock'n'Roll.
RoD
: How was it called?
Simi
:
It was called THE INVADERS FROM MARS. But we never recorded anything. I was playing bass and he was playing guitar and singing. The drummer was the drummer of TUXEDOMOON, and he knew Kenny. Kenny and I got together and started the COMA project, with him on vocals. By the way, we are going to restart COMA. Then, we worked on my solo project, SIMI NAH. I had a lot of emotions to express, especially in the first album: 'Cherchez La Femme'.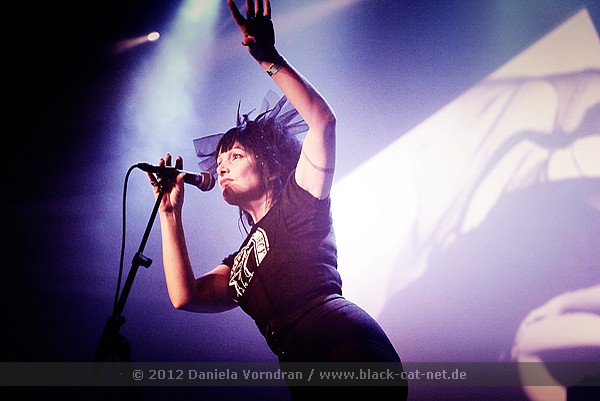 RoD
: Where does the name Simi Nah come from?
Simi
:
My mother's pseudonym was SIMI and I was a big fan of Mina, Dracula's mistress. So I combined both names into SIMI NAH. The album was really a journey within me to discover who I really am, between my mother, myself and my daughter. It really helped me.
RoD
: You're playing a lot of gigs and you are going to play in Leipzig at the Wave Gotik Treffen?
Simi
:
Yes, on June the 9th in this venue which is very difficult to pronounce.
RoD
: Moritzbastei?
Simi
:
Yes, that's it. Not to be confused with "Maurice basta"... (laughs)
RoD
: Your new album is released on your own label?
Simi
:
Yes, we have created our own label, Why2k Music, which means a lot of work. The album is distributed by Broken Silence DE, in countries like Germany, Italy, Switzerland, Austria, etc...
RoD
: The line-up of the guests must have opened doors for you?
Simi
:
Yes, there is a lot of interest. I hope we will get nice coverage.
RoD
: And then, what are your projects?
Simi
:
After the summer, we will start a new album. We already have circa 10 songs. In this album, I will put the cards on the table and show who I really am. The first album was a search, on the second album, '5', I already showed some aspect of myself, in a gentle way. This 3rd album was to show that there are a lot of great generous artists, who are doing music for the love of music. The next one will be to show who I am, without conceit...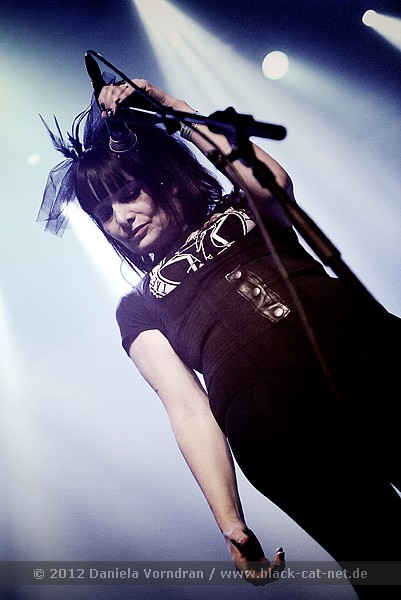 RoD
: You have found your own sound now?
Simi
:
Yes and I have managed to escape from the formats that are imposed. I used to be very much influenced by persons who wanted to change my music, to make it more commercial. Now, this is finished...
RoD
: And often, your worst censor is yourself...
Simi
:
It's true. Now I want to be 100% myself, the same for Kenny, without constraints, without anybody to tell us what to do. It will be much more powerful that way.
RoD
: The 2nd or 3rd album is often the album of the 'Identity'.
Simi
:
Yes. We already have a title and the cover picture but I won't unveil it today... (laughs).
RoD
: A last question: if you had to choose two favourite songs for a radio show?
Simi
:
I would play 'The Ballad of Candy Valentine' by the French duo Jad Wio, dating from 1984. I played this song a thousand times and I still have the vinyl. And as second song, I would choose something very recent, 'Je ne t'aime pas' by Marie Davidson, the Canadian singer, because I like the softness of her voice, the atmosphere...
RoD
: And the sounds...
Simi
:
Yeah, the sounds are fantastic. I really love it.
RoD
: Thanks a lot!
Website:
http://www.siminah.com
To order the album:
http://www.why2k.com/webstore
/
Amazon
Why2k Musi:
http://www.why2k.com