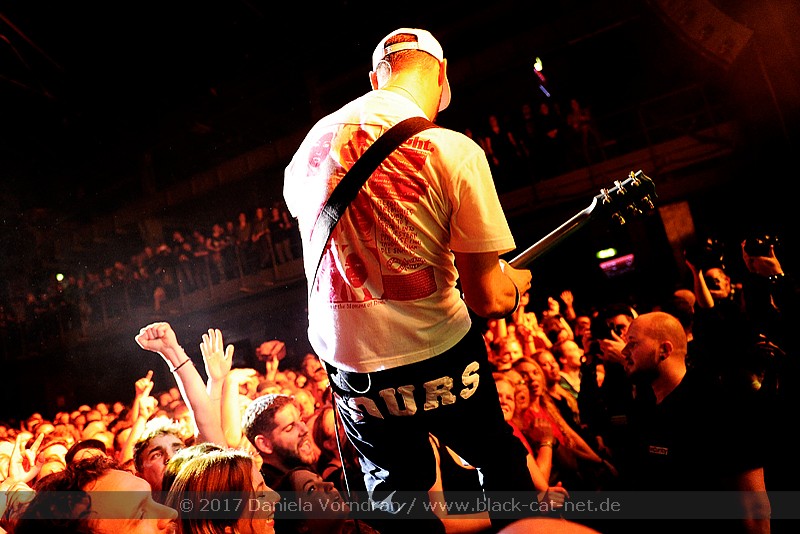 E-Werk, Cologne, Germany
2nd November 2017
Beatsteaks & Decibelles

The BEATSTEAKS are an alternative Punk Rock band existing since 1995. For some years, the band settled in Berlin, counts - beside bands like DIE ÄRZTE and DIE TOTEN HOSEN - to the most successful German Punk Rock bands. In 2004, they received the MTV Music Award in the category "Best German Act".
After their album 'Boombox' (2011), the following seventh album 'Beatsteaks' (2014) also reached position 1 of the German Charts. Now, on 1st September 2017, the new double album 'Yours' was released.
BEATSTEAKS
worked a full year on the album. Never before, the band collected to many ideas and never before, the ideas were so different. Already short before the album release, the band played a few selected smaller concerts and now, the band is on stage again. We visited them at their furious show in Cologne, supported by
DECIBELLES
from Lyon, France. Please enjoy our pictures from both bands.
Decibelles
http://decibelles.bandcamp.com / https://www.facebook.com/decibellesband
Beatsteaks
http://www.beatsteaks.com / https://www.facebook.com/beatsteaks
Setlist
01. As I Please
02. Mrs. Right
03. Hello Joe
04. Frieda und die Bomben (Fu Manchu cover)
05. Fever
06. Attack & Decay
07. Automatic
08. She Was Great
09. Milk & Honey
10. DNA
11. Policoro
12. Summer
13. Soothe Me
14. Cheap Comments
15. Hey Du (Ilona Schulz cover)
16. 40 Degrees
17. You in Your Memories
18. Cut Off the Top
19. Gentleman of the Year
20. Let Me In
---
21. I Do
22. I Want to Break Free (Queen cover)
23. I Don't Care as Long as You Sing
---
24. Hand in Hand
25. Sabotage (Beastie Boys cover)
All pictures by Daniela Vorndran (
http://www.vorndranphotography.com
/
http://www.facebook.com/blackcatnet
)
See also (all categories):