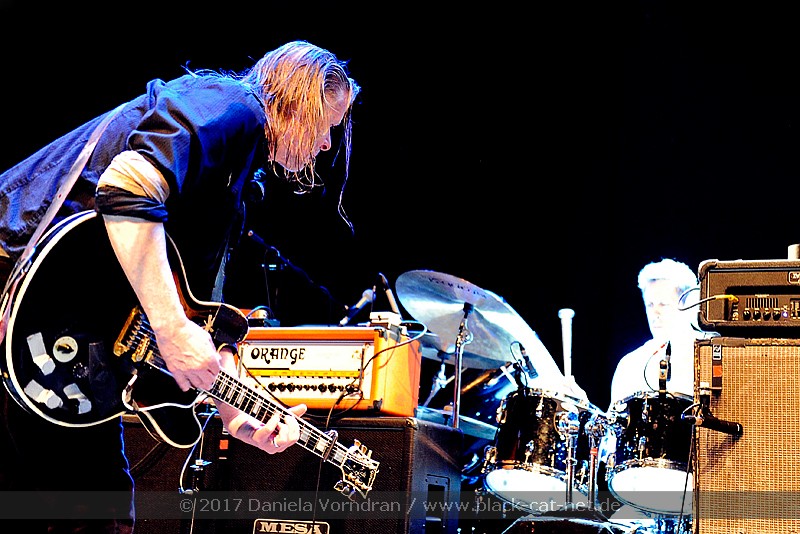 FZW, Dortmund, Germany
29th March 2017
Swans & Little Annie

SWANS, led by Michael Gira, formed in 1982 and, after disbanding in 1997, returned with the critically acclaimed albums 'My Father Will Guide Me Up A Rope To The Sky' (2010), 2012's 'The Seer' and 2014's 'To Be Kind'. The band's latest album, 'The Glowing Man', was out in June 2016, followed now by a European tour in spring 2017 in support of this album. LITTLE ANNIE is joining Swans on most European dates.
Little Annie

Annie was joined on stage by Paul Wallfisch who performed with Swans later. Her show was calm, hear-warming and touching. Her duets with Paul simply wonderful. Annie and her voice seemed to brittle her performance touched anyone in the venue.
http://www.littleanniebandez.com / https://www.facebook.com/littleanniesings
Swans

when you are asked by the keyboarder prior the show if you have earplugs, then you know that it would become loud! Really loud! So loud, that I could not stand it in the hall even with good earplugs in. But still the show was musically extraordinary. All band members master their instruments perfectly. The non-verbal communication between the artists works perfectly during their long, long opuses. Playing only five or six songs during each show of the tour gives a hint about the length of the songs. And even though each song is so very long, they never get boring due to their diversity.
http://younggodrecords.com / https://www.facebook.com/SwansOfficial
Setlist
01. The Knot
02. Screen Shot
03. Cloud of Forgetting
04. Cloud of Unknowing
05. The Man Who Refused to Be Unhappy
06. The Glowing Man
Interested in the Music of Swans? Check it out
here
:
All pictures by Daniela Vorndran (
http://www.vorndranphotography.com
/
http://www.facebook.com/blackcatnet
)