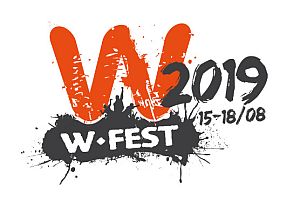 Expo, Waregem, Belgium
15th to 18th August 2019
It doesn't happen often that an organization already announces the almost complete line-up of next year during this year's edition. W-Fest is delightful exemption on that rule and is also quite unique from several other perspectives. Last August, this Belgian 80s/ New Wave/ EBM / Synth Pop Festival (with full camping) attracted over 30,000 fans during a successful 3rd edition and also the upcoming edition 2019 promises a great line-up with fantastic bands from the Synth Pop and Wave genres.
Now, we from Reflections of Darkness think it is a good idea to introduce you our highlight per day and additionally one band from the whole line-up we are extremely looking forward to seeing at the W-Fest stage. Today, we start with the first festival day, Thursday, which offers on SYNTH SCENE: Empathy Test (GB), Signal Aout 42 (BE), Tristesse Contemporaine (JP, SE, GB), The Primitives (GB), Time Bandits (NL), Echo and the Bunnymen (GB), The Stranglers (GB) / WAVE CAVE: Der Klinke (BE), In Strict Confidence (DE), Solar Fake (DE), The Cassandra Complex (GB), Merciful Nuns (DE), She Wants Revenge (USA) / THE OLIVIER DAOUT STAGE: The obsCURE (tribute to The Cure) (BE), Blaine L. Reininger plays Tuxedomoon (USA), Kaelan Mikla (ISL), The Blow Monkeys (GB) / VIP: Lost Reality (IT), Collection d'Arnell-Andréa (FR).
Our pick of the day is
Echo and the Bunnymen (GB)

Date: 15-08-2019 / Time: 20:45-21:45 / Stage: Synth Scene
ECHO & THE BUNNYMEN are an English rock band formed in Liverpool in 1978. The original line-up consisted of vocalist Ian McCulloch, guitarist Will Sergeant and bassist Les Pattinson, supplemented by a drum machine. By 1980, Pete de Freitas joined as the band's drummer. Their 1980 debut album, Crocodiles, went into the top 20 of the UK Albums Chart. After releasing their second album, Heaven up Here, in 1981, the band's cult status was followed by mainstream success in 1983, when they scored a UK Top 10 hit with 'The Cutter', and the album which the song came from, Porcupine, hit number 2 in the UK. Ocean Rain (1984), continued the band's UK chart success with its lead single 'The Killing Moon' (used as soundtrack for the movie Donnie Darko) entering into the top ten. After a short break in the '80s and then working together as ELECTRAFIXION, McCulloch and Sergeant regrouped with Pattinson in 1997 and returned as ECHO & THE BUNNYMEN, before Pattinson's departure in 1998. The band has been touring since, releasing several albums since the late 1990s.