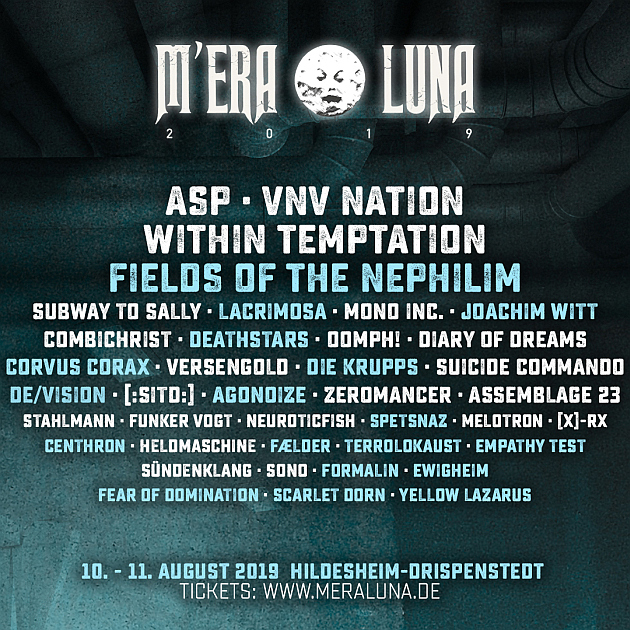 Dear night owls! With the summer season in full swing, it's time again to prepare for the darkest weekend of the year. It takes so long to wait for the M'era Luna to come, but then within the blink of an eye, the festival weekend is round the corner. To avoid that destiny will hit you hard an unprepared, here is an overview of the performances each day to let you know when your favorite band is on stage. There are additional useful details. Anticipation is the greatest pleasure of all!
Play days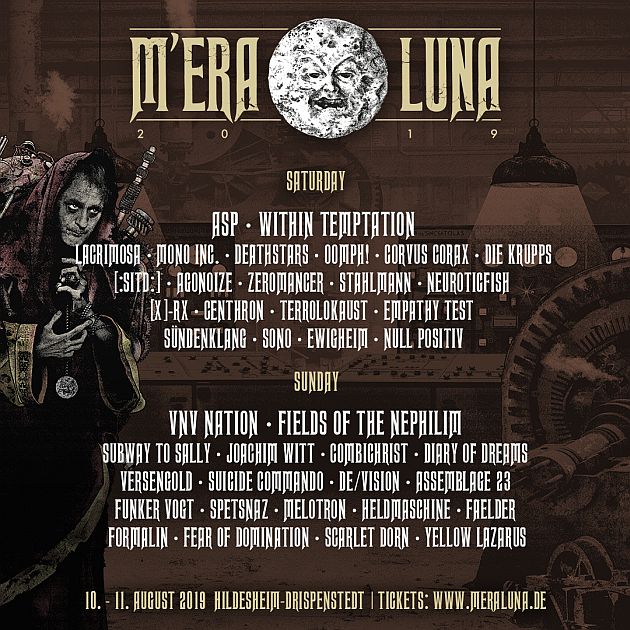 Day tickets available now!

From now own, everyone who has no time to spend the entire weekend in the black Wonderland, has the chance to buy day tickets. So if you are interested in Saturday or Sunday - come and stop by! Day tickets for Saturday are available from EUR 60.00 incl. fees, and for Sunday, day tickets cost EUR 55.00. Combined tickets are available for EUR 104.00 plus EUR 5.00 waste pledge at www.meraluna.de, www.eventim.de or by phone at 01806 - 853 666 (20 cent per fixed network call, mobile max. 60 cent/call). Ticket shop: https://www.meraluna.de/de/tickets/
Warm-up parties

Don't arrive unprepared. The M'era Luna offers several warm-up parties. With some luck, every evening you can snag M'era Luna tickets or merchandise stuff.
July 5, 19 - Hamburg // Kaiserkeller – Große Schwarze Nacht
July 6, 19 - Essen // Zeche Carl – Nachttanz
July 6, 19 - Mannheim // MS Connexion Complex – Super Schwarzes Mannheim
July 12, 19 - Berlin // Nuke Club – M'era Luna Party
July 13, 19 - Leipzig // Dark Flower – M'era Luna Party
Source: Newsletter